MLB Recognizes Negro Leagues as a Major League
A long overdue--and complicated---recognition.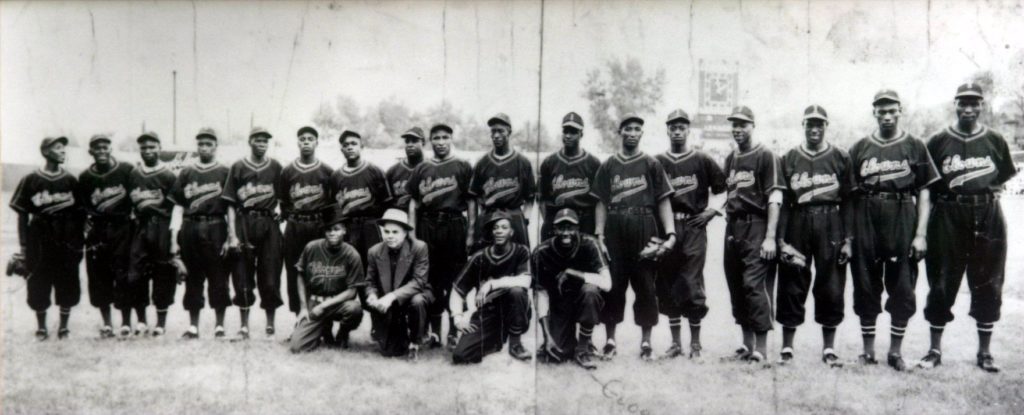 On the hundredth anniversary of the Negro League, Major League Baseball is recognizing them as a fellow major league. Aside from symbolism, this will mean a change to the record books.
The Ringer's Ben Lindbergh has a long feature on the matter titled "MLB Is Finally Recognizing the Negro Leagues as the Major Leagues They Always Were." Some highlights:
"All of us who love baseball have long known that the Negro Leagues produced many of our game's best players, innovations, and triumphs against a backdrop of injustice," MLB commissioner Rob Manfred said in a statement provided by the league. "We are now grateful to count the players of the Negro Leagues where they belong: as major leaguers within the official historical record."

Negro Leagues players and historians have advocated for reclassification for decades. As Hall of Famer James Thomas "Cool Papa" Bell once said, "The Negro Leagues was a major league. They wouldn't let us play in the white leagues and we [were] great ballplayers in the Negro Leagues, so how can you say we [weren't] major league?" In the decades after the 1970 publication of Robert Peterson's influential book about Black baseball, Only the Ball Was White, researchers such as John Holway and Larry Lester led painstaking efforts to assemble comprehensive statistics from long-buried box scores.Last year, a collection of Negro Leagues scholars and researchers published a book of essays called The Negro Leagues Were Major Leagues, which laid out the strong statistical and ethical case for inclusion.But until 2020—when the 100th anniversary of the founding of the Negro Leagues coincided with sweeping societal protests of racial injustice and an abbreviated, jury-rigged MLB regular season—MLB hadn't considered the subject.
This isn't the first time the record has been changed in this way:
The causes of the long delay aren't much of a mystery. As we detailed in August, the exclusion of the Negro Leagues from the official list of major leagues stemmed from the findings of MLB's Special Baseball Records Committee, which commissioner William Eckert convened in 1968 as part of the preparations for the landmark Macmillan Baseball Encyclopedia. In 1969, the all-white, five-man body bestowed major league status on six circuits, including some (such as the 1884 Union Association) whose level of play was far lower than that of the Negro Leagues. But because of the prejudices of the day, the SBRC didn't even discuss the candidacy of the Negro Leagues.

The SBRC's ruling remained in effect until today's announcement, which MLB's forthcoming press release acknowledges is "long overdue." For years, the SBRC's stated standards for major league classification made the chances of reconsideration for the Negro Leagues seem tenuous. In assessing candidates' qualifications, the committee considered factors including scheduling irregularities, inconsistent playoff formats, the frequency of unofficial games and uncompleted campaigns, media coverage, ballpark capacity, player skill level, and the number of crossover former or future AL or NL players. In recent years, more historians have noted that the Negro Leagues' shortcomings in those areas were largely products of the racism that spawned segregated leagues in the first place, and that to exclude them on the basis of barnstorming, inconsistent schedules, or a lack of coverage would doubly penalize already-ostracized players for hardships that white baseball authorities imposed.

The existence of the pandemic-altered 2020 season—which, of course, counted as "major league"—made it harder to defend the exclusion of the Negro Leagues on account of scheduling quirks or a lack of consistency in format. MLB's centennial celebrations of the Negro Leagues, conducted amid swelling public support for the Black Lives Matter movement and national demonstrations against police violence and structural racism, only made it more glaring that the league was still snubbing those past players by neglecting to sanction their status as major leaguers. Those circumstances gave rise to a rapid reappraisal.
Now, I'm dubious that the inclusion of a pandemic-shortened season for an organization that's been incredibly organized and systematic for nearly two centuries is a reasonable justification for including an always-haphazard league into the statistics. But, certainly, the fact that it was haphazard precisely because of the reasons that it existed is a fair point. And very much bolstered in my mind by this:
There's plenty of precedent for revisions to major league stats; early AL/NL record keeping could be spotty, and even high–profile figures have been subject to change. "Some fans were upset when the hit totals for Cap Anson, Eddie Collins, and Honus Wagner—or the win totals for Cy Young, and Walter Johnson and Christy Mathewson—changed, but history is process, not product," says Thorn. Lester is bracing for blowback. "It's going to create a firestorm before it is accepted," he says, adding, "The cynics and naysayers will claim that these stats are not valid. Which is OK—it creates more work for me, and I'm ready for the challenge."
There are all manner of decisions that have to be made and many of them are detailed in the piece. But this in particular interests me:
He's also ready for single-game or single-season feats to garner greater recognition. "We're going to have all these no-hitters by Satchel Paige and Smokey Joe Williams and Andy Cooper and Willie Foster and Hilton Smith and Leon Day now as part of the record book," Lester says. "Instead of saying Bob Feller pitched the only opening day no-hitter—well, he did in modern baseball in the American League. But Leon Day also pitched an opening day no-hitter in the Negro League. So I want to see Leon Day placed on that pantheon next to Bob Feller. He achieved the same extraordinary event, just in different leagues."

Lengthening the list of no-hitters is an easy call, but MLB will face stickier situations when it comes to single-season rate stats. Fans are accustomed to citing Ted Williams, who batted .406 in 1941, as the last .400 hitter, but Hall of Famer and Homestead Grays great Josh Gibson batted .441 in 1943, and Artie Wilson batted .431 in 1948, albeit in a shorter season. Gibson's 1943 mark would edge out Hugh Duffy's .440 in 1894, which currently leads the all-time list.

Gibson amassed his stats that season in fewer than 80 games, but Thorn favors treating it like any other individual major league season that clears the long-established playing-time minimum for batting-title qualification of 3.1 plate appearances per team game. "The idea of having white major league records and an additional line for Black major league records will be very tough for me to accept," he says, citing the "separate but equal" overtones and the similarity to an ill-conceived (and eventually abandoned) plan to display the plaque of Satchel Paige, the first Hall of Famer from the Negro Leagues, in a separate section of the museum. MLB's press release states that the league and Elias "have begun a review process to determine the full scope of this designation's ramifications on statistics and records," and that the two entities "will work with historians and other experts in the field to evaluate the relevant issues and reach conclusions upon the completion of that process."
Honestly, there's going to have to be a dual-entry system for some of these statistics. We've long had National League and American League records; adding Negro League records can be done in the same way. Opening Day is opening day; there are just two or three instead of one or two.
But the season stats are simply a different thing entirely. It's one thing to count hits and runs and strikeouts into a player's statistics. But it's rather silly to pretend that averages achieved over 80 games are comparable to those achieved over 148 or 162 (indeed, the whole * thing with Roger Maris' breaking Babe Ruth's single-season home run record never went away).