New Arizona Law Seeks To Purge All Mean Words From The Internet
A bill that may become law in Arizona could make your Internet comments a crime.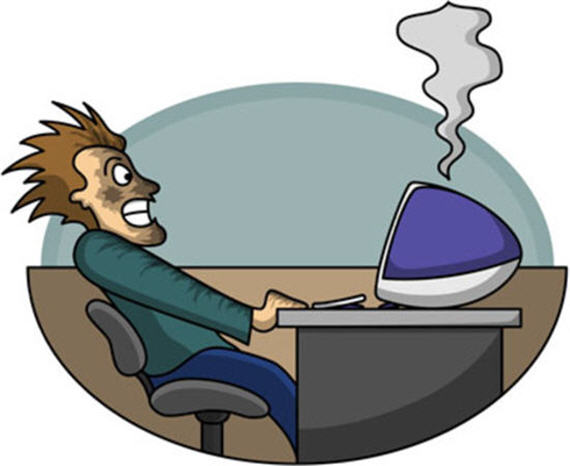 Apparently having solved all of their other problems, the Arizona legislature has passed a bill that, if it becomes law, would ban a wide range of commentary from the Internet in an effort to combat so-called "cyber-bullying':
The state of Arizona could find itself in the company of countries like China and Syria for censoring the Internet if the state's governor signs a bill recently passed by the legislature.

Arizona House Bill 2549, which is now on Gov. Jan Brewer's desk for signature, was created to counter bullying and stalking. The law would make it a crime to use any electronic or digital device to communicate using "obscene, lewd or profane language" or to suggest a lewd or lascivious act, if done with the intent to "terrify, intimidate, threaten, harass, annoy or offend."
Here's what the bill actually says:
It is unlawful for any person, with intent to terrify, intimidate, threaten, harass, annoy or offend, to use a telephone ANY ELECTRONIC OR DIGITAL DEVICE and use any obscene, lewd or profane language or suggest any lewd or lascivious act, or threaten to inflict physical harm to the person or property of any person.
Eugene Volokh explains just how far reaching this bill, which apparently is apparently intended to amend an existing law barring telephone harassment, would actually be if enacted into law:
Telephones are basically one-to-one devices, so a phone call that uses profane language to offend is likely meant only to offend the one recipient, rather than to persuade or inform anyone; but computers used to post Facebook messages or send Twitter messages or post blog items can offend some listeners while persuading and informing others.

So, under the statute, posting a comment to a newspaper article — or a blog — saying that the article or post author is "fucking out of line" would be a crime: It's said with intent to offend, it uses an electronic or digital device, and it uses what likely will be seen as profane language (see, e.g., City of Columbia Falls v. Bennett (Mont. 1991)). Likewise if a blog poster were to post the same in response to a commenter's comment. Likewise if someone posts something in response to an e-mail on an e-mail-based discussion list, or in a chatroom, or wherever else. (Note that if "profane" is read to mean not vulgarly insulting, but instead religiously offensive, see City of Bellevue v. Lorang (Wash. 2000), then the statute would be unconstitutional as well.)

The same would be true if someone posts something lewd in one of these places in order to annoy or offend someone, for instance if he posts a comment on a police-run public discussion page that says something like "the chief of police can suck my dick," to borrow subject matter from a prior Arizona telephone harassment case. And note that, given that case, the speech need not even be about one of the recipients, so long as it's intended to annoy or offend one of the recipients.
There's no question that commentary on the Internet can sometimes get overheated, and that's even more true at high-traffic web sites and sites with commenting systems that allow people to post anonymously. Here at OTB, we try to police the comments as best we can and have been known to enforce the comment policy where appropriate. However, I fail to see why a comment that may be offensive, annoying, or profane should subject anyone to criminal liability. Advocates of a bill like this will likely say that this is meant to combat people who threaten or harass people online. However, it's already illegal to threaten someone with physical harm in any forum, including online. Indeed, we've seen several cases in recent years where people who posted idiotic comments about the President that could theoretically be seen as threatening received a little visit from the Secret Service. To the best of my knowledge, none of those cases has ever resulted in charges being brought against someone, most likely because the agent investigating the matter determined that the post was just a dumb comment left in an online forum by an idiot. Even in the the case of civilians, though, if someone posts a threat online to cause physically harm someone or engages in behavior that can be classified as stalking, they can already be charged under existing laws. There's no need for a broad statute like the one Arizona is considering.
Moreover, even if this were a legitimate attempt to combat online threats and stalkers, from where does the state get the authority punish speech that may "annoy or offend" someone else? Since when did we start living in a world where people have a right not to be annoyed or offended? More importantly, how exactly to determine when a written communication is "annoying" or "offensive," if that's a question for a jury then do they use their own standards or the peculiar standards of the person who may have been the intended recipient of the message? And what if it's a public forum, who exactly is the intended recipient? If I leave a message in a comment section on a blog am I potentially subjecting myself to criminal liability by "annoying or offending" someone who just happened to wander by and read the post and comment thread?
Jonathan Turley puts it this way:
We have long recognized that free speech comes with bad speech and good speech. Yet we have refused to allow the government to sort out those two categories. As Justice Brennan stated in New York Times Co. v. Sullivan, 376 U.S. 254 (1964), we must remain faithful to "a profound national commitment to the principle that debate on public issues should be uninhibited, robust, and wide-open, and that it may well include vehement, caustic, and sometimes unpleasantly sharp attacks on government and public officials." The addition of an intent factor is meaningless under this law when the mere intent to "annoy" or "harass" is enough to satisfy scienter. The law would sweep away protected speech and allow arbitrary enforcement of terms that are not only undefined but undefinable in the context of Internet speech.

The solution for bad speech is more speech not more regulation of speech.
Indeed. Perhaps the most shocking thing about this bill is that it made it all the way two chambers of the legislature, passing both Chambers with only a single "Nay" vote in the House of Representatives, without anyone even considering the fact that this bill is quite obviously unconstitutional. What the heck is in the water down there in Arizona?
In any event, the bill is now with Governor Jan Brewer. One would hope she'd veto it but I'm not optimistic.