No Right to Resist Unlawful Police Entry: Indiana Supremes
For as long as the notion of individual rights has existed, one of them has been the sanctity one's home. As of Thursday, that's no longer true in Indiana.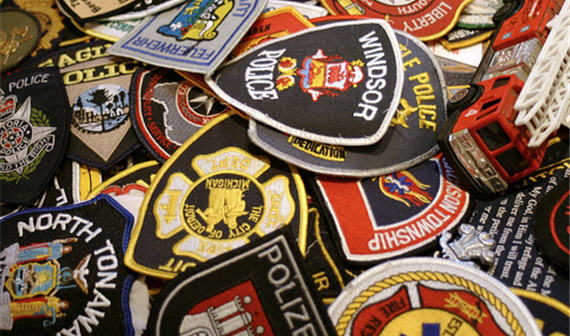 For as long as the notion of individual rights has existed, one of them has been the notion that one's home is sacrosanct. As of Thursday, that's no longer true in Indiana.
AP ("Court: No right to resist unlawful police entry"):
People have no right to resist if police officers illegally enter their home, the Indiana Supreme Court ruled in a decision that overturns centuries of common law.

The court issued its 3-2 ruling on Thursday, contending that allowing residents to resist officers who enter their homes without any right would increase the risk of violent confrontation. If police enter a home illegally, the courts are the proper place to protest it, Justice Steven David said. "We believe … a right to resist an unlawful police entry into a home is against public policy and is incompatible with modern Fourth Amendment jurisprudence," David said. "We also find that allowing resistance unnecessarily escalates the level of violence and therefore the risk of injuries to all parties involved without preventing the arrest."

Justices Robert Rucker and Brent Dickson strongly dissented, saying the ruling runs afoul of the U.S. Constitution's Fourth Amendment against unreasonable search and seizure, The Times of Munster reported. "In my view the majority sweeps with far too broad a brush by essentially telling Indiana citizens that government agents may now enter their homes illegally — that is, without the necessity of a warrant, consent or exigent circumstances," Rucker said.

Both dissenting justices suggested they would have supported the ruling if the court had limited its scope to stripping the right to resist officers who enter homes illegally in cases where they suspect domestic violence is being committed. But Dickson said, "The wholesale abrogation of the historic right of a person to reasonably resist unlawful police entry into his dwelling is unwarranted and unnecessarily broad."

The court's decision stemmed from a Vanderburgh County case in which a man yelled at police and blocked them from entering his apartment to investigate a domestic disturbance. The man shoved a police officer who entered anyway and was shocked with a stun gun and arrested.

Valparaiso University School of Law professor Ivan Bodensteiner told The Times that the court's decision is consistent with the idea of preventing violence. "It's not surprising that they would say there's no right to beat the hell out of the officer," Bodensteiner said. "(The court is saying) we would rather opt on the side of saying if the police act wrongfully in entering your house your remedy is under law, to bring a civil action against the officer."

Thursday's decision was the court's second ruling this week involving police entry into a home. On Tuesday, the court said police serving a warrant may enter a home without knocking if officers decide circumstances justify it. Previously, police serving a warrant had to obtain a judge's permission to enter without knocking.
The cited Muenster Times article ("Court: No right to resist illegal cop entry into home") is more colorful, beginning with this lede:
Overturning a common law dating back to the English Magna Carta of 1215, the Indiana Supreme Court ruled Thursday that Hoosiers have no right to resist unlawful police entry into their homes.
Across the blogosphere, there's widespread outrage over the ruling. On the right, NRO's Michael Walsh terms it a "chilling decision on the gradual erosion of the Fourth Amendment — for your own good, of course" and Vox Day proclaims "this disrespect for both the law and historical precedent is truly astonishing" and concludes, "America is demonstrably less free than medieval England. I tend to doubt that this was what the Founding Fathers had in mind when they revolted against the King's rule." Libertarian Bruce McQuain believes this "would be a laughable finding if it wasn't so serious" and Agitator guest Dave Krueger snarks, "Yeah, if there's anything we can't have, it's the escalation of violence by people who mistakenly think they still have rights under the new modern interpretation of the Fourth Amendment." On the left, Alan Colmes doesn't really express an opinion at all, other than to say "This is the second time this week the court decided against the right of citizens in a home." And Melissa McEwan–well, let's just say she's displeased with the state of her "beautiful home state."
This ruling is binding only in Indiana but may be sufficiently precedent setting to merit review from the U.S. Supreme Court. I wouldn't be at all surprised, however, to see it upheld and become national policy despite the universal outrage in the blogosphere. The fact of the matter is that the 4th Amendment has long been eroding, to the point where it's almost as much a dead letter as the 5th, 9th, and 10th Amendments. The courts are effectively a sitting constitutional convention and they've decided over the decades that our fundamental rights are an inconvenient barrier to government action.
UPDATE: Walter Olson points to a long, thoughtful reaction by Scott Greenfield. An excerpt:
The case involved a domestic dispute, where the defendant was confronted by police outside his home. There was no basis to arrest him, any more than there is a basis to arrest a man any time he and his wife have an argument, and so the defendant went inside. He refused the police entry, and when they forced their way in, pushed an officer up against a wall. For that, he was charged with misdemeanor battery.

In defense to the charge, the defendant relied on his right to resist an illegal entry into his home, whether by police or anyone else. But the the entry was by police, officers of the state, made it of particular significance. This was the core evil against which the Fourth Amendment protects. Note the use of the past tense.

But this has now been declared archaic, a relic of a past age, of which modern man, and courts, no longer have need. The court says we have other, better, options than to resist: the exclusionary rule, internal police department review and disciplinary procedures and civil remedies. Perhaps this is a penumbra of the "new professionalism" we've heard so much about, and have yet to enjoy for ourselves.

The gist of the court's ruling, however, is that they're doing this for us, for the children, to safeguard us from violence. Resisting the police escalates violence, and enhances the likelihood that someone will be hurt. They just don't want us to get hurt, and if the front door to our homes is the cost of our safety, then so be it. As the court tangentially notes, it's not like law prohibiting police entry actually stops the police from doing as they please, so better to eliminate the law than mandate police adherence.

There is no line more fundamental than that running across our threshold. Courts have been trying to erase if for a long time, bit by bit. The Indiana Supreme Court seizes upon these "exceptions" to conclude that the fundamental rule has been eroding for so long as to make this final step, the erasure of the rule altogether, merely the obvious last slide down the slope.
In addition to the expansion of police power and the erosion of the 4th Amendment, which has been ongoing for decades, it occurs to me that the right of resistance has been going away more generally. In most states, it's unlawful to use deadly force against a criminal intruder into one's home absent extraordinary circumstances. Indeed, punching someone who is threatening–much less insulting–you is no longer tolerated. We're expected to endure most everything and seek remedy after the fact in court.
UPDATE 2: See some interesting discussion in the comments below. To clarify my position on what the law should be here: Police officers entering one's home without a warrant should be regarded exactly as any other intruder under similar circumstances. So, in the circumstances that led to this case, the homeowner was justified in treating the officer precisely as he would a pushy salesman attempting to enter his home after being denied permission. That means mild physical force, certainly to include pushing, but obviously not lethal force.
Regardless of law, however, there is such a thing as prudence. An assailant, whether he's a police officer or a stranger, brandishing a weapon should obviously be treated differently than someone presumed not to be armed. And, as a practical matter, police officers have a long history of issuing trumped-up charges, lying about what happened, and getting other officers to lie in corroboration. Resisting the police, regardless of whether one is fully in the right, is not likely to end well.