Once Again, The Supreme Court Stabs At The Heart Of The Fourth Amendment
The Supreme Court has once again issued a ruling that further chips away at the protections of the Fourth Amendment.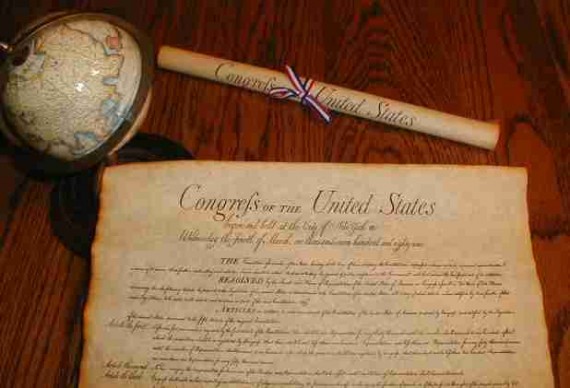 In a ruling earlier this week that is raising civil liberties concerns from many corners, the Supreme Court ruled earlier this week that evidence obtained as a result of an illegal stop may still be used if the parties being searched were found to have outstanding warrants:
WASHINGTON — The Supreme Court ruled on Monday that evidence found by police officers after illegal stops may be used in court if the officers conducted their searches after learning that the defendants had outstanding arrest warrants.

Justice Clarence Thomas, writing for the majority in the 5-to-3 decision, said such searches do not violate the Fourth Amendment when the warrant is valid and unconnected to the conduct that prompted the stop.

Justice Thomas's opinion drew a fiery dissent from Justice Sonia Sotomayor, who said that "it is no secret that people of color are disproportionate victims of this type of scrutiny."

"This case tells everyone, white and black, guilty and innocent, that an officer can verify your legal status at any time," she wrote. "It says that your body is subject to invasion while courts excuse the violation of your rights. It implies that you are not a citizen of a democracy but the subject of a carceral state, just waiting to be cataloged."

The case, Utah v. Strieff, No. 14-1373, arose from police surveillance of a house in South Salt Lake based on an anonymous tip of "narcotics activity" there. A police officer, Douglas Fackrell, stopped Edward Strieff after he had left the house based on what the state later conceded were insufficient grounds, making the stop unlawful.

Officer Fackrell then ran a check and discovered a warrant for a minor traffic violation. He arrested Mr. Strieff, searched him and found a baggie containing methamphetamines and drug paraphernalia. The question for the justices was whether the drugs must be suppressed given the unlawful stop or whether they could be used as evidence given the arrest warrant.

"Officer Fackrell was at most negligent," Justice Thomas wrote, adding that "there is no evidence that Officer Fackrell's illegal stop reflected flagrantly unlawful police misconduct."

Chief Justice John G. Roberts Jr. and Justices Anthony M. Kennedy, Stephen G. Breyer and Samuel A. Alito Jr. joined the majority opinion.

In a dissent that cited W. E. B. Du Bois, James Baldwin and Ta-Nehisi Coates, Justice Sotomayor said the court had vastly expanded police power.

"The court today holds that the discovery of a warrant for an unpaid parking ticket will forgive a police officer's violation of your Fourth Amendment rights," she wrote. "Do not be soothed by the opinion's technical language: This case allows the police to stop you on the street, demand your identification and check it for outstanding traffic warrants — even if you are doing nothing wrong.

"If the officer discovers a warrant for a fine you forgot to pay," she continued, "courts will now excuse his illegal stop and will admit into evidence anything he happens to find by searching you after arresting you on the warrant."

Justice Sotomayor added that many people were at risk. Federal and state databases show more than 7.8 million outstanding warrants, she wrote, "the vast majority of which appear to be for minor offenses." There are, she added, 180,000 misdemeanor warrants in Utah. And according to the Justice Department, about 16,000 of the 21,000 residents of Ferguson, Mo., are subject to arrest warrants.

Justice Ruth Bader Ginsburg joined most of Justice Sotomayor's dissent, along with all of a separate dissent from Justice Elena Kagan. But Justice Sotomayor reserved her most personal reflection for a part of her dissent in which she wrote only for herself, setting out in detail the dangers and indignities that often accompany police stops.

"For generations," she wrote, "black and brown parents have given their children 'the talk' — instructing them never to run down the street; always keep your hands where they can be seen; do not even think of talking back to a stranger — all out of fear of how an officer with a gun will react to them."

"We must not pretend that the countless people who are routinely targeted by police are 'isolated,'" she wrote. "They are the canaries in the coal mine whose deaths, civil and literal, warn us that no one can breathe in this atmosphere. They are the ones who recognize that unlawful police stops corrode all our civil liberties and threaten all our lives. Until their voices matter, too, our justice system will continue to be anything but."
Writing at SCOTUSBlog, Law Professor Orin Kerr summarizes the opinion in a post that is far too detailed to properly summarize without copying in its entireity, and has this to say about its potential impact:
In a practical sense, today's opinion is important. I think Justice Kagan is right in her dissent that the majority's approach practically invites police officers to make illegal stops. If you're a police officer and you want to search a suspect to help investigate a crime, you just need to stop the suspect and ask for ID to see if he has an outstanding warrant. If there's no warrant out for his arrest, you can let him go and he's extremely unlikely to sue. If there is a warrant, you can arrest him, search him incident to arrest, and question him later; the courts will allow that evidence because you were acting in good faith by trying to investigate the crime. The police academies won't teach officers to violate the law, of course. At the margins, though, officers will be encouraged to treat almost anything as reasonable suspicion to justify a stop. If in doubt, make the stop.

An important question is whether trial courts will be open to developing a record on the purpose and flagrancy of violations and whether they focus more on the burden of proof. In theory, the burden of proving attenuation is on the government. But in practice, I think a defense attorney needs to build up a record to show purpose and flagrancy. If the courts presume that officers are acting in good faith, defense lawyers need to put in evidence at suppression hearings indicating that this may be wrong.
It's hard to understate just how much damage the Court has done to the Fourth Amendment and its prohibitions against illegal searches and seizures. There is no question that the initial stop in this case was illegal because the officer in question lacked probable cause, or even reasonable suspicion, that a crime had been committed. That fact alone should be the end of the inquiry in and of itself, because an illegal stop is supposed to mean that anything discovered as a result of that stop is considered inadmissible against the Defendant. This is what has come to be known as the "exclusionary rule," and while the perception among most lay people is that this rule is largely an invention of the Supreme Court during the era when Earl Warren served as Chief Justice, and there is some truth in that regard. In reality, though, there is a long history of rulings in both American and British Common Law of court's ruling that illegally obtained evidence cannot be used at trial. It's a rule that makes sense because it is, in reality, the only way that courts can send a signal to law enforcement that violations of the Fourth Amendment will not be tolerated and that there will be consequences for the violation of a Defendant's Constitutional rights. The alternative to an exclusionary rule would be to rely upon the ability of individuals to sue law enforcement officers for the violation of their rights, but that right, which does exist under Federal Law is of little use to a Defendant convicted based on illegally obtained evidence and to a public that would have to live with the possibility of law enforcement acting illegally and using whatever evidence they find however they wish.
Unfortunately, the reality of a strong exclusionary rule protecting the American people from rogue police and prosecutors looking to support charges regardless of what the Fourth Amendment says has given way to politics and what clearly has been a pro-police bias in the Federal Courts for some tim now. For at least the last three decades, the Supreme Court has been chipping away at the protections of the Fourth Amendment, by increasing the exceptions to the rule and providing more and more discretion to police and prosecutors. Some of these exceptions, such as a generally exception that applies when the evidence is clear that an officer was relying in good faith on evidence obtained from another source or records that turned out to be incorrect makes sense because there seems to be little value in not recognizing the fact that, sometimes, officers can be relying on incorrect information without any basis for knowing that it's incorrect. Similarly, the "inevitable discovery" rule, which allows for admission of illegally obtained evidence if it can be shown that investigators would have discovered it anyway during the course of an ordinary investigation makes sense because it recognizes the realities that can often accompany a police investigation. The problem with the three decades of exceptions that the Supreme Court has created, though, is the fact that there are now so many of them that the Court is in danger of giving law enforcement virtually unfettered discretion and leaving citizens without both rights and a remedy when those rights are violated. All of this leads to a general attitude among law enforcement that they can do whatever they feel they need to do as long as they can justify it in the name of "public safety."
As Justice Sotomayor notes in her powerful dissent, the Courts ruling in this case essentially means that a police officer can knowingly illegally stop someone and, if their name happens to come up with an outstanding warrant for even the most petty traffic offense, a warrant that may well be inaccurately left open when it has in fact been satisfied, then the policy can arrest and search that individual and charge them with whatever crime Prior to Monday, anything the officer discovered would be considered the 'fruit of a poisonous tree' and be considered inadmissible at trial unless some exception applied. With this decision, though, the evidence is admissible notwithstanding the illegal stop. In other words, the Court is telling police they can do whatever they want in the event of an illegal stop and there won't be any price to pay for it. The probability that this will lead to increased police harassment of minorities should be rather obvious.
Here's the opinion: