Spying on Ourselves
Should we expect privacy from our own cameras?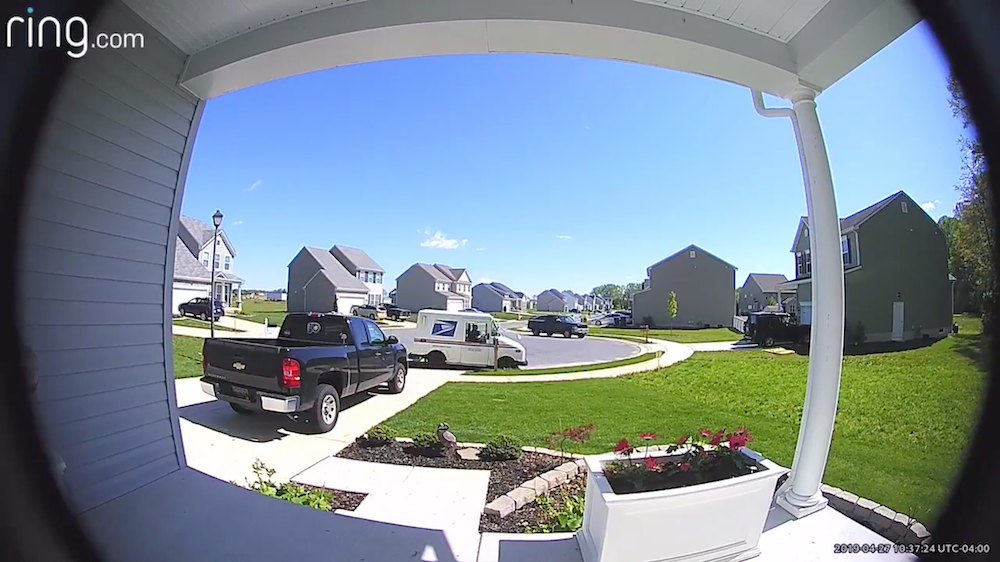 POLITICO warns of "The privacy loophole in your doorbell." The opening anecdote is actually useful:
The week of last Thanksgiving, Michael Larkin, a business owner in Hamilton, Ohio, picked up his phone and answered a call. It was the local police, and they wanted footage from Larkin's front door camera.

Larkin had a Ring video doorbell, one of the more than 10 million Americans with the Amazon-owned product installed at their front doors. His doorbell was among 21 Ring cameras in and around his home and business, picking up footage of Larkin, neighbors, customers and anyone else near his house.

The police said they were conducting a drug-related investigation on a neighbor, and they wanted videos of "suspicious activity" between 5 and 7 p.m. one night in October. Larkin cooperated, and sent clips of a car that drove by his Ring camera more than 12 times in that time frame.

He thought that was all the police would need. Instead, it was just the beginning.

They asked for more footage, now from the entire day's worth of records. And a week later, Larkin received a notice from Ring itself: The company had received a warrant, signed by a local judge. The notice informed him it was obligated to send footage from more than 20 cameras — whether or not Larkin was willing to share it himself.
Which is how warrants work! If compliance was optional, they would be much less effective!
Still, it's kind of weird. Larkin isn't suspected of doing anything wrong. Why should his privacy be invaded—even if he's the one who invaded it by installing devices that constantly recorded video?
As networked home surveillance cameras become more popular, Larkin's case, which has not previously been reported, illustrates a growing collision between the law and people's own expectation of privacy for the devices they own — a loophole that concerns privacy advocates and Democratic lawmakers, but which the legal system hasn't fully grappled with.
Again, this isn't a "loophole." It's right there in the 4th Amendment:
The right of the people to be secure in their persons, houses, papers, and effects, against unreasonable searches and seizures, shall not be violated, and no Warrants shall issue, but upon probable cause, supported by Oath or affirmation, and particularly describing the place to be searched, and the persons or things to be seized.
The only questions, given that a warrant was issued particularly describing the things to be seized, was whether there was probable cause and whether access to all of the cameras was reasonable to the purpose at hand. Alas, the POLITICO report doesn't tell us why authorities wanted to see the inside footage.
Questions of who owns private home security footage, and who can get access to it, have become a bigger issue in the national debate over digital privacy. And when law enforcement gets involved, even the slim existing legal protections evaporate.

"It really takes the control out of the hands of the homeowners, and I think that's hugely problematic," said Jennifer Lynch, the surveillance litigation director of the Electronic Frontier Foundation, a digital rights advocacy group.
Look, I'm more libertarian than the next guy. I'm deeply suspicious of police being given willy-nilly rights to search to see if they can find anything illegal. I don't think Ring or any other company working for me ought to hand stuff over to the cops just for the asking. But it would be absurd for Ring not to have to comply with duly issued warrants.
In the debate over home surveillance, much of the concern has focused on Ring in particular, because of its popularity, as well as the company's track record of cooperating closely with law enforcement agencies. The company offers a multitude of products such as indoor cameras or spotlight cameras for homes or businesses, recording videos based on motion activation, with the footage stored for up to 180 days on Ring's servers.

They amount to a large and unregulated web of eyes on American communities — which can provide law enforcement valuable information in the event of a crime, but also create a 24/7 recording operation that even the owners of the cameras aren't fully aware they've helped to build.

"They are part of an ever-expanding web of surveillance in communities across America," Sen. Ed Markey (D-Mass.) said in a statement to POLITICO about Ring's products. "I've been ringing alarms about this company's threats to our privacy and civil liberties for years."

Markey has publicly criticized the company and also questioned Ring on its policies in letters, but hasn't introduced any legislation to address the privacy implications of networked home-surveillance devices.
Well, that's rather the issue, no? Goddamn it, Senator, it's your job to legislate. Otherwise, you're just an old man yelling at clouds.
Still, unless Ring cameras can see into other people's houses, it's not obvious what privacy rights are at stake. Public activities are public.
Asked about its policies, Ring said it doesn't automatically hand over footage in response to every request from law enforcement. "We review all legal documents served on us, and if we have reason to believe that a demand is overbroad, we question the request and may ask law enforcement to suggest a more limited production of information," Ring spokesperson Brendan Daley said in a statement.

Ring can deny requests, provide partial responses or hand over everything that's included in the warrant, according to the company.

In Larkin's case, Daley confirmed to POLITICO that Ring reviewed Larkin's warrant, and provided a full response to the legal request: It sent all the footage police asked for.
Again, there isn't much detail to go on. But, offhand, it strikes me that Ring should comply with warrants.
Larkin's case raises new red flags about law enforcement's ability to get footage inside people's homes even when it's irrelevant to the investigation in question.

"If you think about a search of a home, you're limited to the physical space that's inside the home and what can be held there," Lynch said. "But in a warrant for electronic data, the account may have a nearly unlimited amount of data associated with it. And we've seen courts struggle with how to limit these warrants."
My knowledge of 4th Amendment case law is dated. But, yes, given that, once police have a valid warrant, there are few limits to their ability to use what they find—even if it's not related to what they were originally or ostensibly searching for. Potentially, then, even though Larkin seems not to be suspected of any crime here, police could stumble on evidence he did something illegal and use it against him. At the very least, they may watch him do things that are perfectly legal but highly embarrassing.
I haven't the foggiest idea what to do about any of that, aside from the magistrate appropriately limiting the search parameters based on the nature of what police are searching for in relation to the potential drug operation next door. There, the law could certainly help.
Stored video footage is generally governed by data privacy laws, which are still new in the U.S. and largely limited to the state level. So far, all the U.S. state privacy laws, from the strictest regulations in California to the industry-backed law in Virginia, include exemptions if law enforcement comes asking.

The most ambitious federal law so far proposed in Congress — the American Data Privacy and Protection Act, which died in committee last year — included the same loophole. As private surveillance grows, this loophole looks bigger and bigger to privacy advocates and security-minded homeowners like Larkin.
Again, it's not a goddamn loophole. That a citizen's right to privacy is balanced against the government's duty to provide security—a principle carried over from the Common Law—is written into our founding document. The questions of what's reasonable and what constitutes probable cause remain with us. And it's quite likely that the fact that many of our neighbors are conducting video surveillance, whether through their doorbells, their smartphones, or whathaveyou, requires us to update our thinking on those questions.
I haven't spent a lot of time thinking about this but, offhand, Congress could limit access to video of private spaces based on the severity of the crime being investigated. Probable cause that a murder or kidnapping took place inside a home might reasonably be deemed worth piercing the veil of privacy whereas suspicion that a misdemeanor took place would not.
Now this is a bit creepy:
When it comes to Ring in particular, the company hasn't just been a passive actor in that growth, or in law enforcement's interest. As its doorbell cams grew more popular, Ring developed a symbiotic relationship with police, who realized that the privately owned cameras were generating valuable surveillance footage that they could leverage for investigations. Local police departments would often give away Ring doorbells, which the company provided for free in some cases.

Ring has an app called Neighbors, where users can upload and post clips, like a virtual neighborhood watch. In 2018, it started partnering with local police departments, with features specifically for officers on the app, allowing them to send public safety alerts and requests for video footage to users in a specific area. By 2023, Ring had nearly 2,350 police departments on its Neighbors network.
Granted, people are installing these cameras of their own volition. And it may well make them feel safe to be able to send out evidence of "suspicious behavior" to the police. It doesn't take much imagination, though, to see that being abused.
After sending the initial footage, Larkin started to find the police demands onerous. "He sent one asking for all the footage from October 25," Larkin said. That was a far bigger ask, he said. Larkin told POLITICO that he has five cameras surrounding his house, which record in 5 to 15 second bursts whenever they're activated. He also has three cameras inside his house, as well as 13 cameras inside the store that he owns, which is nowhere near his home. All of these cameras are connected to his Ring account.

He declined that request. He says his main concern at first was practical: each clip, even if it were only 5 seconds long, would take up to a minute to download and send over.

After he stopped cooperating, he didn't hear from the detective again, until he received an email from Ring, notifying him that his account was the subject of a warrant from the Hamilton police department.

This time, Larkin wasn't able to choose which cameras he could send videos from. The warrant included all five of his outdoor cameras, and also added a sixth camera that was inside his house, as well as any videos from cameras associated with his account, which would include the cameras in his store. It would include footage recorded from cameras he had in his living room and bedroom, as well as the 13 cameras he had installed at his store associated with his account.

Larkin, now incensed that police were requesting footage from inside his home for an investigation that didn't even involve him, wanted to fight the warrant. He estimated that a lawyer would have been too expensive, and he only had about seven days to challenge it before Ring would comply. He still doesn't understand how a judge could have signed off on a warrant asking for footage from a camera inside his home, when the investigation was on his neighbor.

"That says to me that the cops can go in and subpoena anybody, no matter how weak their evidence is," he said.
Again, the problem here isn't Ring or outdated laws. Absent compelling explanations not given in the report, it seems that the requests for most of this footage was wildly unreasonable and that the judge should indeed not have signed off on it.
The Hamilton police department got the video footage it requested.

Its community affairs supervisor, Brian Ungerbuehler, declined to comment on why the agency requested footage from all of Larkin's cameras, citing an active investigation. He added that the department did not obtain any video footage from inside the house.
Something doesn't add up here. The warrant was for all video from all cameras. Ring complied with the warrant. So how did the department not get footage from inside the house?
Larkin said it was fortunate his indoor camera listed in the request was unplugged for the timeframe the warrant specified, while his living room and bedroom cameras are only activated when his home alarm system is active.
Ah. That's rather a detail that should have been shared a hundred or so paragraphs earlier, as it reframes the story considerably.
Privacy advocates point out that the police don't have unfettered authority in demanding footage: They need to get a warrant from a judge, who's expected to exercise some control, just as they do when granting a search warrant. Judge Daniel Haughey, who signed off on the warrant, didn't respond to requests for comment on Larkin's case.

Though Larkin's warrant was unusually sweeping, warrants themselves are increasingly common. After concerns from activists and lawmakers about Ring's role in community surveillance, the company began in 2020 publishing a transparency report on law enforcement requests the company receives.

The report shows that the number of search warrants it receives has grown significantly each year. It received 536 search warrants in 2019, the first year covered by the report. In the first half of 2022, it received 1,622 requests.
That's . . . not a lot. As the cameras gain more widespread popularity, it's not shocking that the number of warrants would increase.
Still, this is useful:
When police request a warrant for a physical search, the affidavits are usually required to be specific, down to the item that they're searching for and what room it's in. When it comes to electronic communications, the line is blurrier. In the 1986 Electronic Communications Privacy Act, Congress created a fresh standard for surveillance as technology evolved: The law prevents unauthorized government wiretaps on electronic data. But it doesn't address more nuanced questions, like how much data the government can request. For an electronic search, because data can be nearly unlimited, courts have struggled with how to restrict these warrants, Lynch said.

As a result, she said, it's common to see warrants for data asking for swaths of digital records that would be considered an overreach by judges if it were for a physical search.

In warrants for digital communications such as emails, search histories and messages, the warrant's subject is usually the suspect under investigation — but when it comes to surveillance footage, which is passively recording hours of footage in public spaces, you can be an innocent bystander and still find police asking for your data. The lack of legal controls on what police can ask for, and judges failing to properly scrutinize these warrants, opens the door for even indoor home footage to be lumped in with these legal demands.
The frustrating part here is that the safeguard, going back to before America's founding, is the judgment of the magistrate. If they simply act as a rubber stamp on police, who are naturally enemies of privacy, it's going to be nearly impossible for Congress to craft laws to protect us.
Searching for an image for the post, I came across a NYT piece from a couple weeks back titled "Can My Neighbor Point a Video Doorbell at My Apartment Door?"
Q: I live in a small co-op building with just a few apartments per floor. My neighbor recently set up a video doorbell. If it's anything like the ones I have seen on suburban houses, it either shows live video constantly, or is motion triggered. In either scenario, I am being watched as I come and go from my apartment; perhaps even listened to. This is uncomfortable for me. Are these video doorbells allowed in New York City apartments? Does the board have the ability to ban them?

A: New York City does not have a law prohibiting residents from installing doorbell cameras in apartment building hallways. But your co-op has rules, and a shareholder cannot simply place a video doorbell in a common area.

"If you're living in a co-op, you can't just unilaterally do what you'd like to do in the common hallways," said Debra J. Guzov, a Manhattan lawyer who represents co-op and condo boards. "It's done with the permission of the board."

Doorbell cameras have become ubiquitous in suburban homes, capturing video of Amazon deliveries, the porch pirates who snatch them and anyone else who happens to cross the camera's path. The devices have been slower to catch on in city apartments, but that is changing as New Yorkers warm to the technology.

Over the past two years, Ms. Guzov said she has seen the issue come up more frequently, forcing condo and co-op boards to draft policies to address it. How buildings move forward depends somewhat on the sentiment of the residents, and how willing a board is to take the sentiment of its community into consideration. While some New Yorkers appreciate what they see as an added layer of security, others bristle at the loss of privacy.

"It creeps a lot of us out," said Heidi Boghosian, a lawyer and the author of "I Have Nothing to Hide," a book about surveillance and privacy.

Yes, a hallway is technically a public area, but it's not as heavily trafficked as, say, the lobby or the sidewalk. "We as New Yorkers, we don't want our neighbors recording our comings and goings 24-7," said Ms. Boghosian who is a member of her Manhattan co-op board and would like to see her own board consider such a policy.

Call your managing agent and find out if the building has a rule about doorbell cameras and whether the camera complies with it. Depending on what you learn, the co-op board may need to be made aware of your neighbor's bell. If no policy exists, now is probably the time for the co-op board to draft one, taking the concerns of residents into consideration. Ms. Guzov said some co-ops add restrictions about how a camera is angled, or whether anything can be recorded, and if so, how long the material can be stored.

You should also talk to your neighbor. Knock on the door, introduce yourself and politely explain your concerns. Ask if the camera could be removed, if its recording feature could be shut off, or, at the very least, if it could be directed away from your apartment door. Your neighbor might not realize that this bothers you at all, and might be willing to accommodate your request. But if they brush you off, which is certainly possible, you can lobby the board for a policy that protects your privacy.
Here, the issue is a sense of space rather than the authorities.
In the suburbs, there's little expectation of privacy in outdoor spaces. If your neighbor has a doorbell camera that records you walking your dog in your bathrobe, too bad. Functionally, I'm not sure why the hallway of an apartment building is different but it does feel like more of an invasion of privacy even if it's technically a public space.
Then again, a neighbor who's always looking out the window to keep tabs on the comings and goings in the neighborhood can also be rather creepy. There's really not much that can be done about it. Does adding technology like cameras change that? What about older technology like binoculars?