NYT Public Editor Charges Liberal Bias
NYT executive editor Jill Abramson is shocked that her outgoing public editor thinks her paper "virtually bleeds" a "kind of political and cultural progressivism."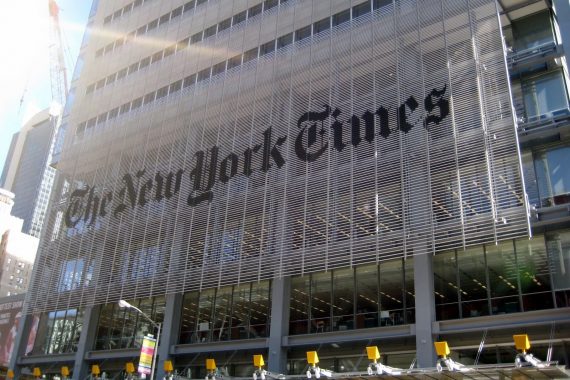 A second consecutive New York Times public editor admits that the paper has a liberal bias. The paper's editor doesn't see it.
In his final column, Arthur Brisbane marvels at the NYT's investment in quality journalism despite the fact that it's losing money at an alarming rate. But he worries about the paper's worldview.
I also noted two years ago that I had taken up the public editor duties believing "there is no conspiracy" and that The Times's output was too vast and complex to be dictated by any Wizard of Oz-like individual or cabal. I still believe that, but also see that the hive on Eighth Avenue is powerfully shaped by a culture of like minds — a phenomenon, I believe, that is more easily recognized from without than from within.

When The Times covers a national presidential campaign, I have found that the lead editors and reporters are disciplined about enforcing fairness and balance, and usually succeed in doing so. Across the paper's many departments, though, so many share a kind of political and cultural progressivism — for lack of a better term — that this worldview virtually bleeds through the fabric of The Times.

As a result, developments like the Occupy movement and gay marriage seem almost to erupt in The Times, overloved and undermanaged, more like causes than news subjects.

Stepping back, I can see that as the digital transformation proceeds, as The Times disaggregates and as an empowered staff finds new ways to express itself, a kind of Times Nation has formed around the paper's political-cultural worldview, an audience unbound by geography (as distinct from the old days of print) and one that self-selects in digital space.
Jill Abramson, the executive editor, vehemently disagrees.
"In our newsroom we are always conscious that the way we view an issue in New York is not necessarily the way it is viewed in the rest of the country or world. I disagree with Mr. Brisbane's sweeping conclusions," Abramson told POLITICO Saturday night.

"I agree with another past public editor, Dan Okrent, and my predecessor as executive editor, Bill Keller, that in covering some social and cultural issues, the Times sometimes reflects its urban and cosmopolitan base," she continued. "But I also often quote, including in talks with Mr. Brisbane, another executive editor, Abe Rosenthal, who wanted to be remembered for keeping 'the paper straight.' That's essential."
But it's precisely that reflection of its "urban and cosmopolitan base" that's at issue. Indeed, Okrent, Brisbane's predecessor, talked about this way back in 2004, answering a reader question "Is the New York Times a Liberal Newspaper?"
OF course it is.

The fattest file on my hard drive is jammed with letters from the disappointed, the dismayed and the irate who find in this newspaper a liberal bias that infects not just political coverage but a range of issues from abortion to zoology to the appointment of an admitted Democrat to be its watchdog. (That would be me.) By contrast, readers who attack The Times from the left — and there are plenty — generally confine their complaints to the paper's coverage of electoral politics and foreign policy.

I'll get to the politics-and-policy issues this fall (I want to watch the campaign coverage before I conclude anything), but for now my concern is the flammable stuff that ignites the right. These are the social issues: gay rights, gun control, abortion and environmental regulation, among others. And if you think The Times plays it down the middle on any of them, you've been reading the paper with your eyes closed.

But if you're examining the paper's coverage of these subjects from a perspective that is neither urban nor Northeastern nor culturally seen-it-all; if you are among the groups The Times treats as strange objects to be examined on a laboratory slide (devout Catholics, gun owners, Orthodox Jews, Texans); if your value system wouldn't wear well on a composite New York Times journalist, then a walk through this paper can make you feel you're traveling in a strange and forbidding world.
Blogging about this at the time, I wrote,
Frankly, as Okrent himself notes, this is all rather obvious. It's also perfectly legitimate. All newspapers, anywhere, are biased in their coverage. The idea that papers should be "objective" is a relatively new one, going back a century or so and, ironically, associated with the New York Times. The earliest papers in the Republic, though, were unabashedly partisan. Further, they didn't even pretend to be fair in their coverage.

Aside from ideology and partisanship, reportage is filtered through the lens of publishers and editors with worldviews who, even if not particularly political, have to make judgments about what is important (what to cover and not cover) as well as how important the things important enough to cover are (how much space they get, where they are positioned in the paper, how often they're covered, etc.). My only problem is when the paper pretends otherwise.
None of this is to say that the NYT is a partisan political rag or consciously biased. It remains a great paper. It pioneered the concept of a newspaper as a "straight news" outlet rather than a mouthpiece for the views of the owner and I'm sure that Abramson and Rosenthal are right that the paper's ethic is one of trying to be fair and straight.
But the very nature of the enterprise is one that's going to fill it with a certain bias. Working at the Times is considered by most aspiring American journalists as the pinnacle of success; the gold standard of the business. As such, it can attract the best of the best. Alas, that tends to mean that the paper's young hires are graduates of a handful of elite universities and/or the journalism schools at Columbia and Northwestern. This tends to produce a certain worldview.
The bottom line is that Brisbane is right: the NYT is aimed mostly at a bicoastal elite who share certain prejudices about the way the world works with the paper's reporters and management. There are, naturally, outliers in both the readership and the staff. But they're just that.