Oakland Police: Don't Call Us
Oakland's police chief, miffed at recent budget cuts, has listed 44 crimes that his officers will no longer respond to.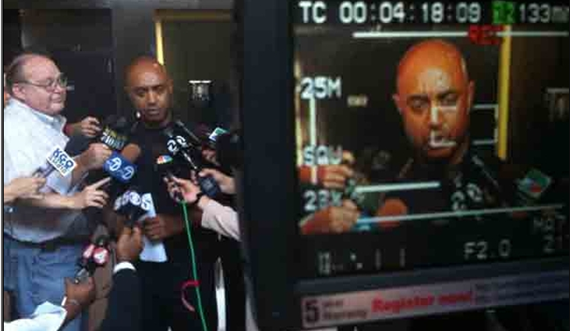 Oakland's police chief, miffed at recent budget cuts, has listed 44 crimes that his officers will no longer respond to.
Anthony Bates, hired in October, has lost ten percent of his work force, "about 80 officers." Until that's resolved, people experiencing any of those 44 crimes will have to file reports online. A partial list:
burglary
theft
embezzlement
grand theft
grand theft:dog
identity theft
false information to peace officer
required to register as sex or arson offender
dump waste or offensive matter
discard appliance with lock
loud music
possess forged notes
pass fictitious check
obtain money by false voucher
fraudulent use of access cards
stolen license plate
embezzlement by an employee (over $ 400)
extortion
attempted extortion
false personification of other
injure telephone/ power line
interfere with power line
unauthorized cable tv connection
vandalism
administer/expose poison to another's
Another's what, it doesn't say.
I'm especially amused that they won't be responding to "false information to peace officer."   I'm sure that'll put a big scare into the community.
So, what's the deal?
The Oakland City Council voted June 25 to eliminate the positions to help close the city's $32.5 million funding gap. According to the city of Oakland, each of the 776 police officers currently employed at OPD costs around $188,000 per year. Most of the officers who will be affected by the layoffs were on the streets of Oakland when Johannes Mehserle's involuntary manslaughter conviction caused riots last Thursday.

The sticking point in negotiations appears to be job security. The city council asked OPD officers to pay nine percent of their salary toward their pensions, which would save the city about $7.8 million toward a multi-million dollar deficit. The police union agreed, as long as the city could promise no layoffs for three years. No dice, says city council president Jane Brunner.  "We wish we could offer them a three-year no layoff protection we just can't financially. It would be irresponsible of us," Brunner said. The city agreed to a one-year moratorium on layoffs, but it is not enough for the union.

The problem is money. In the last five years, the police budget — along with the fire department budget — have amount to 75 percent of the general fund. After years of largely sparing those departments the budget ax, now it appears there are few other places to cut.
My expertise in police budgeting approaches nil, so, while I'm surprised at the $188,000 per officer per year figure, it may well be reasonable.   And, while my first reaction to the loss of 80 "mostly new" cops is that this is a "budget cut" in the Washington sense of giving a small-than-asked-for increase, these may be a mere keeping pace with attrition hires.
Bates is using a time-honored tactic for public officials facing budget shortfalls:  Trying to scare the public with dire cancellations of favored programs.   But police protection isn't high school football or access to the Washington Monument.   It would be one thing to announce that these 44 incident types will receive lower priority than more serious crimes — which one would hope would have always been the case — but quite another to announce that police won't take the reports.  Surely, there are lulls in violent crime even in Oakland?
Further, I don't understand what filing the reports online does.   Or is filing online the equivalent to placing the report in "the circular file" or "your objection has been noted and logged"?  If they're not going to respond, period, why take the report?   And, if they're going to respond eventually, why online?    Are they getting rid of most of their telephone operators?