ObamaCare and the Lexicon of American Politics
Is "ObamaCare" a slur or a breezy and descriptive nickname?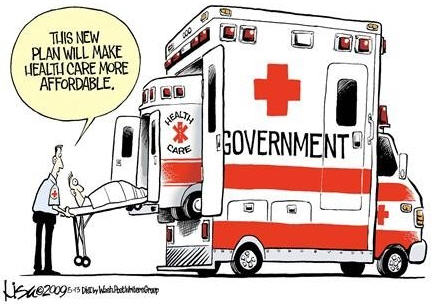 John Cole has chided me, via Twitter, for the use of "wingnut terminology" in referring to the Patient Protection and Affordable Care Act by the shorthand "ObamaCare."  He suggests, "Why not call it HCR, like the media?"
Oddly, during the entire time it was up for debate, I routinely did just that, using variants of "healthcare reform," "health care reform," and "HCR."  But, now that it's passed into law, it's no longer a reform proposal but rather a government program.  "ObamaCare," it seems to me, is a perfectly breezy, pithy, and nonpejorative label for that program.
Oftentimes, because of the 24/7 spin cycle that has characterized American politics over the past couple of decades, we're left either with the propagandistic bill titles given by the proponents or the scaremongering nicknames of the opponents.  Neither are particularly helpful.
Patient Protection and Affordable Care Act is a great example of propagandistic bill naming.  What heartless bastard could oppose protecting patients?  And who doesn't want care to be affordable?  That the act in question will provide very little in the way of protection and even less to ensure affordability, though, makes it a rather silly name.   And PPACA doesn't exactly roll off the tongue as an acronym or initialism.
ObamaCare, by contrast, is short, memorable, and nonjudgmental.  It has a nice parallelism with Medicare, a very popular program with similar goals, and correctly identifies the president who pushed it through Congress.   And, even as one who opposed Obama's election and the passage of this act, the term "ObamaCare" doesn't conjure up negative imagery.