Oklahoma National Guard Vaccine Standoff
The politicization of the virus continues.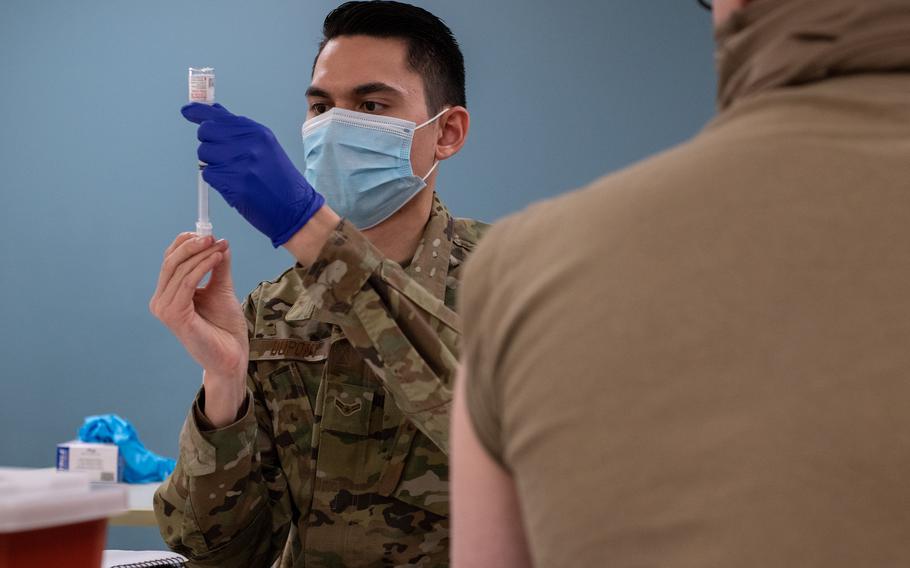 Stars and Stripes ("Vaccine mandate canceled by Oklahoma National Guard adjutant general despite Pentagon order"):
The new leader of the Oklahoma National Guard issued a memo Thursday ordering no troops will be required to take a coronavirus vaccine despite a mandate from the Pentagon requiring it, according to a news report.

Oklahoma Adjutant General Thomas Mancino updated the Oklahoma National Guard's vaccination policy as one of his first acts in the job, noting "no negative administrative or legal action will be taken" against Guard members who decline the coronavirus vaccine, The Oklahoman reported Friday.

The decision comes after Defense Secretary Lloyd Austin in August issued a mandate requiring all service members to get the vaccine or be separated from the military for failing to obey a lawful order.

The Oklahoma National Guard declined to release Mancino's memo to Stars and Stripes on Friday.

However, it was unclear Friday whether the Oklahoma National Guard can override the National Guard Bureau's federal mandate that requires all Guard members to be fully vaccinated by June 30, 2022, said Air Force Sgt. Matt Murphy, a bureau spokesman. "It's a legal gray area that would have to be reviewed by our lawyers," he said.

The National Guard serves in state and federal capacities, which complicates the issue, Murphy said. "This is where the difference between Title 32 and Title 10 becomes a real becomes an issue," Murphy said. "In most instances, the guardsmen are in their Title 32 capacity, which means they're on state duty. In order to be federalized, they have to be on Title 10."

Title 10 of the U.S. Code gives the National Guard Bureau authority to issue its mandate for Guard troops activated for federal missions, while Title 32 gives individual state's the power to issue rules when Guard troops are operating under the state's authority.

The National Guard Bureau's vaccination deadline is different than the deadlines set by the Air Force and Army. The Air Force and Army require Guard airmen and soldiers to comply with their Nov. 2 and Dec. 15 respective vaccination deadlines to be mobilized on federal orders – more than six months before the bureau's deadline.

"We have requirements in order to meet readiness standards," Murphy said. "We have to comply with whatever the active-duty Air Force and active-duty Army requirements are."

The Air Force does not separate the vaccination rates of service components, though about 92.8% of all Air Force, Air Force Reserve and Air National Guard airmen were vaccinated as of Tuesday, according to the service. Army National Guard vaccination rates were unavailable Friday.

Mancino's memo came on his second day as adjutant general. On Wednesday, Gov. Kevin Stitt, a Republican, replaced Maj. Gen. Michael Thompson, who had been a vocal proponent for coronavirus vaccinations, with the 35-year National Guard veteran, according to The Oklahoman.
Murphy's explanation isn't quite right. There are actually three statuses for National Guard members why they're activated: State Active Duty (sometimes seen as State Active Service), Title 32, and Title 10. These distinctions are important but often not well understood, even by many in the military.
When Guard forces are called up for wartime service, they're activated under Title 10 orders and are, for all intents and purposes, in the same status as any other active duty member. That's easy enough.
When Guard forces show up for weekend drills or annual training, they do so under Title 32 orders. They're still under the command of the state governor but are paid by the US taxpayer and get credit toward their federal retirement and other federal benefits.
When Guard forces are activated to respond to a domestic emergency such as a hurricane, they're typically called up as a state militia and placed on State Active Duty. They're under orders of the governor and their salary and other expenses are paid out of the state treasury. They accrue no federal credits or benefits.
Where it gets tricky is that, if the President declares a national emergency, he (usually via the Secretary of Defense) can place Guard forces responding to it under Title 32 orders. Interestingly, they can do things—like riot control and other quasi-law enforcement activities—that Title 10 forces are prohibited from doing under federal law.
What's happening in Oklahoma is in something of a gray area in that most of its Guard isn't in any of these statuses at any given moment. They are, after all, civilians most of the time.
The Secretary of Defense has ordered that all National Guard members be vaccinated along with all other DoD personnel. He delegated to the various Service secretaries responsibility to establish deadlines and the chief of the National Guard Bureau, presumably recognizing that his personnel aren't under his control most of the time, established a far-away deadline for vaccination of June 30.
Given that we have seven months to solve this standoff, I suspect we'll see this play out slowly. But I don't see why Austin couldn't order BG Mancino to Title 10 active duty and then demand he comply with the lawful order already issued under penalty of court martial. Or, for that matter, federalize the entire Oklahoma National Guard for one weekend and have medics issue vaccines to those not already vaccinated.
Regardless, in the meantime we have someone wearing the uniform of a United States Army officer in active defiance of the orders of the Secretary of Defense, creating a minor crisis in civil-military relations, as noted by two well-regarded scholars in the field in the WaPo report on the incident:
Lindsay Cohn, a professor who studies civil-military relations at the Naval War College, said it appears the governor has pitted the state chain of command against the federal chain of command, and created a civil-military rift by attempting to use his authority over National Guard forces to make a public statement about the vaccine mandate.

Because the National Guard reports to state and federal officials, Cohn said, Army or Air Force leadership in Washington could pursue administrative action against anyone who resists the federal mandate. A governor, she said, cannot stop senior service officials from discharging people.

Still, the situation puts the Defense Department "in the very awkward position of pitting themselves against the governor and the still-powerful narrative" that the National Guard primarily belongs to the states, she said.

Peter Feaver, a political science professor at Duke University and expert on civil-military relations, said it's not unprecedented for a governor to politicize his or her oversight of a state's National Guard personnel, but that replacing an adjutant general "so as to flout" the Pentagon's vaccine mandate is unhelpful. It's problematic for readiness, he noted, and sends a message to the public that the gap is widening between active-duty military forces and the reserve components.

"It is one more sign," Feaver said, "of corrosion in the professionalism that should be the hallmark of the total force."
The various clashes between National Guard soldiers on state active duty with demonstrators during the Black Lives Matter and Stop the Steal demonstrations has me wondering why we continue to maintain a National Guard at all. I find it highly problematic to see people in uniforms with US Army or US Air Force emblazoned on them violating the 1st Amendment rights of their fellow citizens or, at very least, being seen as political pawns. At very least, they should be wearing non-camouflaged uniforms with something like "Oklahoma Militia" on them unless they're under Title 10 orders or doing military training under Title 32.