OTB Caption Contest Winners
The Red's of Their Eyes Edition OTB Caption ContestTM is now over.
The Red's of Their Eyes Edition OTB Caption ContestTM is now over.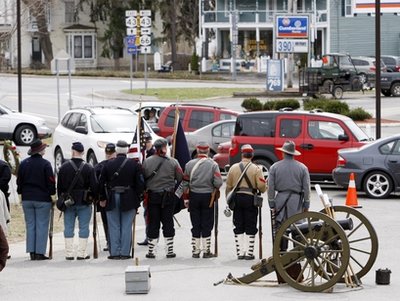 ✰ THE WINNERS ✰
First: Donald Sensing – When the price of gas across the street tops $4, it means war.!

Second: G.A.Phillips – Real men wear pink!!!!!! Not blue and grey!!!!!!!! (…or green and gold in football season – rodney)

Third: Michael Hamm – Democrat budget cuts hit our military the hardest.
HONORABLE MENTION
yetanotherjohn – Obama has agreed to arm the Libyan rebels.

John425 – Honor guard salutes the passing of the last affordable car made in America- the '57 Chevy.

Maggie Mama – As they watch gas prices continue to rise, Americans of different parties get ready to take the fight to a Congress is unwilling to cut the federal budget.

Peterh – Cut funding for the asylums and increase your voter base……brilliant…..no….really!!!

grizzlybare – I'm pissed. There's no gas for under $4.09 in my neck of the woods.

Robert W. Armijo – Civil War re-enactors patiently wait for the 'Piggly Wiggly' parking lot to clear, so they can finally have their battle.
ℛODNEY'S BOTTOM OF THE BARREL
Palin announces her candidacy.

"Quick take cover behing the SUV."
"WTF's an SUV?"

"…the same thing we do every night Pinky, try and take over the world."

"Look's like Dick Cheney's going on another hunting expedition."
The Monday Contest has already declared a pinky war.