Pat Summitt and the Evolution of Women's Basketball
Pat Summitt's predecessor stepped down as head coach to work on her doctorate.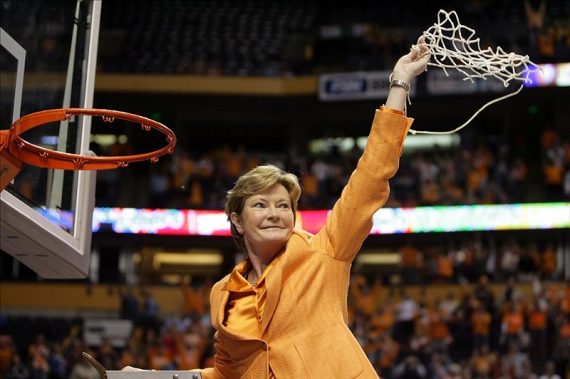 ESPN's Gene Wojciechowski asserts that "Pat Summitt is the greatest college basketball coach of our time. At the very least, she's in the starting five." He makes his case based on the notion that, "Greatness isn't measured simply by victories. It is measured by the depth and width of a coach's impact on the sport itself, on the players, on the university they represent. Find me another basketball coach who transformed and legitimized her sport more than Summitt. Find me another basketball coach whose legacy exceeds hers."
I've fought the "it's not fair to compare men's and women's sporting accomplishments" fight before but am in no mood to do it under the circumstances. Suffice it to say, she's earned every accolade she gets and we don't need to cheapen it by comparing her to John Wooden.
In terms of Wojciechowski's point about Summitt's impact on the game of women's basketball, though, here's a pretty interesting tidbit:
She came to Tennessee in 1974 as a graduate assistant to work on her master's degree, teach a pair of lower-level physical education classes and, most of all, rehab her injured knee in time for the 1976 Olympics.

For this, college basketball can thank Bettye Giles.

Giles was the women's athletic director at UT-Martin, which is where Summitt played college basketball. It was Giles, a UT-Knoxville grad and Summitt's college adviser, who helped arrange the grad assistant position.

Not long after Summitt's arrival in Knoxville, the women's basketball head coach decided to take a sabbatical to pursue a doctorate degree. Summitt was offered the job.
Can you imagine the head coach of any BCS program–in any sport–taking a sabbatical to pursue a doctorate? That's how much women's basketball has changed in her tenure. And she gets a lot of the credit for it.