Poor Pay High Taxes, If We Redefine 'Taxes'
The American tax code contains perverse incentives and barriers to getting out of poverty.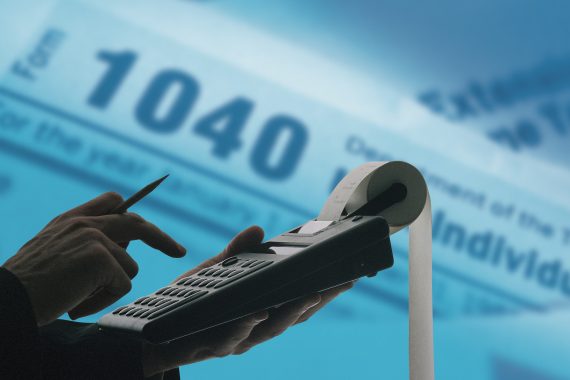 Edward McCaffery, a professor of law, economics, and political science at USC argues that some Americans pay a 90% tax rate.
The intro is intriguing:
In a recent opinion column on Phil Mickelson's tax comments, I pointed out that some of the working poor face marginal tax rates "approaching 90% as they lose benefits attempting to better themselves."

Readers were incredulous, asking how it could be that in a nation with a top federal income tax rate of 39.6% on individuals making more than $400,000 a year, anyone could face a 90% rate.

It is true. Marginal tax rates, especially for those below the top rate brackets, are chaotic, confusing, and all over the map.
That's true! But they're not 90%.
As a result, some of the working poor face extremely high rates on their next dollar earned. Tax scholars and economists have long known this. Dan Shaviro of NYU published a study in 1999 showing marginal tax rates above 100% on the working poor; specifically, he illustrated that a single parent earning $10,000 would lose over $2,500, after taxes, by earning another $15,000, pushing her income to $25,000.

Last year, a study from the Congressional Budget Office shows how a single parent making $18,000 now faces a marginal tax rate of 88% in 2013, down from 95% in 2012. The CBO report is 45 pages long, with complex details. Adding in all the taxes along with a host of other things that have strange acronyms like SNAP and TANF, and the result is that it is possible to face marginal tax rates approaching 90%.

What does this mean? It means that, like Mickelson, these individuals will not gain all that much from working additional hours.
Now, this is an interesting argument. And yet completely misleading.
While Mickelson's tantrum over the prospect of tax hikes at the federal level and in his native California was unseemly–as he's since acknowledged–he's actually facing a tax hike. What happens to the working poor is quite different: They lose federal subsidies, potentially making work self-defeating. This is a very important thing to understand and McCaffery does a good job of illustrating the issue:
How can this be? The effect comes about because governments at various levels give aid to the very poor, such that the extremely low earners face negative tax rates. In short, we pay some poor to work — this is the "welfare to workfare" move of Bill Clinton's legacy. But then the law takes these benefits back from the near-poor via high marginal tax rates in a "phaseout" range. The most important of these provisions is the earned income tax credit (EITC) located in the federal income tax. This provision pays the working poor up to 40 cents on the dollar up to approximately $10,000 of earnings.

If Jane makes $10,000, the government mails her a check for $4,000. Over a certain range, Jane keeps that money. But as she starts earning more than approximately $18,000, Jane begins to lose the $4,000, at a roughly 20% rate. Add that to payroll taxes (7.65%), the regular income tax (15%, at that range), and Jane is in a rate bracket over 40%, and we are just getting started — other federal, state and local programs and taxes pile on to the same effect.
But this is an absurd sleight of hand. Not getting benefits that you're not entitled to isn't a tax! It just isn't. That doesn't mean we shouldn't think about whether we're creating perverse incentives by phasing out the benefits at too low a point—or, conversely, whether having the benefits run through the tax code is a good idea at all—but it's just silly to treat lost subsidies as a tax. We don't, after all, factor in the fact that Mitt Romney doesn't get food stamps in figuring his tax rate.
McCaffrey counters:
You might be thinking that losing a benefit is not a tax. That is an understandable sentiment, but Jane will not be comforted by it.
Jane's comfort level has fuck all to do with whether losing a benefit is a tax.
Looking just at the EITC, as Jane's earnings go over $18,000, she loses some of the dollars she is earning to "regular" taxes, and the $4,000 she was getting in assistance is disappearing. It's real, green, money that she is losing.
Right! But that doesn't make it a tax. If I give a homeless man a dollar today, I'm neither taxing him nor cutting his salary if I don't give him another one tomorrow. Similarly, our society has decided to offer various aid programs to the poor, with defined thresholds for poverty. And we've even had the foresight not to make them all-or-nothing, phasing them out so as not to make not working a better option. But it makes no sense to have an anti-poverty program for those who aren't poor. Indeed, by McCaffrey's logic, I'm being taxed because I'm not yet drawing Social Security retirement benefits. And those who didn't serve in the military are being taxed because they don't get the GI Bill. Certainly, I'm being taxed because my GI Bill benefits stopped once I finished school. Except that, you know, I'm not.
Leaving aside the idiocy of McCaffrey's word games, his public policy concern is nonetheless reasonable.
Some may conclude that it is fair to take back the money given to the poor as soon as they are no longer really poor. But this creates the high marginal tax rates just noted. And this is a major public policy problem, for at least two reasons.

One, these high marginal tax rates create "poverty traps" that keep the poor poor, and make escape to the middle class difficult. Similarly, the middle class these days are having a hard time doing the savings that might elevate them from their class into the upper class. Our tax laws essentially create a caste system, with barriers between income class levels.

Two, the poverty trap is also a severe marriage penalty, making it virtually economically impossible for lower income classes to marry. If Jane, making $18,000 a year, marries Dick, also making $18,000, suddenly Dick and Jane become a household, a single taxpayer (and benefits recipient) as far as the government is concerned. Their income has moved from $18,000 to $36,000 — exactly a range of steep marginal tax rates.
There's no doubt our tax code creates some perverse incentives and otherwise has perverse effects. As I've noted previously, my tax rate has gone up by virtue of my wife dying. Despite having the same two children and the loss of roughly half our household income, I owe the government a larger percentage of my reduced earnings by virtue of being a head of household rather than married filing jointly. There's no rational policy basis that I can think of for penalizing widowers with children.
But McCaffrey never tells us what he proposes to do about the particular problem he highlights. Should we simply give everybody, regardless of need, all of the subsidies that we afford anyone? Because, otherwise, there's always going to be a phase-out point that hurts those crossing that barrier and creates incentives against so doing. That's an awfully expensive solution and one that doesn't strike me as particularly helpful to the working poor.