Ray Bradbury And The Real Lesson Of Fahrenheit 451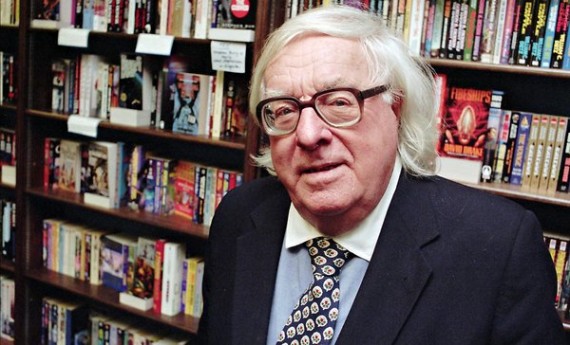 I note, as did Steven Taylor did this morning, the news that Science Fiction author Ray Bradbury has passed away at the age of 91. It's a sad day if only because Bradbury was the last of the great Sci-Fi authors from the genre's beginning era in the 1950s and 60s. All the others, Isaac Asimov, Arthur C. Clarke, and Robert A. Heinlein, left us long ago. It also reminded me of a story from way back in 2007 about how Bradbury had become increasingly upset over the years over what he contended was the misinterpretation of one of his greatest works, Fahrenheit 451:
Bradbury still has a lot to say, especially about how people do not understand his most literary work, Fahrenheit 451, published in 1953. It is widely taught in junior high and high schools and is for many students the first time they learn the names Aristotle, Dickens and Tolstoy.

Now, Bradbury has decided to make news about the writing of his iconographic work and what he really meant. Fahrenheit 451 is not, he says firmly, a story about government censorship. Nor was it a response to Senator Joseph McCarthy, whose investigations had already instilled fear and stifled the creativity of thousands.

This, despite the fact that reviews, critiques and essays over the decades say that is precisely what it is all about. Even Bradbury's authorized biographer, Sam Weller, in The Bradbury Chronicles, refers to Fahrenheit 451 as a book about censorship.

Bradbury, a man living in the creative and industrial center of reality TV and one-hour dramas, says it is, in fact, a story about how television destroys interest in reading literature.

"Television gives you the dates of Napoleon, but not who he was," Bradbury says, summarizing TV's content with a single word that he spits out as an epithet: "factoids." He says this while sitting in a room dominated by a gigantic flat-panel television broadcasting the Fox News Channel, muted, factoids crawling across the bottom of the screen.

His fear in 1953 that television would kill books has, he says, been partially confirmed by television's effect on substance in the news. The front page of that day's L.A. Times reported on the weekend box-office receipts for the third in the Spider-Man series of movies, seeming to prove his point.

(…)

He says the culprit in Fahrenheit 451 is not the state — it is the people. Unlike Orwell's 1984, in which the government uses television screens to indoctrinate citizens, Bradbury envisioned television as an opiate. In the book, Bradbury refers to televisions as "walls" and its actors as "family," a truth evident to anyone who has heard a recap of network shows in which a fan refers to the characters by first name, as if they were relatives or friends.

Bradbury imagined a democratic society whose diverse population turns against books: Whites reject Uncle Tom's Cabin and blacks disapprove of Little Black Sambo. He imagined not just political correctness, but a society so diverse that all groups were ?minorities.? He wrote that at first they condensed the books, stripping out more and more offending passages until ultimately all that remained were footnotes, which hardly anyone read. Only after people stopped reading did the state employ firemen to burn books.
In an era where more people watch American Idol than read a daily newspaper, and television "news" itself is a vast wasteland, it's hard to argue against Bradbury's hypothesis.
Photo via The New York Times