Reporter James Foley Beheaded in ISIS Video
American journalist James Foley has been beheaded by the terrorist network calling itself the Islamic State.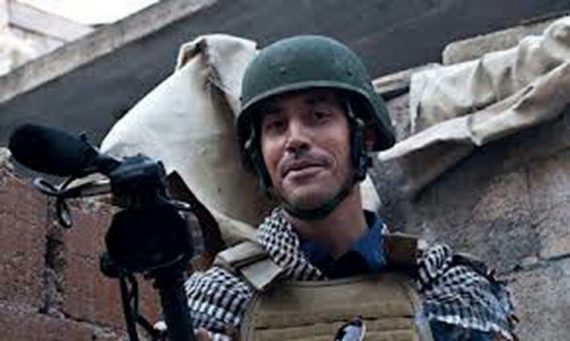 American journalist James Foley has been beheaded by the terrorist network calling itself the Islamic State.
CNN ("Video shows ISIS beheading U.S. journalist James Foley"):
A video released by ISIS shows the beheading of American journalist James Foley, who disappeared in November 2012 in Syria.

The video posted on YouTube contained a message to the United States to end its military operations in Iraq.

In the video, Foley is seen kneeling next to a man dressed in black. He reads a message, presumably scripted by his captors, that his "real killer" is America.

"I wish I had more time. I wish I could have the hope for freedom to see my family once again," Foley can be heard saying in the video.

He is then shown being beheaded.

The National Security Council is aware of the video.

"The intelligence community is working as quickly as possible to determine its authenticity. If genuine, we are appalled by the brutal murder of an innocent American journalist and we express our deepest condolences to his family and friends. We will provide more information when it is available," the agency said.

Foley disappeared in November 2012 in northwest Syria, near the border with Turkey. He was reportedly forced into a vehicle by gunmen; he was not heard from again. At the time of his disappearance, he was working for the GlobalPost.

The video also shows another American journalist. His life is said by the militants in the video to hang in the balance, depending on President Barack Obama does next.

The journalist is believed to be Steven Sotloff, who was kidnapped at the Syria-Turkey border in 2013. Sotloff is a contributor to Time and Foreign Policy magazines.
A decade ago, al Qaeda-affiliated terrorists engaged in a series of videotaped beheadings of Westerners, mostly Americans. The practice stopped after a few months because it backfired so severely, undermining the very religious principles for which the Islamist radicals ostensibly fought.
Obviously, US policy in Iraq was not behind the capture of Foley in November 2012. At that time, US troops were out of Iraq and the president who had campaigned on ending American involvement there had just been reelected. Whatever the sick rationale for this barbaric act, it certainly wasn't limited airstrikes that began nearly two years later.