RFK Jr. Running for President
Marianne Williamson is getting some competition.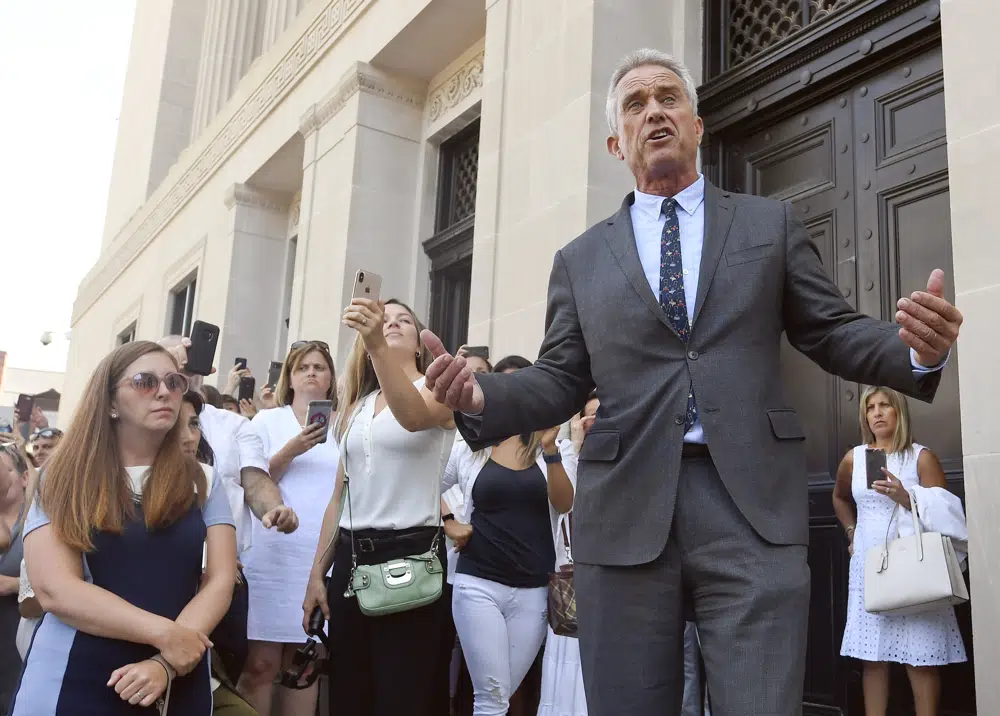 AP ("Anti-vaccine activist RFK Jr. challenging Biden in 2024"):
Democrat Robert F. Kennedy Jr., an anti-vaccine activist and scion of one of the country's most famous political families, is running for president.

Kennedy filed a statement of candidacy Wednesday with the Federal Election Commission.

The 69-year-old's campaign to challenge incumbent President Joe Biden for the Democratic nomination is a long shot.
You don't say?
Self-help author Marianne Williamson is also running in the Democratic race.
Honestly, he might be able to take her.
Kennedy, a nephew of President John F. Kennedy and the son of his slain brother Robert F. Kennedy, was once a bestselling author and environmental lawyer who worked on issues such as clean water.

But more than 15 years ago, he became fixated on a belief that vaccines are not safe. He emerged as one of the leading voices in the anti-vaccine movement, and his work has been described by public health experts and even members of his own family as misleading and dangerous.

Kennedy had been long involved in the anti-vaccine movement, but the effort intensified after the COVID-19 pandemic and development of the COVID-19 vaccine.

His anti-vaccine charity, Children's Health Defense, prospered during the pandemic, with revenues more than doubling in 2020 to $6.8 million, according to filings made with charity regulators.

His organization has targeted false claims at groups that may be more prone to distrust the vaccine, including mothers and Black Americans, experts have said, which could have resulted in deaths during the pandemic.

Kennedy released a book in 2021, "The Real Anthony Fauci," in which he accused the U.S.'s top infectious disease doctor of assisting in "a historic coup d'etat against Western democracy" and promoted unproven COVID-19 treatments such as ivermectin, which is meant to treat parasites, and the anti-malaria drug hydroxychloroquine.

His push against the COVID-19 vaccine has linked him at times with anti-democratic figures and groups. Kennedy has appeared at events pushing the lie that the 2020 presidential election was stolen and with people who cheered or downplayed the insurrection at the U.S. Capitol on Jan. 6, 2021.

A photo posted on Instagram showed Kennedy backstage at a July 2021 Reawaken America event with former President Donald Trump's ally Roger Stone, former National Security Adviser Michael Flynn and anti-vaccine profiteer Charlene Bollinger. All three have promoted the lie about the 2020 election being stolen.

Bollinger has appeared with Kennedy at multiple events. She and her husband sponsored an anti-vaccine, pro-Trump rally near the Capitol on Jan. 6. Bollinger celebrated the attack and her husband tried to enter the Capitol. Kennedy later appeared in a video for their Super PAC.

Kennedy has repeatedly invoked Nazis and the Holocaust when talking about measures aimed at mitigating the spread of COVID-19, such as mask requirements and vaccine mandates. He has sometimes apologized for those comments, including when he suggested that people in 2022 had it worse than Anne Frank, the teenager who died in a Nazi concentration camp after hiding with her family in a secret annex in an Amsterdam house for two years.
Okay, so he's a long shot. He might actually be competitive if he were running in the Republican primaries.