Rubio and Reagan
More examples of fantasy Reagan.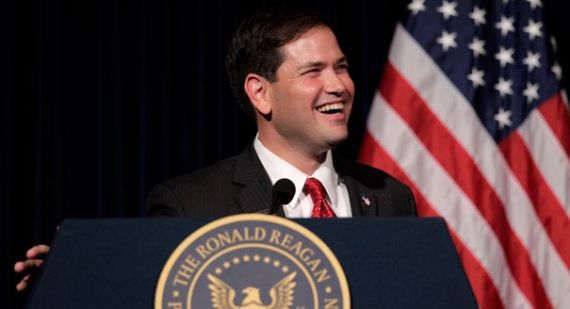 I was going to note the following in my previous post, but it had already gotten too long.  On the subject of rhetoric and reality, the following also struck me from Senator Marco Rubio's speech at the Reagan Library:
There was something else though that defined the Reagan presidency and that was defining the proper role of government. He did that better than any American has done ever before. And I stand before you, it has always been important for Americans and America to do that, but I stand here before you today all of us gathered here today at a time when defining the proper role of government is as important as it has ever been.
I am just a few years older than the Senator and I, too, grew up admiring President Reagan.  However, the notion that Ronald Reagan did a better job at "defining the proper role of government" than "any American has done ever before" is some pretty hefty hyperbole.  And yes the event was at the Reagan Library, but still.
Beyond the hyperbole, however, is the fact that while Reagan did famously state "government is not the solution to our problem; government is the problem" the truth of the matter is that Reagan did not actually govern in a way that was substantially different from his predecessors nor his successors.
There is also the niggling facts of things like the Reagan administration's willingness to negotiate over reforms to Social Security with the Democratically controlled Congress and the willingness to raise taxes (multiple times) as needed to deal with the demands of the federal budget.
Again:  there is a lot of room for debate, but anchoring that debate in reality would be really nice.