Smart Designers Create Imperfect Rules
Even the smartest designers can't anticipate all the flaws with the rules they write.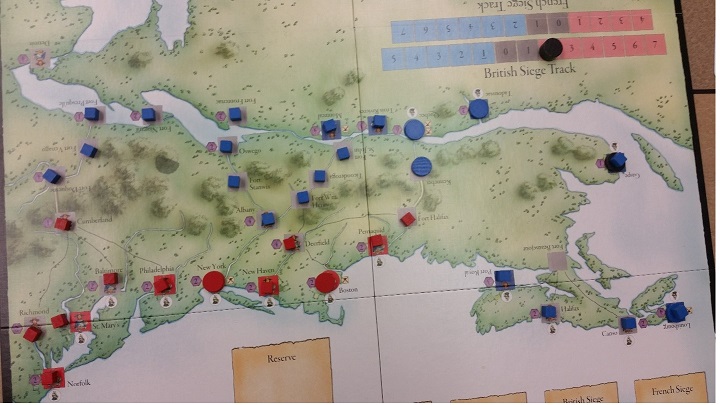 One of the regular topics of conversations here on Outside the Beltway is the imperfections of the US Constitution. During a recent conversation with Herr Professor Taylor, I realized that there's a very useful parallel between constitutional design and game design.
Constitutional systems are a set of rules intended to create particular outcomes — just like games. As brilliant as the Framers were, they could not anticipate every way their set of rules might be used or abused — just like game designers. Badly intentioned parties might learn, over time, how to exploit the rules, not only to their advantage, but to undermine the whole point of the system — just like badly intentioned game players who get their jollies by ruining the game for everyone else.
I know both board games and game design pretty well. I own hundreds of games, and have owned many times more. I've also designed games, mostly for work, as for teaching, simulating, and decision-making tools. I've also had the pleasure of getting to know lots of professional game designers, far more capable than me, who have created some truly impressive board game experiences. Many of their creations are just plain fun. Others distill historical events into a simplified but credible narrative that you can play yourself.
One of my favorite game designers is Martin Wallace. His games resonate with me strongly. For example, Princes of the Renaissance is a fun early-modern competition among rival mercenary commanders, filled with intrigue and perverse incentives. God's Playground is the rare great three-player game, with an interesting theme (the early history of Poland). A Study in Emerald is the game version of a neat Sherlock Holmes/Cthulhu Mythos mash-up, originally written by Alan Moore.
In 2011, he published A Few Acres of Snow, a game covering the French and Indian War (a.k.a. the part of the Seven Years War fought in the Americas). As is normal with game designers, he recruited volunteers to "playtest" his design before he published it. Playtesters provide critical feedback, telling the designer whether the game does what the designer intended it to do. Is the game fun? Does it give everyone a fair chance of winning (balance)? If it's intended to be an historical simulation, does it give you that "you are there" verisimilitude that the history buff wants? The medium for playtesting is a physical prototype, sometimes provided by the designer with all the maps, cards, pieces, and other components needed to play the game. For the last couple of decades, the norm is to provide the "print and play" files instead, so that playtesters can create their own prototype copies.
All games need playtesting. Even the simplest games are systems of rules with unpredictable interactions. When your rules span a few pages, or a dozen pages, or a few dozen pages, the risk of unintended outcomes increases. Someone may discover a way to "break" the game, a dominant strategy that wins most or all of the time. No game designer, no matter how brilliant and experienced, is ever able to able to foresee all the game-breaking problems in the design. That principle is especially true, since anyone designing a game believes that there is a way that people should play the game. How people actually play it isn't always predictable. (The same principle applies to software design, by the way. Those pesky users do things you never would have imagined.)
Wallace published his game just when tabletop simulators, Internet-based ways of playing board games, became popular among game hobbyists like myself. The tabletop simulator version of A Few Acres of Snow, post-publication, had hundreds of players and thousands of play sessions. In effect, it was a second playtest, far beyond the original playtest. And, as you probably already guessed, someone found a dominant strategy that "broke" the game. If the British player followed a particular sequence of decisions, the French player had a low chance of ever winning the game. As earnestly as Wallace designed his game to be fair, and as well as the playtesters took the game for a limited test drive, it took a while for someone to discover this weakness in the system.
Soon after the revelation of this dominant strategy, nicknamed "the Halifax Hammer," Wallace published some rules updates that partially or wholly fixed the problem. Everyone, from Wallace to the owner of a copy of his game, had the same desire for a more balanced game, in which the right combination of wits and luck would give each player a fair chance of winning.
Now, substitute James Madison for Martin Wallace. Both men were extremely intelligent. Both were designing a set of rules designed to be fair to all contending parties. Both could not anticipate every way in which someone might break the rules system. But someone did, in less than a year for Wallace's game, and a couple of centuries for Madison's set of rules. (Of course, by Madison, I mean all the Framers, but I'm sure you got the point.)
The important difference, of course, isn't as much between the designers, Madison and Wallace, but between the two sets of players. Everyone who owned a copy of Wallace's creation, A Few Acres of Snow, wanted a more balanced game. Not everyone who has inherited our set of Constitutional rules wants a fair competition. The current mainstream of the Republican Party not only wants to bend the rules of the game — the Electoral College, gerrymandering, the filibuster, etc. etc. — to its advantage. It also wants to change the rules to make it even more unfair, through voter suppression laws and other measures. We live now in a country where a significant faction, at the level of elites and the electorate, do not share an investment in fair outcomes with the rest of the country. Proposals like making it easier for people to vote, ensuring that everyone has a fair chance to play the democratic game, are met with the cynical objection, "Why should we do something that makes the game more balanced?"
Nothing in this analogy between the Framers and game designers is intended to downplay their intelligence, their use of historical examples to inform constitutional design, their efforts to anticipate future problems, or any other aspects of themselves or their creation. Far from it. As I said already, even the best game designers can't anticipated the game-breaking strategies that emerge only after many, many plays. Instead, we can use this analogy to help recognize why it's necessary to remove any mythology or nostalgia that prevents us from making critical "rules updates." Eliminating the filibuster, granting full representation to American citizens living in the District of Columbia and US territories, ending partisan-led re-districting…It would be amazing, after over 200 years, that there are not more significant tweaks to the rules that might be needed. (And perhaps they are. A real test of proportional representation might be timely.)
It's also critical, through this analogy, to see how important it is to have a particular shared political culture, not just shared political rules. Without a common dedication to fairness, badly-intentioned players will eventually find some way to ruin the game for everyone else. It's important for everyone involved to be honest about game-wrecking players, even when they were once your friends, or still are.