South Park Muhammad Episodes Get Emmy Nomination
Muhammed may be in a bear suit, but he still got an Emmy nomination.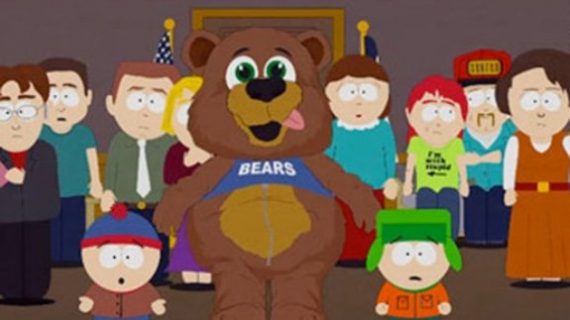 The South Park episodes that caused controversy earlier this year for their satirical look at how depictions of Muhammed have been handled by the media have been nominated for Emmy Awards:
The censored "South Park" episodes that satirized the Prophet Muhammad picked up an Emmy nomination for outstanding animation program on Thursday.

The two episodes, simply titled "200/201," were televised in April and came under a severe amount of scrutiny because some interpretations of Islam forbid visual representations of the prophet. As Dave Itzkoff reported at the time, the satire "elicited an ominous message from an Islamic group based in New York." The group implied that the creators of "South Park," Matt Stone and Trey Parker, would "probably wind up like Theo van Gogh for airing this show." Mr. van Gogh was killed by an Islamic militant in Amsterdam six years ago.

The episodes were censored by the channel that carries "South Park," Comedy Central, and they have not been repeated on television since April. They are also unable to be viewed on the show's Web site, SouthParkStudios.com. "After we delivered the show, and prior to broadcast, Comedy Central placed numerous additional audio bleeps throughout the episode. We do not have network approval to stream our original version of the show," the Web site says.

(…)

"We're extremely proud of 'South Park's' tenth overall Emmy nomination and hope that the series will be honored with its fifth Emmy Award later this year," a Comedy Central spokesman said in an e-mail message.

The spokesman declined to say whether the channel intended to televise the episodes again.
Of course they didn't.
This isn't the first time that South Park has parlayed an Emmy nod out of a controversial episode. Four years, ago the episode "Trapped in the Closet", which satirized both Scientology and Tom Cruise, was nominated for the same award although it lost to an episode of The Simpsons for the award.
No doubt, this nomination will reopen the entire controversy all over again.