Tax Confusion
Attempts to pre-pay property taxes lead to confusion and frustration.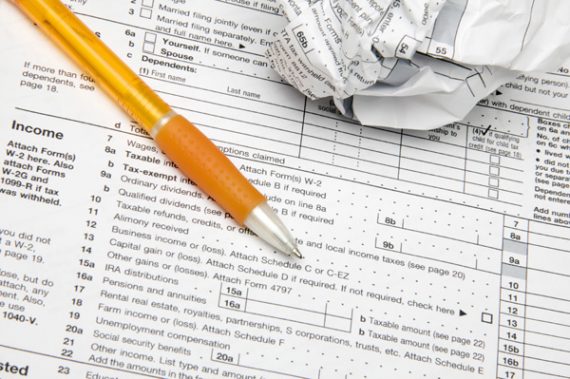 Via the NYT:  Last-Minute Rush to Prepay Taxes Gives Way to Confusion and Anger.
In Hempstead, a Long Island town where the typical property tax bill tops $10,000, residents have lined up all week to prepay those taxes for next year. They have been trying to save thousands of dollars before the new federal tax bill, which goes into effect on New Year's Day, sharply limits deductions for state and local taxes.

[…]

The new tax bill, and its $10,000 cap on all local and state tax deductions, has generated a variety of strong emotions — including anxiety and frustration — in places like Hempstead.

By Thursday, however, that stew of emotions had been replaced by utter confusion, as well as rage, including among people who had shelled out money only to discover that they might not get any benefit.
When I first heard about this story in passing, I wondered why so many people thought they could pre-pay and claim tax liability in 2017 for 2018 taxes (something that struck me as likely problematic), but the answer appears to be state and local officials:
Even before President Trump signed the bill into law last week, local officials in Washington announced they would accept prepayments in what the city's mayor, Muriel Bowser, called a bid to "protect Washingtonians from the negative impacts of this devastating legislation." Gov. Andrew Cuomo of New York last week signed an executive order opening the door for prepayment, a move he freely described as a bid to circumvent the new law. Local officials in Maryland, Virginia and other states made similar moves.
On the one hand, I understand the move as it would allow taxpayers a one-time opportunity to save some money.  On the other, this was clearly the kind of move destined to create confusion.  It is one level of government (state/local) making a decision about how another level of government (federal) would behave in a complex policy arena (taxes).  It was destined for a bumpy road.
Of course, the real problem stems from ramming extremely complicated legislation through the process at the last minute:
This week's tax-prepayment roller coaster could be just the beginning. Republicans pushed through their tax overhaul at blistering speed, giving lawyers and accountants only about a week to study the bill before it goes into effect.

But already, those people studying the law have uncovered internal conflicts and unintended consequences, as well as broad areas of uncertainty the I.R.S., the Treasury Department and, ultimately, the court system will be left to resolve.
I fully recognize that any piece of major legislation is going to have bugs to work out (especially one of this scope and size), but the way this particular piece of legislation was crafted and passed was not exactly impressive (e.g., no hearings, hand-written changes on the fly, numerous last-minute sweetners to get support, etc) will likely result in a large number of headaches for tax payers and tax preparers.
At a minimum, the notion that this was simplification of the tax code is clearly absurd.