Romney And Ryan Not Providing Details About Their Tax Plan
Mitt Romney and Paul Ryan are refusing to provide significant details about their tax plan. That's a mistake.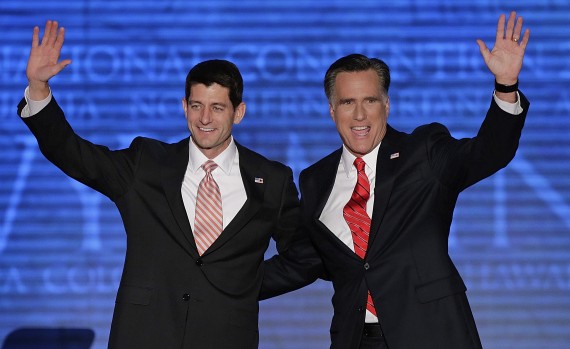 Mitt Romney says that his tax plan would actually end up increasing the tax burden on wealthy taxpayers because he would close loopholes and limit deductions that they'd be able to take advantage of. So far, though, his campaign isn't being at all specific about what loopholes and deductions he's talking about:
In separate interviews Sunday, Mitt Romney and Paul Ryan refused to identify which tax loopholes they would close in order to pay for their large tax cuts.

On NBC's "Meet The Press," Romney dodged multiple questions about which deductions or credits he'd target, saying only that he'll get rid of "some of the loopholes and deductions at the high end" while seeking to "lower the burden on middle income people."

Pressed for one specific example, Romney replied, "Well, the specifics are these which is those principles I described are the heart of my policy."

On ABC's "This Week," Ryan also fended off multiple questions about whether the Romney-Ryan tax plan should be taken seriously given its lack of details on which loopholes they would close.

"Mitt Romney and I, based on our experience, think the best way to do this is to show the framework, show the outlines of these plans, and then to work with Congress to do this. That's how you get things done," he said.

The Romney-Ryan plan would cut taxes beneath existing Bush-era levels, with benefits disproportionately for high earners, at a cost of roughly $5 trillion. They have vowed that the breaks would be revenue-neutral by way of closing tax credits and deductions but have persisted in their refusal to specify which ones, other than promising that the changes wouldn't target middle class Americans.
As a matter of tax policy, there's nothing wrong in principle with the idea that Romney and Ryan are putting forward here. Indeed, most serious discussions of comprehensive reform of the Tax Code, such as those contained in the plan put forward by the Simpson-Bowles Commission, include proposals that would lower tax rates while at the same time getting rid of tax deductions, credits, and loopholes. By almost all projections, the actual results of such changes would be increased tax revenues due in no small part to the fact that eliminating deductions often more than offsets any lost revenue from lower rates. Indeed, a large part of the last round of comprehensive tax reform, which is now 26 years in the past, included just these kinds of changes. Among the popular deductions that went away at that time were the deduction for interest on credit cards and car loans.
There are other benefits to eliminating deductions and loopholes, either across the board or on a more limited basis. All of these provisions of the tax code serve the primary  purpose of making the tax code itself, and compliance with tax law, far more expensive and complicated than it needs to be. By some estimates, American individuals spend somewhere between $55 billion and $163 billion on tax compliance, with the difference largely being due to what one considers "tax compliance." Even if one takes the lower figure as the accurate one, though, that's still a heck of a lot of money being sucked out of the economy on an annual basis thanks to an overly complicated tax code. In addition to compliance costs, though, all of these deductions and loopholes end up distorting the economy by artificially encouraging investment in favored industries and methods of saving. The home mortgage interest deduction, for example, artificially lowers the cost of homeownership at the expense of renting. All of the tax credits, deductions, and favorable depreciation schedules allowed to private business, many of which are done at the behest of lobbyists rather than for any rational economic reason, distort the economy by favoring some forms of investment and business over others. As a general principle, then, eliminating these types of distortions in the Tax Code, is a good idea.
Romney and Ryan, however, are simply not being honest in refusing to discuss at least some of the details of their tax plan. The only thing we know for sure is that they want to cut taxes, but they promise it will be revenue neutral because they'll also be eliminating deductions and loopholes. Then, however, they refuse to talk about what deductions and loopholes they would propose eliminating. Discussing this matter on Twitter, some Republicans have raised the argument that it would be unwise for Romney to reveal his negotiating position beforehand. While there is some merit to that argument, it doesn't strike me as sufficient justification for complete silence on the issue. If one of the central components of the economic plan that you are running on includes "tax reform," then you owe it to the American public to explain what you mean. Ronald Reagan did it in 1980 when he made very clear that, if elected President, he would implement the Kemp-Roth plan that had been floating around Congress since 1978. In the end, what was enacted didn't match Kemp-Roth in every single detail, such is the nature of the legislature process after all, but it was pretty darn close, and the people who had voted in 1980 knew from the start what Reagan was talking about when he talked about tax reform.
Governor Romney doesn't have to reveal every single detail of what he is proposing, and we certainly don't need the campaign to release a detailed piece of legislation. Indeed, such a detailed proposal would be mostly worthless because it completely ignores the role that the legislative drafting process, a function of Congress not the White House, plays in things such as this. Nonetheless, I do think that they are under some obligation to give voters at least a general idea of what kind of changes to the tax code they are contemplating, which deductions and loopholes they are talking about, and at least some basic analysis to support their assertion that the plan would be revenue neutral. If they don't do it now, then Romney is clearly going to be put on the spot about issues like this, as will Paul Ryan, when the debates roll around. If they don't have a good answer then, they will be open to an attack from the Obama campaign that their tax plan is nothing but smoke and mirrors.