Jon Hunstman Unveils A Tax Plan You Ought To Be Paying Attention To
Jon Huntsman is out with a tax and jobs plan that deserves a lot more attention than it's likely to get.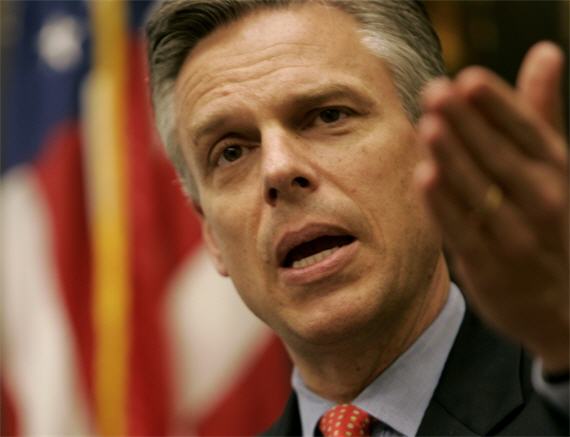 Jon Huntsman is hovering near the bottom of the polls both on a national and a statewide basis, so perhaps that he feels free to put forward one of the most far-reaching tax reform plans we've seen in quite some time:
Jon M. Huntsman Jr. again showed himself on Wednesday to be an ideological outlier in the Republican presidential field, calling for the tax code to be stripped of all loopholes and deductions.

Congressional Republicans have resisted closing loopholes in recent budget talks, portraying such moves as tax increases.

"Over the last few decades, our tax code has devolved into a maze of special-interest carve-outs, loopholes and temporary provisions that cost taxpayers more than $400 billion a year to comply with," Mr. Huntsman said in a speech at a metal plant in Hudson, N.H. "Get rid of all tax expenditures, all loopholes, all deductions, all subsidies, all corporate welfare."

Mr. Huntsman's plan, which borrows from both Representative Paul D. Ryan's proposal and the bipartisan Simpson-Bowles Commission recommendations to reduce the deficit, also calls for sharply lowering both corporate and individual tax rates, as well as ending taxes on capital gains and dividends, positions more in line with Republican orthodoxy.

It calls for simplified income tax rates of 8 percent, 14 percent and 23 percent, but would eliminate popular tax breaks like the deduction for interest on home mortgages.
The New York Times article on the plan is unfortunately devoid of any real analysis of the plan, which probably wouldn't be true of a plan put forward by one of the top tier candidates. Fortunately, The Washington Post gives the plan a little more attention, including noticing the fact that Huntsman plan deals with a lot more than just taxes:
Called "Time to Compete," the speech aimed to catapult Huntsman into the economic debate among the top-tier candidates and give his campaign some much-needed traction.

"There is no more urgent priority at this point in our nation's history than creating jobs and strengthening our economic core; everything else revolves around it," he said. "Meeting our challenges will require serious solutions, but above all, it will require serious leadership — a quality in high demand in our nation's capital and among my opponents on the campaign trail."

Huntsman's plan calls for eliminating taxes on capital gains and dividends, lowering the business tax rate, and instituting a tax holiday for repatriating corporate profits earned overseas.

Addressing regulations, Huntsman said he would repeal Obama's health-care plan — all of his Republican rivals have vowed to do the same if elected — as well as the Dodd-Frank bill, which increased oversight of the financial sector.

Huntsman also took aim at the Environmental Protection Agency, which his opponents have also targeted, saying, "We must end the EPA's serious regulatory overreach."
Huntsman talked about his plan on the Today show this morning:
Visit msnbc.com for breaking news, world news, and news about the economy
James Pethokoukis concentrates on the tax part of Huntsman's plan and finds much to be impressed with:
Basically, this is the "zero option" Bowles-Simpson tax plan that lowers marginal tax rates and broadens the tax base. But there is at least one big difference. B-S would use part of the money from axing some $1 trillion in annual tax breaks to lower marginal rates and part for deficit reduction – a net tax hike. Huntsman would divert that extra tax revenue into "paying for" the elimination of investment taxes.

At first glance, this looks like perhaps the most pro-growth, pro-market (and anti-crony capitalist) tax plan put forward by a major U.S. president candidate since Ronald Reagan in 1980. But it is not without political risk. In addition to killing tax breaks for businesses, Huntsman would eliminate the mortgage interest deduction, healthcare exclusion, and the child tax credit among other "tax expenditures. " We're talking about a whole herd of sacred cows. Both his fellow presidential candidates and Washington lobbyists will likely attack him for some of those ideas.
The main reason they might attack him, of course, is that the biggest tax deductions, the ones that would be most likely to increase revenue even if marginal rates are reduced also happen to be the most popular:
Congress's nonpartisan Joint Committee on Taxation found in a March analysis that the top tax break is the one on employer-sponsored health care, with a $659 billion price tag between 2010 and 2014. The second is the deduction for home mortgage interest, at $484 billion over the same time period.

Even the most aggressive plans from the flurry of budget commissions over the last decade have stopped short of recommending a full elimination of all tax breaks, said Ted Gayer, senior fellow at the Brookings Institution. However, the widely popular idea of lowering rates and broadening the base of taxpayers is a "noble goal," he said.

Mr. Huntsman's 12-page proposal noted the tax section was modeled after "Ronald Reagan's 1986 tax reform package," but not all agreed with that characterization. "The 1986 tax reform did not pay for lower rates by eliminating deductions," noted Alan Reynolds, senior fellow at the libertarian Cato Institute. Some conservatives hoped the audacity of the plan would push the idea of overhauling the tax code past the current partisan impasse over raising revenues.

"It's certainly not a timid proposal," said Scott Hodge, president of The Tax Foundation, a tax research group that advocates lower taxes. "In order to move the debate forward on fundamental tax reform, sometimes you have to push the discussion as far as you can."
The reaction to Huntsman's plan is interesting. On the left, of course, you've got the usual sources like Think Progress and Daily Kos call the plan a tax hike on the poor and elderly. What's somewhat unusual is the response of National Review's Ramesh Ponnuru, who essentially says the exact same thing:
The candidate has a new tax plan that is designed to raise as much money as the current system. It lowers tax rates in return for getting rid of the mortgage-interest deduction, the child tax credit, the exclusion of employer-paid health insurance premiums, and many other tax breaks. It's going to sound very appealing to a lot of conservatives-at least, to those who have any interest in what Huntsman has to say.

But here's the problem. The tax code, when combined with entitlements as now structured, overtaxes parents, and the child credit only partially offsets that effect. By abolishing the credit-a legacy of the Gingrich Congress and the Bush administration-Huntsman would be taking a step away from neutrality and toward a perverse form of social engineering.
What Ponnuru misses, and what the Think Progress and Daily Kos authors fail to see through their ideological blinders is that Huntsman has tapped into the key problem with the current tax code. Rather than existing to raise revenue in the most efficient manner possible, the Internal Revenue Code has become a means by which politicians curry favor with their supporters and important contributors by inserting exemptions, deductions, and credits into the tax code that reduce the tax burden for some, and increase it for others. Absent a standard deduction designed to ensure that people living at or near poverty aren't paying a burdensome amount in taxes, there really shouldn't be any deductions or exceptions to the calculation of tax liability, and no credits against the amount of tax owed. Why should homeowners receive a subsidy for owning a home? Why should parents receive a subsidy for having children? Why should businesses receive a subsidy for  doing things that some interest group somewhere approves of? Looking at each of these questions strictly from the point fo view of raising revenue, there's no reason whatsoever for any of them to exist.
Eliminating popular tax deductions might not get Huntsman very far in the polls, but that's unfortunate. This strikes me as the kind of broad-ranging tax reform that we need. Not only would it rationalize the tax code and cut down the the millions of dollars per year that individuals and businesses spend each year to calculate their tax liability, and to manipulate their taxes so as to take advantage of as many deductions as possible. Even though it decreases tax rates, it's likely to increase revenue, both because of the elimination of deductions, and because of the economic activity that a reinvigorated. rationalized tax code is likely to spur. I'd like to see more analysis of this plan, I'd like to hear the other candidates come out with their own variations on this plan rather than hiding behind the arguments of people like Ponnuru. This is a good idea, or at least a good start.