The Latest Threat To America: The Sharia Turkey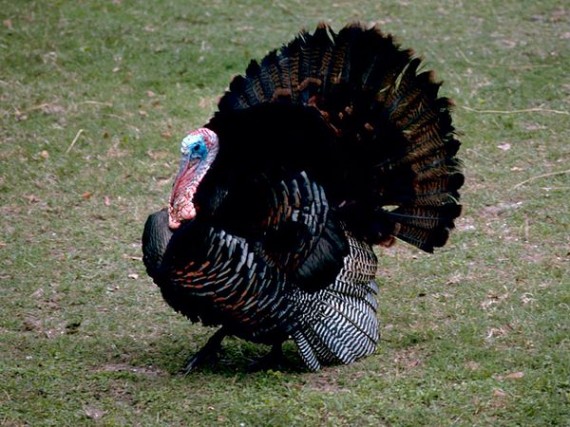 As Americans travel to Grandma's house to over stuff themselves with tryptophan-laden turkey, a new danger awaits them:
You may think that when you buy a Butterball turkey this Thanksgiving you're as American as apple pie. But, you'd be wrong. In fact, you're the victim of a "stealth halal" conspiracy.

In a column on The American Thinker, anti-Islam blogger Pamela Geller explains that halal meats are already prevalent throughout most of the meat industry, but now they have even infiltrated the popular frozen turkey producer Butterball.

A citizen activist and reader of my website AtlasShrugs.com wrote to Butterball, one of the most popular producers of Thanksgiving turkeys in the United States, asking them if their turkeys were halal. Wendy Howze, a Butterball Consumer Response Representative, responded: "Our whole turkeys are certified halal."

Geller's anti-Sharia cohort Robert Spencer called this revelation "shocking" on his Jihad Watch blog — and touted the "Boycott Butterball Turkey" Facebook page, which so far has 758 "likes" and encourages supporters to "keep calling and writing. All halal should be labeled."

Spencer's not the only one to be outraged.

The site Bare Naked Islam provided this "WARNING" for its readers: "ALL 'BUTTERBALL' TURKEYS ARE HALAL-SLAUGHTER CERTIFIED. JUST IN TIME FOR THANKSGIVING. I have just learned that the turkeys so many Americans enjoy for the holidays are certified Islamic-blessed, halal-slaughtered birds."

And anti-Islam, anti-bear activist Bryan Fischer of the American Family Association tweeted this warning on Tuesday: "Be advised: every single Butterball turkey sold in America this Thanksgiving has been sacrificed to Allah first."
As reluctant as I am to even quote someone who would put the words "thinker" and "Pamela Geller" in the same sentence, I feel it necessary to pass this news along to all of you. Resistance is futile.
H/T: TPM