The Mexican Cartel's "Narco-Tanks"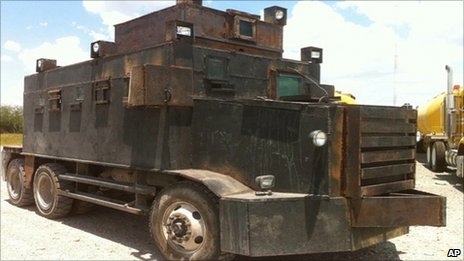 Via the Miami Herald:  Drug gangs using homemade "narco-tanks"
The two armored vehicles were cloaked in inch-thick steel plating. Built on a three-axle truck bed with a heavily armored cabin, the latest "narco tanks" are far larger than previous versions.

"You can easily fit 20 armed people in here," an unidentified army officer told El Porvenir TV as he showed the inside of one of the vehicles.

The officer said the vehicles could withstand fire from 50-caliber mounted weapons and grenade blasts, and contained a vicious pointed steel battering ram.
Also from the BBC:  Mexican army destroys drug cartel 'narco-tanks'