The N.F.L. Referees Lockout May Be Close To Ending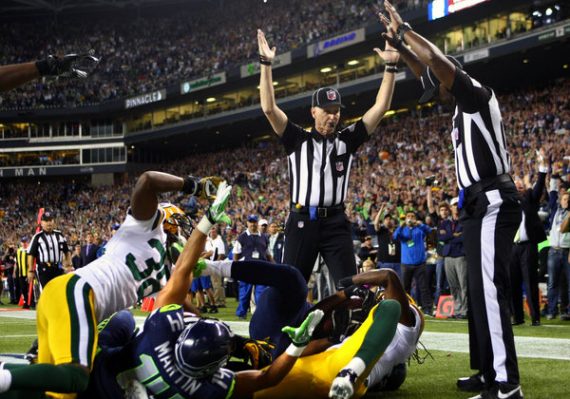 The New York Times is reporting this afternoon that the N.F.L. and the union representing officials appear to be close to a deal:
The N.F.L. and the referees' union were closing in on an agreement to end the lockout, which has turned the first three weeks of the season into a controversy-filled mess, according to a person briefed on the negotiations.

If the resolution is completed Wednesday, it will come two days after the end of Monday night's game between Green Bay and Seattle, which was marred by blown calls by the replacement referees that have caused an uproar over the damage being done to the game's integrity.

A remaining issue is how quickly the regular referees can return to work. There is a game Thursday night between Cleveland and Baltimore, as well as the full schedule Sunday.
ESPN's Chris Mortenson's report seems to be more optimistic about the possibility of the referees returning for Week Four:
The NFL and the NFL Referees Association made enough progress in negotiations Tuesday night that the possibility of the locked-out officials returning in time to work this week's games has been discussed, according to sources on both sides.

An agreement in principle is at hand, according to one source familiar to talks, although NFL owners have postured with a "no more compromise" stance.

Although league sources said it would take a week to get the locked-out officials on the field, the NFLRA says its 121 referees have been trained on the new rules implemented last season, have already passed physicals or are prepared to pass physicals immediately. New official game uniforms designed by Nike are "hardly an obstacle," according to a source.

Both sides have made concessions on previous sticking points such as a taxi squad of 21 new officials and pension plans that sources say the final meaningful hurdle is, as one source said, "about a little more money."

While league sources say owners who participated in a conference call with commissioner Roger Goodell during Tuesday's talks had instructed the negotiating team to set a firm barrier for the financial settlement, the NFLRA is prepared to accept a new agreement primarily in the form of a "ratification bonus," which would compensate its 121-member union for concessions it is willing to make.
It couldn't come soon enough at this point. Of course, the Green Bay Packers probably wish this had happened a week go.