The Rights of Englishmen
What's a little thing like freedom of speech when there are shops being looted and burned?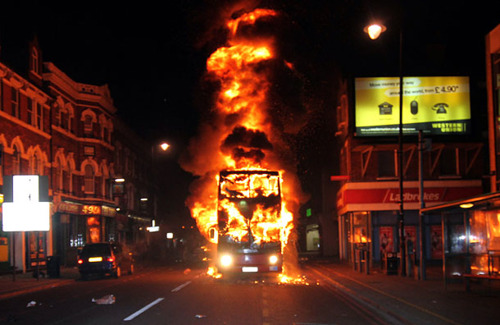 Britain having already neutered its citizens's ability to protect themselves by abrogating their right to keep and bear arms, Prime Minister David Cameron now contemplates abridging freedom of speech in reaction to the widespread riots:
The government is exploring whether to turn off social networks or stop people texting during times of social unrest.

David Cameron said the intelligence services and the police were exploring whether it was "right and possible" to cut off those plotting violence.

Texting and Blackberry Messenger are said to have been used by some during this week's riots.

Rights groups said such a measure would be abused and hit the civil liberties of people who have done nothing wrong.

The prime minister told MPs the government was exploring the turn-off in a statement made to the House of Commons during an emergency recall of Parliament.

Mr Cameron said anyone watching the riots would be "struck by how they were organised via social media".
What I'm really struck by, actually, is the utter fecklessness of his government. It took–what?–five days for him to agree to let the police use water cannons to quell the violence? And then they weren't even going to be available for another 24 hours. And that was after it took him three days to come home from vacation. President Obama must be grateful a "leader" of a major power would go so far out of his way to make him look good by comparison.
Blackstone is spinning in his grave so fast it must surely be affecting the axial tilt of the planet. But, after a couple of generations (at least) of allowing their government to steadily erode their natural rights, there can be little doubt the British have the government they deserve. The only real question is, have they now had enough of it to demand that their rights be restored or will they just accept this, too?