The Slow Rollout of Pinks and Greens
The Army is finally getting its World War II uniforms, one base at a time.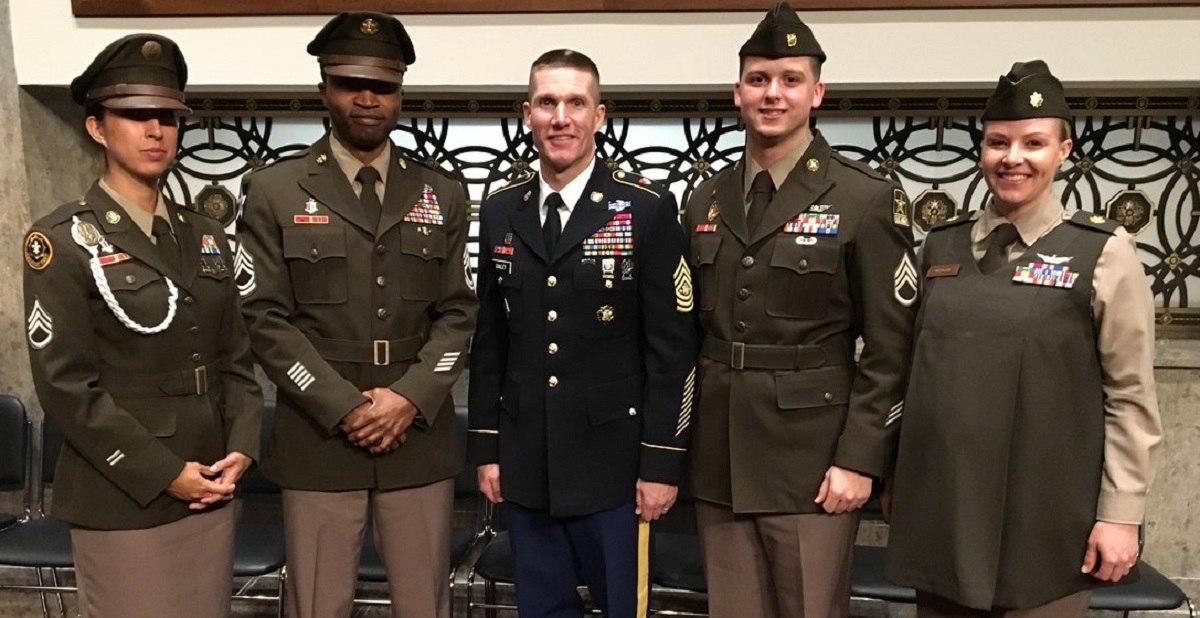 The United States Army has been creeping towards another change in its "service" uniform for years. Now, the so-called "Army Green" uniform that everyone calls "Pinks and Greens" even though it's brown is being issued to basic training soldiers on one base.
Military.com ("Fort Sill Just Became the First Training Base to Get the New Army Greens Uniform"):
Army privates at Fort Sill, Oklahoma are the lucky first trainees to receive the service's new World War II-style dress uniform.

This month, about 200 soldiers going through Basic Combat Training in the 434th Field Artillery Brigade at Sill were issued a full Army Green Service Uniform, a modern version of the iconic uniform worn by Gen. Dwight Eisenhower, supreme allied commander in World War II Europe.

"We're the first Army training base to get the Army Green Service Uniform, which is pretty neat for obviously these soldiers in training and obviously for the leadership," Command Sgt. Major Donald Harding, the senior enlisted leader of the 434th, said an Army news release.

Army recruiters and drill sergeants were the first to begin receiving the new AGSU because the two groups are considered the face of the Army, officials have said. Soldiers attending the Army's Recruiting and Retention College at Fort Knox, Kentucky, started to receive their Army Greens in July in an effort to ensure all recruiters are issued the uniform by early 2021.

The Army had originally planned to begin issuing the uniforms at entry-level training locations before Oct. 1, but COVID-19 slowed production resulting in a delayed rollout process.

[…]

At Sill, starting Oct. 14, trainees from 1st Battalion, 79th Field Artillery were issued the AGSU jacket, pants, dress shirt, brown oxfords, matching socks, their rank, two T-shirts — one long-sleeved and the other short — ties, gloves, and the garrison cap.

Army senior leaders approved the new uniform for everyday wear in late 2018 as a replacement for the blue Army Service Uniform (ASU) after deciding that it is often too formal for everyday business use.

Soldiers are not required to own the AGSU until Oct. 1, 2027, an extended phase-in period intended to give enlisted soldiers more time to save up their annual clothing allowance to buy the new uniform.

The Army and Air Force Exchange Service, however, is moving ahead with plans to supply the new uniform through a wave-based rollout approach. The majority of AAFES locations within the U.S. are expected to have the new uniform by December.
The new-old uniform, the return to which was first floated 2017, is immensely popular with the troops in a way that the current one (which will return to being a "dress" uniform) is not. But it means yet another long period in which soldiers in the same unit will be dressed differently, belying the term "uniform."
The pinks and greens entered service circa 1937 and remained the standard garrison uniform until the introduction in 1954 of the Arm Green uniform that my father and I both wore. That uniform was replaced starting in 2006 (but not fully phased in until 2014) of the Army Service Uniform, which was simply the Army Blue semi-dress uniform that my dad and I both wore. And, now, we're back to the future with a slightly-updated version of the WWII and Korean War-era uniforms. And even this doesn't fully describe the number of more minor changes made throughout these periods.
Aside from being expensive and leading to years of non-uniform uniforms, it's all rather silly because the Army—and all the services, really—have increasingly worn these uniforms rather rarely. Even office workers tend to wear camouflage fatigue uniforms on a daily basis. Which means officers and senior NCOs need to own three sets of dress uniforms (the pinks and greens for occasional daily wear, the Army Blue regular dress uniform, and the Mess Dress uniform for formalwear occasions) that they will wear a combined dozen times a year if they're lucky. [See my November 2018 post, "Army Officially Bringing Back 'Pinks and Greens'" for more detail.]
Further, while the slow rollout is understandable from a logistical standpoint, it creates the oddity that soldiers at Fort Sill are being issued a uniform that their leaders may well not own (although officers will decidedly be pressured into buying and wearing them as soon as possible) while soldiers from other bases will graduate wearing brand new uniforms that are already being phased out.