The Senate Dress Code
Much ado about nothing?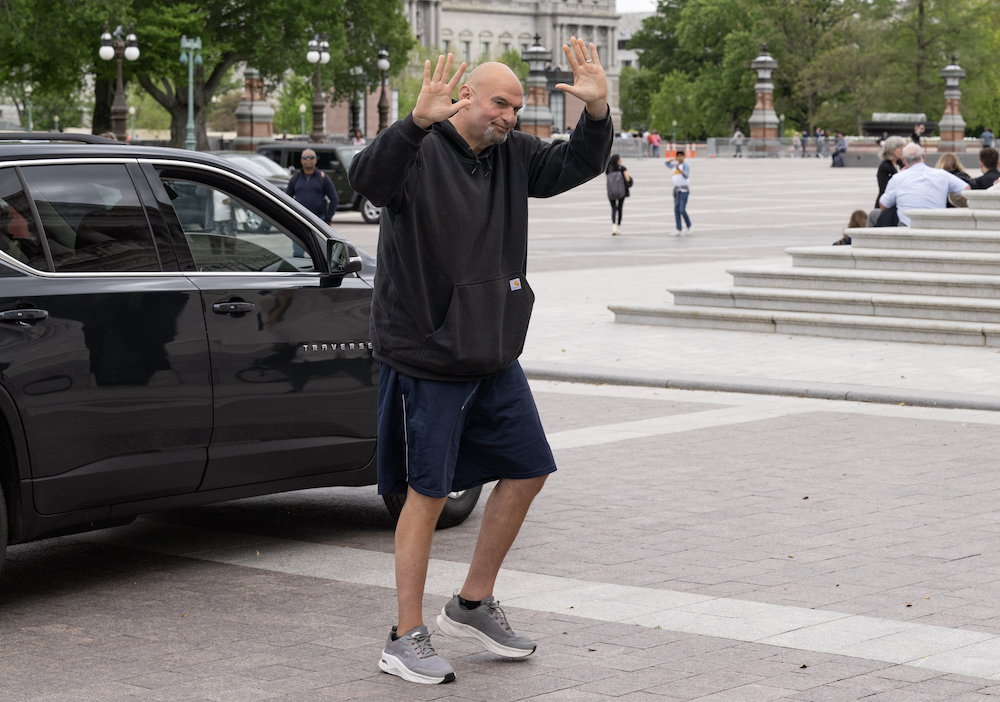 Earlier this week, the Senate Majority Leader gave up on trying to get the junior Senator from Pennsylvania to dress like, well, a Senator. People are losing their minds.
AP ("Senate ditches dress code as Fetterman and others choose casual clothes"):
The stuffy Senate is now a bit less formal.

Majority Leader Chuck Schumer said Monday that staff for the chamber's Sergeant-at-Arms — the Senate's official clothes police — will no longer enforce a dress code on the Senate floor. The change comes after Pennsylvania Sen. John Fetterman has been unapologetically wearing shorts as he goes about his duties, voting from doorways so he doesn't get in trouble for his more casual attire.

"There has been an informal dress code that was enforced," Schumer said in a statement. "Senators are able to choose what they wear on the Senate floor. I will continue to wear a suit."

Schumer did not mention Fetterman in his statement about the dress code, which will only apply to senators, not staff.

The changes prompted outrage from some of the chamber's more formal members, eroding a bit of the good will that first-term Fetterman had earned earlier this year when he checked himself into the hospital for clinical depression. He won bipartisan praise for being honest about his diagnosis, which came in the wake of a stroke he suffered on the campaign trail last year. When he returned from treatment, he started donning the more casual clothes, which he says make him more comfortable.

Kansas Sen. Roger Marshall, a Republican, said it's a "sad day in the Senate" and that the people who Fetterman and Schumer represent should be embarrassed.

"I represent the people of Kansas, and much like when I get dressed up to go to a wedding, it's to honor the bride and groom, you go to a funeral you get dressed up to honor the family of the deceased," Marshall said. Senators should have a certain level of decorum, he added.

Republican Sen. Susan Collins of Maine agreed, arguing that the relaxed rules debase the institution of the Senate. "I plan to wear a bikini tomorrow to the Senate floor," Collins joked.

Walking to Monday evening's vote in a short-sleeved button-down shirt and shorts, Fetterman said he wasn't sure if he'd take advantage of the new rules just yet.

"It's nice to have the option, but I'm going to plan to be using it sparingly and not really overusing it," he said.

Asked about the criticism, Fetterman feigned mock outrage.

"They're freaking out, I don't understand it," he said of his critics. "Like, aren't there more important things we should be working on right now instead of, you know, that I might be dressing like a slob?"

When Fetterman reached the Senate floor, he still voted from the doorway. "Baby steps," he told reporters as he got on the elevator to go back to his office.

Not all Republicans were upset about the change. Missouri Sen. Josh Hawley was wearing jeans, boots and no tie on Monday evening, an outfit he says he normally wears when he flies in from his home state for the first votes of the week.

"Now I can vote from the Senate floor on Mondays," Hawley said, noting that he usually wears a suit and tie every other day.

Nearby, Connecticut Sen. Chris Murphy was also tieless. The Democrat said he's been reprimanded by Sergeant-at-Arms staff in the past for not wearing a tie on the floor.

"They would tell us when we were doing it wrong," Murphy said.

It's unclear if the rules for more formal attire were actually written down anywhere, but Schumer's directive means that staff will no longer scold senators for their choice of clothing or ask them to vote from the doorway.
While, not shockingly, Republicans are expressing more outrage over the decision (see, for example, NPR's "Republicans slam Senate dress code changes"), a handful of Democratic Senators (Manchin, Tester, Durbin, Kelly) have spoken out as well. (See: Axios, "Now Dems are saying 'nay' to Senate's relaxed dress code.")
You will not be shocked that Peggy Noonan ("The Senator's Shorts and America's Decline") is among the naysayers.
We are in a crisis of political comportment. We are witnessing the rise of the classless. Our politicians are becoming degenerate. This has been happening for a while but gets worse as the country coarsens. We are defining deviancy ever downward.

Two examples from the past two weeks. One is the congresswoman who was witnessed sexually groping and being groped by a friend in a theater, seated among what looked like 1,000 people of all ages. The other is the candidate for Virginia's House of Delegates who performed a series of live sex acts with her husband on a pornographic website, and the videos were then archived on another site that wasn't password-protected. She requested money for each sexual act, saying she was "raising money for a good cause." Someone called it a breakthrough in small-donor outreach.

It was within this recent context that Senate Majority Leader Chuck Schumer did something that isn't in the same league in terms of shock but nonetheless has a deep institutional resonance. He quietly swept away a centuries-old tradition that senators dress as adults on the floor of the Senate. Business attire is no longer formally required. Mr. Schumer apparently doesn't know—lucky him, life apparently hasn't taught him—that when you ask less of people they don't give you less; they give you much, much less. So we must brace ourselves.

His decision is apparently connected to the desires of Sen. John Fetterman of Pennsylvania, who enjoys parading around in gym shorts and a hoodie. Why would his desires receive such precedence?

Because he has political needs. He must double down on his brand. He imagines that dressing like a slob deepens his perceived identification with the working class. But this kind of thing doesn't make you "authentic"; it just makes you a different kind of phony. Mr. Fetterman, born into affluence and privilege, reacted to criticism of Mr. Schumer's decision with an air of snotty entitlement. He mocked critics, making woo-woo monster sounds to reporters and telling a House critic to "get your s— together." He said Republicans were "losing their minds" and ought to have better things to do.

Here are reasons John Fetterman, and all senators, should dress like an adult.

It shows respect for colleagues. It implies you see them as embarked on the serious business of the nation, in which you wish to join them.

It shows respect for the institution. "Daniel Webster walked there." And Henry Clay, "Fighting Bob" La Follette, Arthur Vandenberg and Robert Taft. The U.S. Senate is the self-declared world's greatest deliberative body.

It shows a mature acceptance of your role, suggesting you've internalized the idea of service. You are a public servant; servants by definition make sacrifices.

It reflects an inner discipline. It's not always easy or convenient to dress like a grown-up. You've got to get the suit from the cleaners, the shoes from the cobbler. The effort means you bothered, took the time, went to the trouble.

It reflects an inner modesty. You'd like to be in sneaks and shorts but you admit that what you'd like isn't the most important thing. It shows that thoughts of your own comfort aren't No. 1 in your hierarchy of concerns. Also, you know you're only one of 100, and as 1% of the whole you wouldn't insist on officially lowering standards for the other 99.

It bows to the idea of "standards" itself, which implies you bow to other standards too, such as how you speak and what you say.
Perhaps a bit more surprisingly, the WaPo Editorial Board ("A casual new dress code doesn't suit the U.S. Senate") agrees.
We vote nay. Dressing formally conveys respect for the sanctity of the institution and for the real-world impact of the policies it advances. Putting on a suit creates an occasion for lawmakers to reflect, just for a moment, on the special responsibilities with which the people have entrusted them and on a deliberative process that at least aspires to solemnity. Judges are perfectly "able to choose" what they wear while on the bench, but court wouldn't be court unless they put on black robes.

Ultracasual though it is, Mr. Fetterman's clothing probably doesn't represent the bottom of the slippery slope upon which Mr. Schumer has set Senate style. No, we don't think Sen. Susan Collins (R-Maine) is going to show up in a bikini, as she jokingly suggested. It is, however, all too imaginable that attention-seeking lawmakers will don T-shirts emblazoned with the names and mascots of their hometown sports franchises — or inflammatory partisan messages — hoping to go viral on social media and garner small-dollar donations.

[…]

At the risk of idealizing the place, the Capitol is, or should be, thought of as the temple of the world's oldest continuous democracy. Within that, the Senate floor is its most sacred space. It was the setting for America's most consequential debates on war and peace, freedom and slavery. Throughout history, those who participated in its proceedings dressed accordingly. Admittedly, the appropriate level of dignity is subjective; you know it when you see it. And when a senator comes to the floor in pickup softball gear, you don't.
Culture writer Elena Sheppard at CNN ("Why I changed my mind about the US Senate's relaxed dress code"):
Initially, I pearl clutched a bit. The thought of no dress code in the Senate sent me into a spiral on the idea of decorum. I imagined a Senate floor littered with people in sweatpants and cut-offs, which I just knew would undermine the seriousness of their work.

I imagined elected officials milling around in cargo shorts and Carhartt sweatshirts — aka what Sen. John Fetterman calls "Western PA business casual" — or wearing their pajamas to a vote. I thought about how this green light to dress down would devalue the importance of this legislative body and their responsibility to American citizens.

And then I realized my worries made no sense. Style is ever-changing, politics are ever-evolving and attire getting more casual is an age-old complaint. When we think about a choice like the change to a dress code it's important to see it in its larger context.

Over the years, other dress code changes have occurred in the Senate without disaster. In 1993 female senators were—at last—permitted to wear pants on the Senate floor. In 2019 the Senate finally stopped enforcing a rule that prohibited female senators from baring their shoulders.

That dress codes have been used to feminize, and disempower, women throughout history is news to no one. A look at images of the Senate over the years shows the evolving fashion for male senators too — from waistcoats and tails in the early 19th century to suits and ties in the early 21st.

[…]

Historically speaking, dress codes are a way of marking social hierarchy and, with respect to politics, have always been a way of making a statement. When George Washington was inaugurated in 1789 he wore a "plain brown woolen suit of American manufacture" — the choice a clear rebuke of the aristocratic British traditions from which his new nation had successfully revolted. His suit, simply put, was a political choice.
Rhonda Garelick, the D.E. Hughes Jr. Distinguished Chair for English and Professor of Journalism by courtesy at Southern Methodist University, took to the NYT to explain "What We Lose When We Loosen Dress Codes."
The fact is that how we dress in various settings is inextricable from serious political issues. How we dress telegraphs intricate messages to those around us, as well as to ourselves — messages we receive and interpret constantly, consciously or not. There is no such thing as "total freedom" of dress, only different registers of meaning, which are entirely context dependent. Just as words make sense only relationally — in sentences and paragraphs — garments have meaning only in relation to other garments. A tuxedo'd guest at a wedding is unexceptional, nearly invisible. A tuxedo'd guest at a picnic is a spectacle.

[…]

John Fetterman in a hoodie and shorts or Ted Cruz in a polo shirt might read as athletic or relaxed, conjuring the basketball court or golf course — places associated with youthful male prowess or preppy privilege. Would we think the same of Susan Collins dressed similarly? Leisure wear for women risks depriving them of gravitas, making them look "off duty," and hence outside the space of authority. (Senator Collins acknowledged as much when she joked about wearing a bikini to work.) Would women in the Senate in sweatshirts, yoga pants or tennis skirts be taken seriously? To put it another way, women's dignity and authority remain, alas, more socially precarious than men's — harder to construct sartorially and far easier to lose. Taking away the dress code might exacerbate this inequity. What's more, formal business attire offers some of the most gender-neutral fashion options, thereby enhancing sartorial equity for nonbinary individuals.

And what about the inequity within the Senate workplace as a whole? The new freedom of dress applies to senators only, not to anyone else who works there. This could lead to a new kind of visual class stratification, wherein a group of older (median age of 65.3), mostly white (88 percent), mostly male people (75 percent) in various states of leisure wear is being served by a cadre of younger, less well paid, more ethnically diverse interns and staff members all in formal business wear. In such a context, the business attire of nonsenators might start looking disturbingly like waiters' uniforms at a country club. Hardly a liberating or egalitarian message. Context is everything.

Finally, dress codes are a marker of social, national, professional or philosophical commonality. They bespeak shared ideals or training, membership in a group. This is why sports teams and the military wear uniforms. Why medical professionals wear white coats. Business attire may not be a uniform, exactly, but it serves a similar function. It's true that in recent years, offices have loosened their dress codes, embracing all kinds of workplace attire. But the Senate is more than just a "workplace." It represents the highest level of our country's government, whose actions are watched by and hold consequences for the entire world. Such an august body needs to look the part. A sea of 100 adults all dressed in some kind of instantly recognizable, respectful manner — a suit and tie, a skirt and jacket — creates a unified visual entity. A group in which individuals have agreed to subsume their differences into an overarching, sartorial whole.

But as we all know, the Senate has never been more divided. In a body so riven, one of the last symbolic markers of accord is a dress code. Can such a code eliminate the profound differences beneath the surface? Of course not. But it does remind senators and everyone around them (including the general public) of the still-noble goal of consensus. A sum greater than its parts.
In principle and practice, I agree with the naysayers. While the business suit has become something of a costume, seldom worn outside formal occasions these days, there is nonetheless something simultaneously respectful and equalizing in everyone dressing the part. I continue to wear at least a sportcoat when around students, and almost always wear a suit and tie when lecturing or leading a seminar. And students absolutely notice and appreciate the effort.
Further, I absolutely agree that there's something very undemocratic of allowing Senators to wear what they want while insisting that low-paid staffers and unpaid interns continue to wear business attire.
At the same time, I'm reminded of George Will's long-ago rationale for coming to support term limits: a realization that his counterargument amounted to, "If we impose term limits, we won't have the good government we have now."*
We've been making Senators wear suits on the Senate floor since time immemorial and yet here we are, with a dysfunctional body. While the Members are doubtless by and large professional towards one another off camera, there's too much open disregard for the institution.
Do I think changing the dress code will help? No. But it's rather clear that it isn't having the benefits that its advocates claim.
___________
*I'm paraphrasing from memory. The Google Machine isn't returning the exact quotation, which has to be 30 years or more old by now.