Fetterman and the Politics of Optics
Will voters overlook the elephant in the room?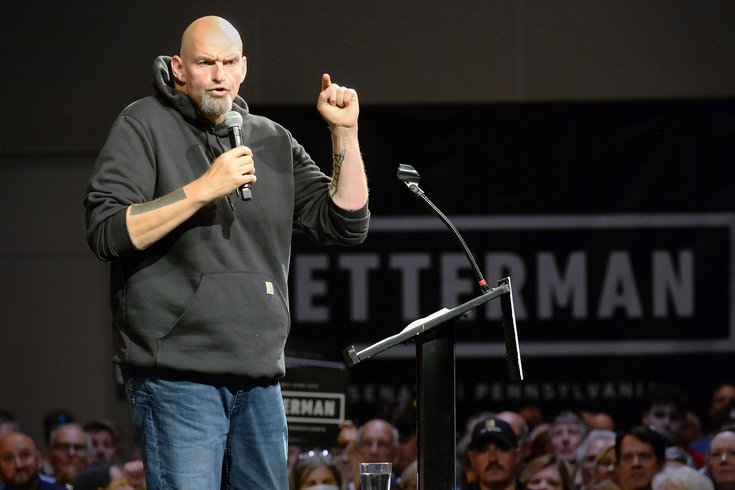 Pennsylvania Lieutenant Governor John Fetterman, the Democratic nominee for U.S. Senate, had a stroke this summer and his speech has not recovered. Not shockingly, he therefore did not fare well in last night's televised debate.
NYT ("Fetterman, Showing Stroke Effects, Battles Oz in Hostile Senate Debate"):
Five months after a stroke nearly took his life, Lt. Gov. John Fetterman, the Democratic nominee for Senate in Pennsylvania, clashed with Dr. Mehmet Oz on Tuesday in their one and only debate, disagreeing sharply over abortion, the economy and other partisan issues as Mr. Fetterman tried to assure voters of his fitness to serve.

Standing at red and blue lecterns in a television studio in Harrisburg, Pa., the two men could scarcely conceal their disdain for each other, or the scope of their disagreements. Dr. Oz returned repeatedly to the issue of crime while trying to position himself as a centrist candidate. Mr. Fetterman slashed Dr. Oz as a wealthy outsider unfamiliar with the economic struggles of Pennsylvanians.

The spectacle of the debate itself took on uncommon significance because of Mr. Fetterman's stroke and the pace of his recovery. Mr. Fetterman sought to address the issue at the very start. "Let's also talk about the elephant in the room: I had a stroke," he said in his opening remarks, adding of his opponent, "He'll never let me forget that."

The debate was held under unusual conditions. Situated above the moderators were two 70-inch monitors to show the text of what was being said in close to real time — for both questions and answers. Professional typists were on hand to try to transcribe the debate as part of an agreed-upon accommodation for Mr. Fetterman, who has publicly discussed his lingering auditory processing issues after the stroke.

Mr. Fetterman's words were frequently halting, and it was apparent when he was delayed in either reading or reaching for a phrase or word. But he was also fluent enough over the course of the hour to present his Democratic vision for a state that could determine control of the Senate.

Dr. Oz, the Republican nominee and a former television personality, displayed a sharpness and comfort honed by years in front of the camera. And from the opening minutes, he seized the chance to tack to the political center, casting himself as a problem-fixing surgeon and labeling Mr. Fetterman repeatedly as a radical.
Axios ("Fetterman's painful debate"):
Capitol Hill's reaction to the Pennsylvania Senate debate was brutal for Democratic nominee John Fetterman, from Democrats and Republicans alike.

Why it matters: Multiple sources wondered why Fetterman agreed to debate when he clearly wasn't ready. Fetterman struggled at times to respond to the moderators' questions, even with the assistance of a closed captioning device.

"Why the hell did Fetterman agree to this?" one Democratic lawmaker and Fetterman backer told Axios. "This will obviously raise more questions than answers about John's health."
POLITICO Playbook ("POLITICO Playbook: How much will John Fetterman's rocky night matter?"):
Let's state the obvious: JOHN FETTERMAN struggled to effectively communicate during his one and only Senate debate with MEHMET OZ Tuesday in Harrisburg.

THE STAKES — We don't usually dwell on a single debate in a single race, but this one is different. Control of the Senate, and the future of policymaking in Washington, may hinge on the outcome of the Fetterman-Oz race.

The conventional wisdom over the summer was that Oz was a deeply flawed candidate who couldn't win, but the race is a toss-up. Republicans just decided to pour an additional $6 million into Pennsylvania to help Oz. "We believe if we win Pennsylvania, we win the majority," STEVEN LAW, who runs the most important Senate GOP super PAC, told POLITICO Tuesday.

And then Fetterman failed to meet even the low expectations his own campaign set for him Monday in a memo that predicted "awkward pauses, missing some words, and mushing other words together" as well as "temporary miscommunications at times."

WILL IT MATTER? — Voters are not doctors. Many are myopic, distracted, and quick to make judgments with limited information. If there's one thing everyone knows about campaign debates, it's how superficial they are. We all remember RICHARD NIXON's suspicious stubble and GEORGE H.W. BUSH's impatient glance at his watch and AL GORE's annoying sighs and DONALD TRUMP's manic interruptions more than anything any of them said.

The median voter in Pennsylvania is a middle-aged white person with a mid-five-figure salary who did not attend college. That demographic is perhaps the least likely to be following the Fetterman ableism debate on Twitter and MSNBC.

A casual voter tuning in Tuesday night might have known Fetterman had suffered a stroke, but that voter would have to have been following the race pretty closely to know that his struggles with speech reflected a common "auditory processing disorder," in his doctor's words, and not a deeper neurological infirmity.

It's obvious that Rep. DAN CRENSHAW is sightless in one eye or that Sen. TAMMY DUCKWORTH lost her legs. Nobody questions whether those injuries have an impact on their ability to serve in Congress.

But Fetterman's disability is different. It prevents him from performing adequately in a candidate ritual — the campaign debate — that has long been associated, correctly or not, with electability and effectiveness in Congress. The plain fact is that Fetterman was not capable of debating Oz. He could have skipped the debate, as some Democrats suggested he should have after it was over, but the Fetterman campaign gambled that the media would educate voters about his auditory issues and then referee any attacks on him with charges of ableism.

THE TRANSPARENCY ISSUE — But reporters are not doctors either. And Fetterman again declined Monday night to release comprehensive medical records about his condition. Instead he has gone the Trumpian route and issued a letter from his doctor, who has not made himself available to reporters.

Fetterman's initial lack of transparency about the seriousness of the stroke five months ago has heightened media skepticism. But even if you take his health claims at face value, how are reporters to score his debate performance? How much of his trouble communicating was due to the stroke, and how much of it was that he didn't have answers?

BUT, BUT, BUT — There are two well-worn cliches about debates: (1) They are rarely won but can sometimes be lost. (2) They are decided by the coverage in subsequent days rather than on debate night itself.

Fetterman clearly lost last night. "[T]he biggest issue was John Fetterman's health and his ability to comprehend speech, and to then speak coherently on the issues of the day," said LELAND VITTERT of NewsNation, which sponsored the debate, in what was typical of the immediate coverage.
NYT ("5 Takeaways From the Pennsylvania Senate Debate"):
For many voters, the debate was their first extended chance to see what Mr. Fetterman looks and sounds like after his stroke. He could sound halting, sometimes jumbling words, using the wrong one, and occasionally sounding off-key. He opened the evening by saying, "Good night."

His performance will test whether voters regard his impairments as temporary or even humanizing setbacks, or whether it fuels questions about his fitness for office.

Mr. Fetterman was mindful of that challenge. From his opening remarks, he framed his experience as a comeback story still in progress.

"I had a stroke," he said. Referring to Dr. Oz, he continued, "He's never let me forget that. And I might miss some words during this debate, mush two words together, but it knocked me down, but I'm going to keep coming back up."

Mr. Fetterman sometimes failed to prosecute a crisp case against his opponent, a television veteran, or to vigorously or extensively answer some of the criticism that came his way.

But he could also sound energetic and passionate, drawing contrasts on issues like abortion rights and urging his opponent to run against Senator Bernie Sanders, given how much Dr. Oz tries to link the left-wing Vermonter to Mr. Fetterman. He also sought to use his illness to connect with others who are struggling.

"This campaign is all about, to me, is about fighting for everyone in Pennsylvania that ever got knocked down," he said.
Let's start with the usual caveat: only a very small percentage of those who will vote for Senator in Pennsylvania are persuadable at this stage of the race. Still, the fact that Fetterman can't articulate his thoughts has to be a big problem.
To be sure, Oz is a quack with zero business running for political office, let alone fit to serve in the United States Senate. But he's good on television and looks good in a suit. Fetterman, by contrast, decidedly does not.
Despite by all accounts being intelligent and hard-working as a public servant, with two graduate degrees, including a master of public policy from Harvard's Kennedy School, he has long since decided to present himself in a way more traditional for the leader of a motorcycle gang or foreman of an auto body shop than as a political leader. He only owns a single suit—a function of being required by law to wear one when presiding over the Pennsylvania Senate—but otherwise seems to wear either a black hoodie or a gray work shirt.
His forearms are covered with tattoos but not of the traditional variety. They include the 15104 ZIP code of Braddock, the town where he was mayor before winning his current job, and the dates of the deaths of ten residents who died due to violence during his tenure. That's commitment, I suppose, but certainly unconventional.