Journalistic Ethics and Mangled Quotes
Striking the balance between cruel and misleading.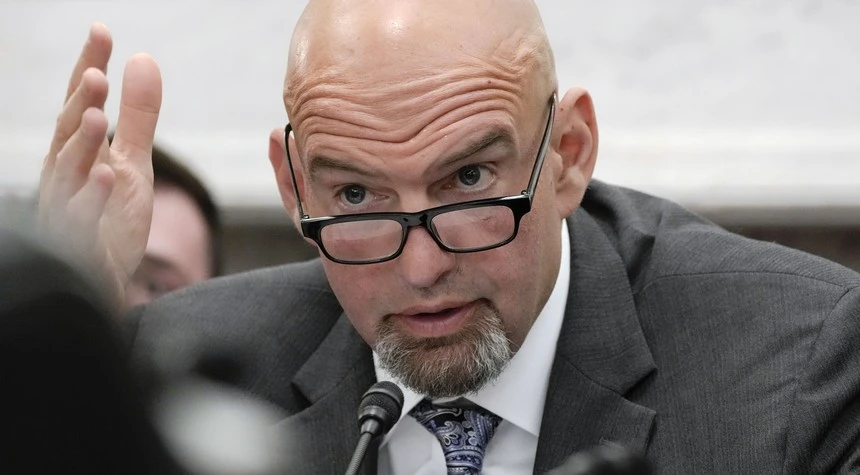 Via memeorandum, I see that many are glomming on to a rather mean-spirited post from PJ Media's Catherine Salgado ("'We Sale Your Bank': WaPo Reporter Rewrites Disastrous Fetterman Word Salad as a 'Quote"):
To protect the ever-brilliant Sen. John Frankenstein — er, Fetterman (D-Pa.) — a Washington Post reporter rewrote a muddled Fetterman ramble and posted it as a quote. Apparently, journalism now means covering up government idiocy by pretending an official is actually coherent.

Fetterman was attempting to question the former CEO of the collapsed Silicon Valley Bank (SVB), Greg Becker. The Washington Post's White House economics reporter Jeff Stein tweeted, "Sen. @JohnFetterman (D-Pa.) to SVB executive Greg Becker: 'Shouldn't you have a working requirement after we bail out your bank? Republicans seem to be more preoccupied with SNAP requirements for hungry people than protecting taxpayers that have to bail out these banks.'" The issue? That's not really what Fetterman said. Not by a long shot.

As PJ Media's Paula Bolyard tweeted, the actual quote from Fetterman is quite different, to put it mildly, from what Stein claimed: "Shouldn't you have a working requirement after we sale [sic] your bank—er, with billions of your bank? Because they see me [sic] pre-preoccupied when then [sic] SNAP, uh, in the requirements for works [sic] for hungry people, but not about protecting the—the tax papers [sic] you know, that will bail no matter [sic] whatever does [sic] about a bank to crash it."

No, I don't know what he was trying to say, either. But apparently, Stein thought he understood so well that he could write up what he thought Fetterman meant to say and treat it as a quote.

Fetterman rambled like Joe Biden in the White House during the Senate Committee on Banking, Housing, and Urban Affairs hearing, "Examining the Failures of Silicon Valley Bank and Signature Bank." The man needs to be in a hospital, not in Congress. It's a total — and painful — joke that his family and staff keep trying to force him through the motions of being a functioning senator.

"Now they [banks] have — it's in, a guaranteed, a guaranteed way to be saved," Fetterman fretted about the government bailout of SVB. "By no — no matter, by — by — by how, you know. So it's, it's, you know, isn't it appropriate that the, these kinds of — this kind of control be more stricter?" Unsurprisingly, his question was met with silence. Then he brought out the above clincher, where he compared Republicans' proposed employment requirement for accessing SNAP benefits to, presumably, his desire for banks like SVB to "work." All to save that "tax papers" money.
So, look. We all know that Fetterman had a stroke almost exactly a year ago and has struggled ever since with his speech. Calling him "Frankenstein" and implying that he's cognitively impaired is bush league stuff, at best.
At the same time, there's a reasonable question as to how far journalists should go in cleaning up quotes. Here's short video of Fetterman's questioning:
It's painful to watch. Still, it's not hard to suss out what points he's attempting to make.
The Hill's Stephen Neukam followed Stein's lead and simply cleaned up the quote. The New York Post's Victor Nava did the same, although he did embed a video of the questioning via a friendly tweet.
Business Insider's Katherine Tangalakis-Lippert went further, essentially rewriting the Senator's question to make it more coherent.
The only example I found other than Salgado of a relatively mainstream outlet quoting Fetterman derisively was Fox News' Houston Keene, who took every opportunity to insert a (sic) to draw attention to the mangled syntax.
Newsweek's Katherine Fung reports on the reaction to the incident, noting that Fetterman "caught the attention of admirers and detractors alike, with some observers applauding the Democrat for his line of questioning and others speculating if he's fit to serve Congress." While she notes that critics are lambasting his incoherent words and defenders are, well, defending him she, too, cleans up the quotes.
My general practice when quoting someone's verbal comments is to omit filler words like "um," "er," "uh," and the like. I'll even correct obvious typos if I'm quoting someone's tweets or blog posts. To do otherwise is to place the emphasis on the mistake rather than the idea.*
This, though, goes further than that. The reporters are doing more than taking out verbal tics; in many cases, they're simply reformulating the questions to make them more powerful. I'm uncomfortable with that.
TNR's Prem Thakker takes my preferred approach, making clear where he's editing but in a way that's not demeaning to Fetterman's condition.
"Republicans want to give a work requirement for SNAP, you know, for a hungry family to have these kinds of penalties, or some kinds of working requirements. Shouldn't you have a working requirement after we bail out your bank?" Fetterman challenged Silicon Valley Bank President Greg Becker. "Because [Republicans] seem to be more preoccupied [with] SNAP requirements for hungry people, but not about protecting the taxpayers that will bail [out the banks]."
But, elsewhere in the report, he engages in light cleanup as well:
"Is it an inside joke that no matter how incompetent or how greedy, the government will always bail you out when your bank crashes?" Fetterman inquired. "Everyone has to realize that no matter how bad I behave, no matter how big my raise is, my bonuses and everything, we will come in and bail it," he continued, asking Becker if he believes it's all a "running joke in the circles of banking that 'no matter how bad we have, we are going to be saved.'"

"I don't believe that's the case," Becker responded.

"Really?" Fetterman said, incredulously. "Do you believe that that is not outrageous: that no matter how deplorable your performance is, you are made whole—all by taxpayers.… What if we didn't come out and bail out your bank, what would've happened?"

Becker answered by saying that their shareholders did lose their value, that he believes it was important to protect their clients, and that businesses would have been significantly impacted if they were not bailed out.

"Is it a staggering responsibility that the head of a bank could literally crash our economy?" Fetterman countered. "It's astonishing.… They also realize that now they have a guaranteed way to be saved," he continued. "Isn't it appropriate that this kind of control should be more stricter?"
I'm mildly surprised he left in "more stricter."
I'm also amenable to the Newsweek approach here. That is, this is really two stories. First, Fetterman asked some pointed questions to highlight the discrepancy between how we treat ultrarich financiers who continually put our economy at risk and the poor.** Second, some people are trying to score political points off Fetterman's mangled syntax. Mixing those into a single report obscures the first, which is arguably more newsworthy.
Regardless, I prefer Thakker's approach to the quotes: use direct quotations for Fetterman's actual words and some combination of brackets, ellipses, or partial quotes and paraphrasing to distinguish between the reporter's voice and the Senator's.
__________________
*The exception to this policy—and Salgado could reasonably point to hypocrisy here—is when drawing attention to a person's ignorance is important. So, if I'm quoting a white supremacist group's spokesman about the virtues of the master race, highlighting that he's an uneducated fool through his own words is useful. My counter is that, if this were the way Fetterman had always talked, that's fair game. Knowing the context—a stroke—just makes it mean.
**That argument is perhaps more cute than profound and is certainly rebuttable. Still, even in the painful-to-watch video, one has to work really hard to pretend not to understand the gist.