Three Arguments Contra the Electoral College
A book could be written on this subject, but let me suggest the following as a good place to start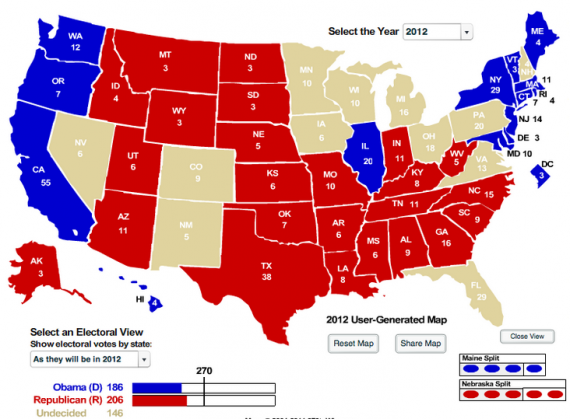 An interchange between Doug Mataconis and myself in the comment thread of this post inspires the following.  Doug asked me "Isn't the burden on the people who want to get rid of the Electoral College to make the case for why it should be done?"
Fair enough.  Of course, a book could be written on this subject, but let me suggest the following as a good place to start.  And note:  I am assuming a couple of things, such as the notion that democracy is valuable, as well as concepts like political equality.  I take Jefferson's assertion in the Declaration seriously, i.,e., "that all mean are created equal" (and that the phrase should be interpreted as an aspirational phrase that should be, ultimately as inclusively as possible).  I further can accept Churchill's description of democracy as "Democracy is the worst form of government, except for all those other forms that have been tried from time to time" and further note that if tyranny of the majority is something that is to be feared, that tyranny of the minority is even worse.  Of course, all of those statements are pregnant with other issues about which I will not address at the moment.
Here's a starting list of issues that ought to be considered regarding the electoral college:
1.  No, it doesn't help small states, it helps battleground states.   Contrary to most pro-electoral college arguments, the EC does not favor small states as much as it favors battleground states.  Candidates don't care about Wyoming (a solidly Republican state), but they do care about whichever states are competitive (large and small).  The fact that we start election season dismissing huge swaths of the population as largely incidental strikes me as a prima facie reason for giving reform a serious look.  This includes large states with large populations (of late that has meant California and Texas).   A system that regularly dismisses tens of millions of voters as not worth fighting over (in a political sense) is a problematic system.
2.  Individual Rights.  Much is made of the notion of individual rights and the value of the individual (and I would not argue otherwise:  individual rights are key in a democratic society), however, the electoral college system does not treat all citizens equally.  First, small population states are overrepresented.  Second, non-battleground states are secondary to the process.  Third, opposition voters in battleground states do not count in the tallying of the electoral vote.  A candidate can win millions of votes in California, but get zero electoral votes because of the unit rule.*  This furthers the cause of individualism and individual liberty exactly how?
3.  Competition.  The electoral college (and even a system based on congressional districts) curtails competition.  If a state is heavily Democratic or Republican, there is no reason for a given candidate to attempt to compete for the votes in that state.  Likewise, if a state were to transfer its allocation of electoral votes to the district level we get the same thing:  a lot of safe (i.e., non-competitive) districts.  (Indeed, the district problem gets to the heart of perhaps the greatest flaw in our current political system:  the lack of serious competition in a majority of electoral districts every two years, but that's another discussion).
So let me get this straight:  we all want competition in the marketplace to make businesses better and likewise we like competitive sports and think that competition, in general, in to be valued, but we don't want competitive politics?  We don't want politicians to have to compete for all the votes, but instead would prefer that they only have to compete for some?  This strikes me as a curious position.
—–
*The unit rule is what guides the allocation of electoral votes in all states at the moment save for Maine and Nebraska, i.e., that the winner of the plurality of the popular vote gets all of the state's electoral votes in one unit.