Tomb of the Known Unknowns
Do we really need to guard the Tomb of the Unknowns in the midst of a hurricane?
Half of my Facebook stream is sharing this picture of the soldiers guarding the Tomb of the Unknowns: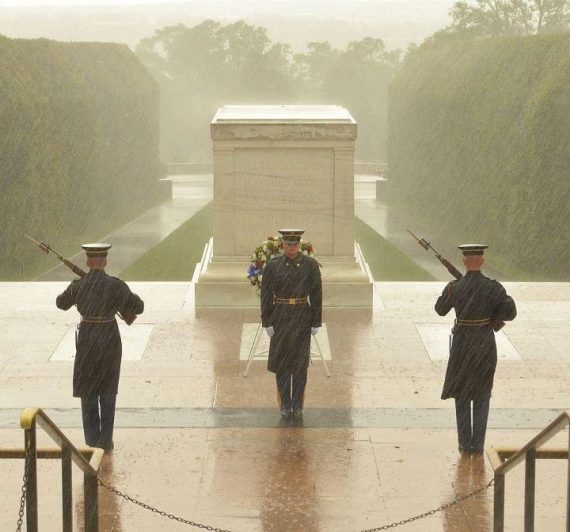 While I'm as sentimental about America's fallen heroes as the next guy and have great admiration for the young infantrymen performing this prestigious duty, it nonetheless strikes me as insane to have them out there in the face of an approaching hurricane. We closed the federal government down for the day and closed the subway system for the first time in nearly a decade before it even started raining because the forecast is that bad. Somehow, I don't think whoever's buried under that marker will mind being left unattended for the day; they'd mind very much getting three troopers killed needlessly honoring them.
UPDATE: Ryan Ferguson points me to this from the Honor Guard FAQ:
… the accomplishment of the mission and welfare of the Soldier is never put at risk. The Tomb Guards have contingencies that are ready to be executed IF the weather conditions EVER place the Soldiers at risk of injury or death – such as lightning, high winds, etc. This ensures that Sentinels can maintain the Tomb Guard responsibilities while ensuring soldier safety. It is the responsibility of the Chain of Command from the Sergeant of the Guard to the Regimental Commander to ensure mission accomplishment and soldier welfare at all times.

It was erroneously reported that during Hurricane Isabel, the Sentinels were ordered to abandon their posts for shelter and that they refused. No such order was ever given. All proper precautions were taken to ensure the safety of the Sentinels while accomplishing their mission. Risk assessments are constantly conducted by the Chain of Command during changing conditions to ensure that soldier welfare is maintained during mission accomplishment.
So, presumably, these guys won't be there if and when this gets worse than a heavy rainstorm.
UPDATE 2: Apparently, the picture was taken during an ordinary rainstorm in September.