Traffic Costs Americans $121 Billion Annually
Americans waste $121 billion a year because of traffic congestion.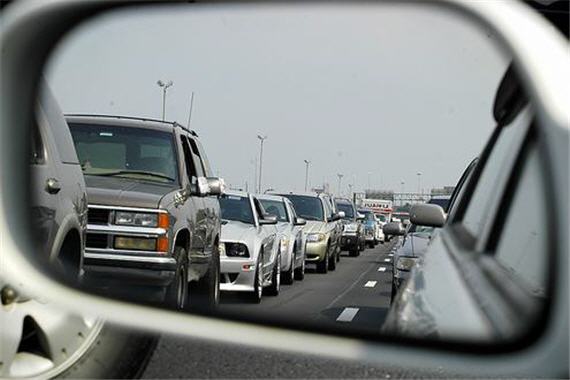 Americans waste $121 billion a year because of traffic congestion.
AP ("Commuters' wasted time in traffic costs $121B"):
An annual study of national driving patterns shows that Americans spent 5.5 billion additional hours sitting in traffic in 2011.

The Texas A&M Transportation Institute released a report Tuesday that found Americans are adapting to road congestion by allowing, on average, an hour to make a trip that would take 20 minutes without traffic. The Urban Mobility Report also says clogged roads cost Americans $121 billion in time and fuel in 2011.

It also determined that the 10 most congested cities are Washington, Los Angeles, San Francisco-Oakland, New York-Newark, Boston, Houston, Atlanta, Chicago, Philadelphia and Seattle.
The Institute provides a detailed explanation:
The Planning Time Index (PTI), a measure of travel reliability, illustrates the amount of extra time needed to arrive on time for higher priority events, such as an airline departure, just-in-time shipments, medical appointments or especially important social commitments. If the PTI for a particular trip is 3.00, a traveler would allow 60 minutes for a trip that typically takes 20 minutes when few cars are on the road. Allowing for a PTI of 3.00 would ensure on-time arrival 19 out of 20 times.

PTIs on freeways vary widely across the nation, from 1.31 (about nine extra minutes for a trip that takes 30 minutes in light traffic) in Pensacola, Florida, to 5.72 (almost three hours for that same half-hour trip) in Washington, D.C., according to the study by TTI, a member of The Texas A&M University System.

"We all understand that trips take longer in rush hour, but for really important appointments, we have to allow increasingly more time to ensure an on-time arrival," says Bill Eisele, a TTI researcher and report co-author. "As bad as traffic jams are, it's even more frustrating that you can't depend on traffic jams being consistent from day-to-day. This unreliable travel is costly for commuters and truck drivers moving goods."
Living in the DC suburbs, I have no doubt that this is right. For my daily commute, I'm time bound at the front end because of child care, so don't do much to adjust for unexpectedly heavy traffic. But for events when I simply can't be late, I typically arrive very early because I allow for unusual delays from accidents, construction, or difficulty in parking.
That's even true for trips across town once I'm in DC. Metro is unreliable outside of commuting hours (the wait times are increased and there's frequently unannounced maintenance) and it's very difficult to find parking in many parts of the city. So, I tend to walk anywhere within, say, 2 miles and cab it everywhere else unless it's an evening event from which I'll head directly home.