Trump Had Classified Docs at Mar-a-Lago
Because of course he did.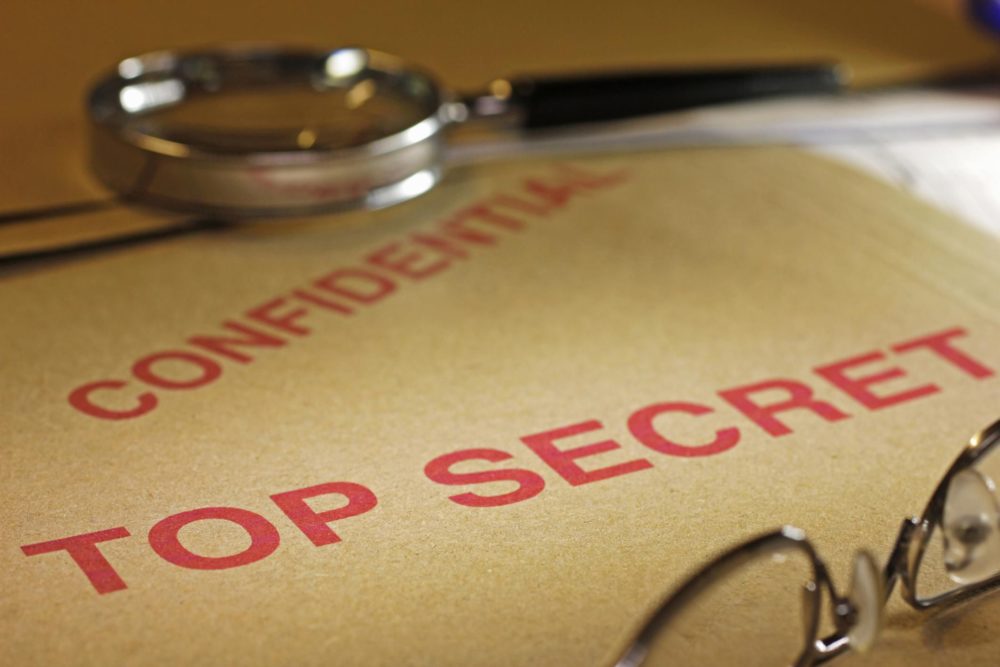 WSJ ("National Archives Confirms Trump Had Classified Material at Mar-a-Lago"):
Former President Donald Trump had classified government records at his Florida residence, the National Archives and Records Administration informed a congressional panel Friday, saying it was in communication with the Justice Department on the matter.

In January, the National Archives retrieved 15 boxes of material from Mr. Trump, raising questions about his compliance with federal law requiring official records to be turned over when a president leaves office.

That prompted an investigation by the Democratic-led House Committee on Oversight and Reform, which asked the National Archives whether classified documents were among the boxes.

"NARA has identified items marked as classified national security information within the boxes," David S. Ferriero, the U.S. archivist, wrote in a letter Friday to Rep. Carolyn B. Maloney (D., N.Y.), who chairs the oversight committee. He added that the contents of the boxes were still being inventoried.

"Because NARA identified classified information in the boxes, NARA staff has been in communication with the Department of Justice," the letter stated.

In a statement Friday, Mr. Trump said, "The National Archives did not 'find' anything, they were given, upon request, Presidential Records in an ordinary and routine process to ensure the preservation of my legacy and in accordance with the Presidential Records Act." The statement didn't address whether any of the materials were classified.

The Justice Department didn't respond to a request for comment.

A person familiar with the records said they include a letter former President Barack Obama left for his successor and correspondence between Mr. Trump and North Korean leader Kim Jong Un. But it was unknown Friday what classified information was in the boxes.

The question over documents comes as the House select committee investigating the Jan. 6, 2021, attack on the Capitol has sought Trump administration records from the Archives. The Supreme Court last month denied Mr. Trump's emergency request to block the House panel from obtaining White House records related to the attack, which attempted to disrupt Congress from certifying President Biden's victory.
NYT ("Material Recovered From Trump by Archives Included Classified Information") adds:
The National Archives confirmed on Friday that it had found classified information among material that President Donald J. Trump had taken with him to his home in Florida when he left office last year and that it had consulted with the Justice Department about the matter.

[…]

Mr. Trump made attacking Hillary Clinton's mishandling of national security materials a centerpiece of his 2016 presidential campaign. The latest revelations about Mr. Trump's own laxity with classified information and his haphazard adherence to federal record-keeping laws have drawn cries of hypocrisy from Democrats.

Asked how Republicans would square Mr. Trump's criticism of Ms. Clinton with his own record, a spokesman for the Republican National Committee, which at one point approved a resolution condemning Ms. Clinton for using a private email server while she was secretary of state, did not respond.

[…]

The Trump White House, the archives said, failed to take "any steps to capture deleted content from any Trump Administration social media account other than @realDonaldTrump or @POTUS." The accounts in question included those for aides such as Andrew Giuliani, Chad Gilmartin, Ivanka Trump, Kayleigh McEnany, Kellyanne Conway, Mark Meadows and Peter Navarro that the archives said contained presidential records.

The archives also has not been able to locate any of the Snapchat messages sent by the Trump White House.

Mr. Ferriero also wrote that "some White House staff conducted official business using nonofficial electronic messaging accounts that were not copied or forwarded into their official electronic messaging accounts." The archives said it was in the process of obtaining some of those records.

[…]

The confirmation by the archives that it had found classified information in the material could present the Justice Department with choices about how to proceed. It could open a criminal investigation into whether Mr. Trump and his aides mishandled classified information, as it did in Ms. Clinton's case.

Such an investigation would be highly complex, in part because, as president, Mr. Trump had the ability to easily declassify whatever information he wanted. He could argue that he declassified the materials he took with him before he left the White House.

Regardless of whether the bureau opens a criminal investigation, it often conducts a review to determine whether any of the mishandled information exposed sources and methods, and could have damaged national security.

The department could also choose to treat the matter as more routine. Senior U.S. officials often mistakenly mishandle classified information, for example by taking it home from work or accidentally using it or discussing it on unsecured channels. In many of those instances, the F.B.I. treats the matter like "a spill" that has to be cleaned up.
AP ("National Archives: Trump took classified items to Mar-a-Lago") adds:
Federal law bars the removal of classified documents to unauthorized locations, though it is possible that Trump could try to argue that, as president, he was the ultimate declassification authority.

[…]

The law mandates that presidential records are the property of the U.S. government, rather than belonging to the president himself. A statute, punishable by up to three years in prison, makes it a crime to conceal or intentionally destroy government records.
The fact that unspecified classified materials were taken to Mar-a-lago is rightly the headline but I doubt much will come of it. Aside from a long history of reluctance to charge Presidents and other high officials with crimes, for reasons both understandable and undemocratic, the fact of the matter is that the Commander-in-Chief is the ultimate decider on the handling of classified materials. It's why, for example, he was allowed to share Top Secret material with the likes of Jared Kushner, who would otherwise not have qualified for a clearance. Additionally, one presumes that, given how often Trump did business in his "Winter White House," he had a Sensitive Compartmented Information Facility (SCIF) built there.
The one caveat is the timing: the NYT accounts makes it sound like he took some of those documents with him after Joe Biden was sworn in as his successor. If so, unless he had formally declassified the documents before noon on January 20, he was no longer the de/classification authority. But, again, that's a technicality: he'll almost certainly not be prosecuted.
The more interesting story, perhaps, is the larger matter of the handling of government records. The PRA was enacted in 1978 in response to the destruction of evidence by President Richard Nixon and his staff to cover up the crimes related to Watergate and was effective the moment Ronald Reagan was sworn in on January 20, 1981. The essential principle was that Presidential (and, as later amended, Vice Presidential) records were no longer the property of the office-holder but rather the American people. So, as much as one understands why a President would like to keep the personal letter from his predecessor as a memento, the law says that the original belongs to the National Archives so that it can be preserved for posterity.
The Congress of 1978 did not, however, anticipate the rise of electronic mail, much less social media. The law has subsequently been amended many times to make it clear that digital communications, too, must be preserved. In theory, that's correct. In practice, though, it's a very different thing. A letter is a more formal, considered communication than a tweet. We're preserving a lot of ephemera, including some half-baked thoughts and emotional reactions. Comparing the millions of digital communications of an administration with the thousands of paper ones of another will make the former look dumb.
At the level of the President, we would hope that they're not tweeting or snap-chatting willy nilly in the middle of the night. That, if they do those things at all, their words are carefully considered and probably staffed. Obviously, Trump was a gross outlier in that regard. But, to the extent lower-level officials are engaging in conversations on social media, treating the deletion of an angry or otherwise hasty tweet as a record that must be preserved rather than deleted once considered is problematic.