Trump: I Am "The Chosen One"
Donald Trump's delusions of grandeur are getting more and more bizarre.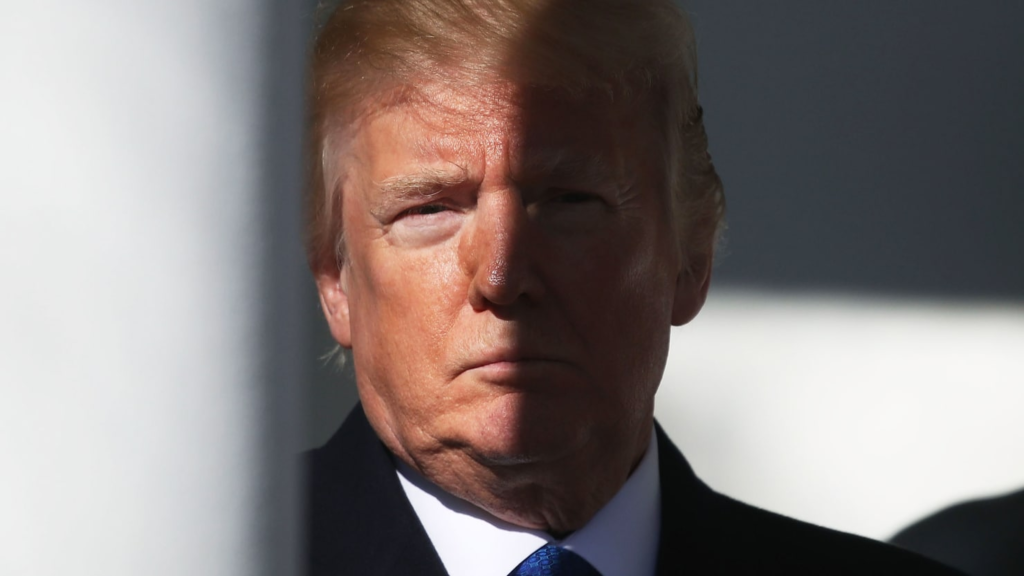 In what may be the most unhinged moment of an unhinged Presidency, Donald Trump yesterday proclaimed himself "the chosen one" when it came to dealing with China and international trade issues:
WASHINGTON — King of Israel? The second coming? The chosen one?

President Donald Trump is known to have a healthy ego. But a string of comments Wednesday went to a higher level.

First, Trump thanked conservative radio host and supporter Wayne Allyn Root for his praise. In a tweet, Trump quoted Root calling the president "the best president for Israel in the history of the world" and claiming Jewish people in Israel love Trump "like he's the King of Israel. They love him like he's the second coming of God."

The messianic imagery may have stuck in Trump's head. Later in the day, as the president was defending his trade war with China, he cast himself as a reluctant warrior. Somebody had to do it and he was the one, he told reporters.

"I am the chosen one," he said, turning and looking up to the sky. "Somebody had to do it."
New York Times columnist Gail Collins comments:
Do you blame God for Donald Trump?

"I am the chosen one," Trump announced on Wednesday. O.K., he was talking about fighting his trade war with China, not ascending into heaven. It was all a joke, sort of. But we've been so far down the megalomania road with this president that it would not be a total surprise to discover he had delusions of divinity.

Maybe at night, when he's alone with nobody but Fox News to keep him company, Trump envisions a future in which all Americans will appreciate how much he's suffered for their salvation. He does seem to think of himself as something super-special. And if you listen to him answering questions without the help of a teleprompter, there is a tendency to wonder if he's speaking in tongues.

(…)

[A]bout the God complex: Lately Trump has had an obsession with himself as savior of the Holy Land that's turning downright creepy. "In my opinion, you vote for a Democrat, you're being very disloyal to Jewish people and you're being very disloyal to Israel," he insisted.

Some people wondered if it was a tad offensive to demand that Jews vote Republican or be seen as a traitor to their people.

"It's only anti-Semitic in your head," Trump decreed, peering into the minds of his questioners.

Lots of hints here that the president, at least, thinks of himself as someone far beyond mortal men. And then there's that long, long history of referring to himself in the third person:

"Nobody has been tougher on Russia than Donald Trump."

"Nobody has more respect for women than Donald Trump."

"There's never been a president like President Trump."

"China has total respect for Donald Trump and for Donald Trump's very, very large brain."

Take your pick, people. You can accept the idea that he was sent to us by forces from above, or you can pray that he'll have to go away in 2020. But remember, he's always watching.
Chris Cillizza at CNN has similar comments:
Trump's view of himself as special, of course, didn't arrive when he got elected president in 2016. While that stunning victory was perhaps the strongest evidence — in Trump's mind — of just how special (and how much better) he is, it's not as though he didn't think of himself that way prior to November 8, 2016.

As he wrote in "The Art of the Deal" (Trump's second favorite book behind the Bible, he says):

"I like thinking big. I always have. To me it's very simple: if you're going to be thinking anyway, you might as well think big. Most people think small, because most people are afraid of success, afraid of making decisions, afraid of winning. And that gives people like me a great advantage."

Since being elected president, Trump has repeatedly told attendees at his campaign rallies that they should be so thankful he won because had Hillary Clinton won the economy would have collapsed and we would be at war with North Korea — among other catastrophes. (It's, uh, impossible to prove these hypotheticals true or false.)

He quite clearly believes himself to be a great man of history. "It is much easier to act presidential than what we are doing here tonight, believe me," Trump told an audience in 2017. "With the exception of the late, great Abraham Lincoln, I can be more presidential than any president that's ever held this office." He's also compared himself favorably to George Washington when it comes to appointing judges.

"We'll have more judges put on than any other president other than one," Trump said in an interview with Hill.TV. "Do you know who the one is? George Washington. Percentage wise."

The other element at work in Trump's "chosen one," uh, "joke" is his addiction to exaggeration and theatrics. Again, here's Trump from "The Art of the Deal:"

"The final key to the way I promote is bravado. I play to people's fantasies. People may not always think big themselves, but they can get very excited by those who do. That is why a little hyperbole never hurts. People want to believe that something is the biggest, the greatest and the most spectacular."

Trump is forever bragging about his audiences as record-setting. About the awards he has won (that don't exist). About the many golf club championships he has won. About, literally, everything.

(…)

All of which makes his "chosen one" moment totally in keeping with who he is. Trump knows it will make good TV. He knows people will run with it. That his supporters will laugh and cheer and that his enemies will be triggered. It's a provocative move — and Trump loves provocation.

"Chosen one," then, isn't just rhetoric. It's a deeply held part of who Trump is — and always has been.

If an ordinary person were to proclaim themselves the "chosen one," or favorable cite the comments of others referring to them as the "King of Israel," we would be talking about having them evaluated by a psychiatrist and possibly locked away for treatment for a mental illness. In Trump's case, it just all seems so surreal that it's just another example of the kind of absurd nonsense that he has been spewing for his entire career and most certainly since he became a candidate for President. That, along with the excerpts from The Art Of The Deal that Cillizza takes note of, makes one wonder if this is all just part of a bizarre act on Trump's part.
The problem with the second theory, that this is part of an act, is that if it were it's hard to see what Trump's strategy might actually be. He's behind in the polls, he's getting hit in the media every single day, and he's at a point where it's clear that just holding on to his base isn't going to be enough to win the election in 2020 absent some situation where lightning strikes a second time and he ends up with another Clinton-type opponent in 2020. Barring that, it's hard to see how this bizarre over-the-top rhetoric actually ends up helping him.
The other possibility, of course, is that this is all a play to his base, who already see him as indispensable to their own well-being. If they continue to believe that then they're far less likely to abandon him if, say, the economy were to start turning south or we were to face an international crisis that Trump was clearly unable to handle. If that happens but his core supporters continue to believe that disaster will follow if he were to lose in 2020, they are far less likely to abandon him.
Finally, I think it is clear that the President does have the kind of delusions of grandeur that a claim like this would seem to evidence. Those delusions have been clear since Trump first became a "celebrity" in the 1980s and they have only become more powerful as he has gotten older. The main reason for that, of course, is the fact that he has surrounded himself with "yes" men and women who are either too timid to point out that the emperor has no clothes or so wrapped up in the delusion themselves that they actually believe it.
This kind of arrogance is dangerous in an ordinary person, and it is even more dangerous in a President who literally has it within his power to start a war that could destroy life as we know it. I'm not suggesting that Trump is about to launch the nuclear missiles — although he has repeatedly expressed a fascination with such weapons that is utterly disturbing — it does seem clear that we're dealing with a President unwilling to admit to the possibility that he could ever be wrong. Given the reports that the President refuses to listen to advisers who tell him things that are adverse to his own worldview this "chosen one" rhetoric is entirely consistent with how he views himself generally. Someone like that should not and cannot be trusted with political power generally, and most certainly not the power that a President of the United States possesses.