Trump Ignores Intel Experts
More evidence that Trump would be a terrible president.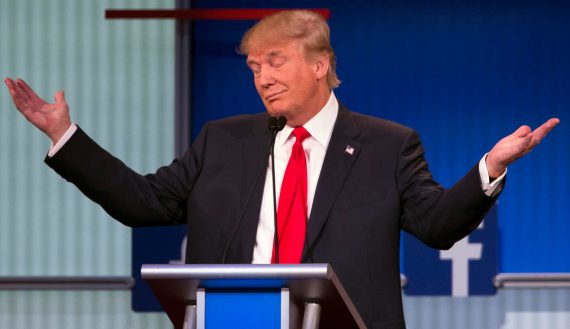 Via the Chicago Tribune:  Trump's refusal to accept intelligence briefing on Russia stuns experts
Former senior U.S. national security officials are dismayed at Republican presidential candidate Donald Trump's repeated refusal to accept the judgment of intelligence professionals that Russia stole files from the Democratic National Committee computers in an effort to influence the U.S. election.

The former officials, who have served presidents in both parties, say they were bewildered when Trump cast doubt on Russia's role after receiving a classified briefing on the subject and again after an unusually blunt statement from U.S. agencies saying they were "confident" that Moscow had orchestrated the attacks.

[…]

Trump has assured supporters that, if elected, he would surround himself with experts on defense and foreign affairs, where he has little experience. But when it comes to Russia, he has made it clear that he is not listening to intelligence officials, the former officials said.

[…]

Several former intelligence officials interviewed this week believe that Trump is either willfully disputing intelligence assessments, has a blind spot on Russia, or perhaps doesn't understand the nonpartisan traditions and approach of intelligence professionals.
In short:  Trump's answers in the debates contradict what he is being told by US career intelligence officers.
"I don't recall a previous candidate saying they didn't believe" the information from an intelligence briefing, said John Rizzo, a former CIA lawyer who served under seven presidents and became the agency's acting general counsel. "These are career people. They aren't administration officials. What does that do to their morale and credibility?"

Former acting CIA director John MacLaughlin said all previous candidates took the briefings to heart.
To quote Michael Hayden, former Director of both the CIA and the NSA:
"He seems to ignore their advice," Hayden said. "Why would you assume this would change when he is in office?"
Indeed.
This is actually pretty damning–and moreso than is likely to be discussed in the press as it has a certain byzantine quality to it.  But if Trump is willing to ignore the advice of non-partisan careerists then this is further evidence of his lack of fitness to be president. Further, he seems to be  willing to construct his own version of events out of whole cloth (or, at least, highly unreliable corners of the internet).  Whether this is simply political opportunism or willingness to live in his own reality, I cannot say (but neither is comforting):
"I don't think anybody knows it was Russia that broke into the DNC. I mean, it could be Russia, but it could also be China. It could also be lots of other people. It also could be somebody sitting on their bed that weighs 400 pounds, okay?"

[…]

During the second presidential debate, Trump ignored what a U.S. government official said the candidate learned in a private intelligence briefing: that government officials were certain Russia hacked the DNC. That conclusion was followed by a public and unequivocal announcement by the Office of the Director of National Intelligence and the Department of Homeland Security that Russia was to blame.

"Maybe there is no hacking," Trump said during that debate.
Not only is what he is saying contradicting information that he is being given, he is, as Hayden note, providing the "the Syrian, Russia, Iranian narrative."
On the one hand, a healthy, informed skepticism about intel reports is a good thing.  On the other, utterly rejecting them to score political points or because one thinks one can know reality from within one's own skull is not.
Indeed, this kind of behavior is profoundly unserious and, indeed, exceptionally dangerous for someone who could be president.
h/t:  Occasional OTBer, Chris Lawrence