Trump Kicks Off 2020 Campaign With Return To 2016's Rants And Red Meat
President Trump's opening rally of the 2020 campaign sounded an awful lot like a rally from 2016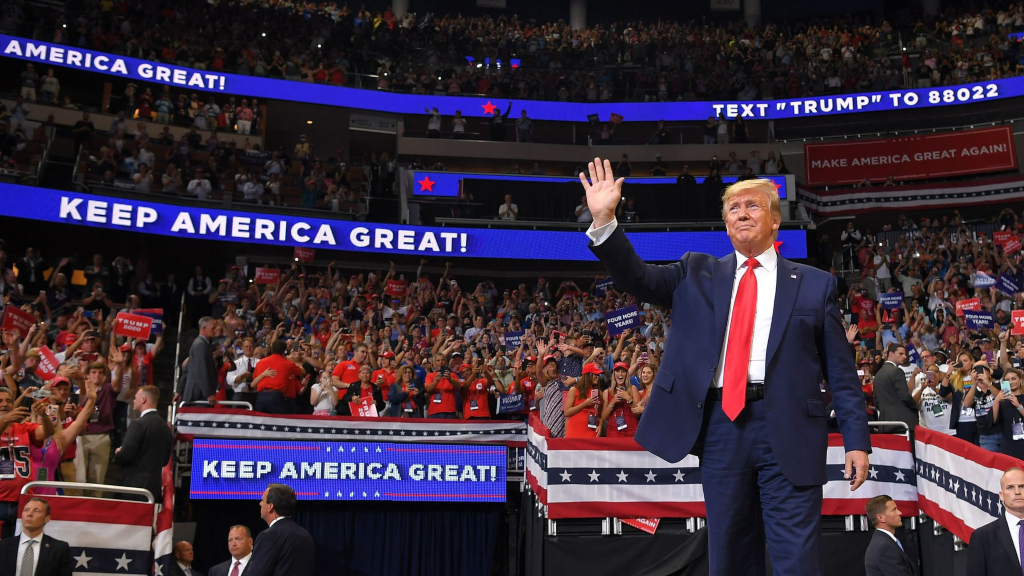 Technically speaking, Donald Trump has never stopped running for President. His 2020 re-election campaign filed its Federal Election Commission paperwork on the day he was inaugurated, after all, and he has spent the better of his Presidency quite obviously focused on getting re-elected In the first quarter of 2019 alone, for example, the Trump 2020 campaign reported that it had raised more than $30,000,000 and had some $40,000,000 in cash on hand. In the time his campaign has been spending millions of dollars in organizing and on items such as targeted digital ads on Facebook and other social media outlets. In addition to that, shortly after he entered office he resumed staging his campaign rally style speeches at large venues around the country, engaging in the same sort of vitriol-filled speech that was a hallmark of his campaign from June 2015 to Election Day on 2016. Even when those rallies were nominally supposed to be for other candidates, such as during the various Special Elections that took place in 2017 or the 2018 midterm election, it was clear that the speech and the rally were really about Trump, and that the vast majority of the people in the audience were there to see the President, not whatever candidate he may have been campaigning for, who was usually only mentioned in passing.
Because of that, yesterday's "campaign kickoff" rally in Orlando, Florida wasn't really that noteworthy. None of that stopped loyal Trump fans from Central Florida and elsewhere from lining up as much as forty-eight hours earlier and waiting in 90-degree humidity to get into to see the President speak. That speech came last night, and it made clear that the President's 2020 campaign, which has apparently settled on the campaign slogan "Keep America Great" to follow on 2016's "Make America Great Again," will be very much like the 2016 campaign:
ORLANDO, Fla. — President Trump delivered a fierce denunciation of the news media, the political establishment and what he called his radical opponents on Tuesday as he opened his re-election campaign in front of a huge crowd of raucous supporters by evoking the dark messaging and personal grievances that animated his 2016 victory.

Almost four years to the day since he announced his first, improbable run for public office from the basement of Trump Tower in Manhattan, Mr. Trump mocked and disparaged Democrats, calling them the leaders of an "angry, left-wing mob" and declaring that the 2020 election will be a "verdict on the un-American conduct of those who tried to undermine our great democracy, undermine you."

He extolled his record as president — the growing economy, the tax cuts and deregulation — but did not offer any new policies or a cohesive agenda for a second term that might expand his political appeal. As he formally declared his intention to run again, he told the audience that his new slogan would be "Keep America Great," pledging to wage a relentless battle on behalf of his supporters.

"Our political opponents look down with hatred on our values and with utter disdain for the people whose lives they want to run," Mr. Trump told a packed arena, later mocking Joseph R. Biden Jr., the former vice president and a Democratic rival for the presidency, as "Sleepy Joe.

But for the most part, Mr. Trump avoided mentioning the nearly two dozen Democrats competing for the right to challenge him, and he resisted the temptation to use his favorite denigrating nicknames.

Mr. Trump had relentlessly hyped Tuesday's event as a dramatic moment in his journey to a second term. But in the end, it was not so different from the dozens of rallies he has held during the past two years.

Standing in front of a sea of people wearing his signature red "Make America Great Again" hats, Mr. Trump unleashed a torrent of attacks, falsehoods, exaggerations and resentments that were the trademark of his first campaign and have been on almost daily display during his time in the White House. His warning for his voters: The establishment will stop at nothing to rob you of another four years.

"They tried to take away your dignity and your destiny. But we will never let them do that, will we?" the president said, declaring victory over a political machine that opposed his election. "They tried to erase your vote, erase your legacy of the greatest campaign — probably the greatest election in the history of our country."

Egged on by the enthusiastic crowd, Mr. Trump cited a familiar list of grievances during his 76-minute speech. He railed against the "witch hunt" conducted against him by the special counsel, Robert S. Mueller III, and the "18 very angry Democrats" who worked with Mr. Mueller. He insisted — falsely — that Mr. Mueller had cleared him of all wrongdoing in connection with Russia's interference in the 2016 election and of obstructing the investigation that followed. And he remained fixated on his 2016 opponent, Hillary Clinton, and her "33,000 emails," once again prompting chants of "lock her up."

At times, Mr. Trump seemed like any other incumbent president, ticking off a laundry list of claimed accomplishments on veterans' health care, funding for the military, abandoning the Paris climate accords and defending gun rights. The frenzied crowd seemed to lose some of its passion during those moments.

But he whipped them up again by raising fears about immigrants, spending more time on the centerpiece of his bleak vision of a country under assault than on any other issue. As he has before, he lashed out at Democrats, saying they are to blame for the consequences of letting "aliens" into the country.

"The Democrat agenda of open borders is morally reprehensible," Mr. Trump said, accusing Democrats of the "ultimate act of moral cowardice" for failing to defend Immigration and Customs Enforcement agents. He said the Democratic position on immigration was "the greatest betrayal of the American middle class and, frankly, American life."

But for Mr. Trump, the rally was the beginning of what polls suggest will be a difficult 18 months as he seeks another four years in the White House. Already trailing Democrats in many voter surveys and having never cracked 50 percent in approval ratings since taking office, Mr. Trump has turned himself into one of the most polarizing presidents in American history.

His decision to formally start his re-election bid in front of a frenzied crowd of die-hard supporters was a clear signal that he has no intention of backing away from his dire warnings about immigration and trade. Nor will he abandon the personal attacks against his critics and the establishment that have supercharged his most loyal fans.

Instead, Mr. Trump is betting that the 2020 campaign will be a "Back to the Future" replay of the 2016 one, when a reality TV star and New York real estate mogul campaigned as a disrupter with nothing to lose and shook the political establishment to its core. This time, though, he will have the full support of the Republican Party.
More from The Washington Post:
ORLANDO — In the 24 hours before President Trump was slated to formally launch his reelection bid here in the nation's largest swing state, he pledged to begin rounding up millions of undocumented immigrants, undercut his top officials by downplaying attacks on tankers in the Middle East and announced that his acting defense secretary would leave the job after family domestic violence allegations came to light.

A similar rush of headlines might have seemed extraordinary during previous administrations. For Trump, it was just another day.

But while the high drama and persistent controversies that have defined the Trump White House are a continuation of how he conducted his successful campaign in 2016, he is now an incumbent with a record of actions that have affected people's lives and their sense of stability.
Polls have consistently shown that more people disapprove of Trump's handling of his job than approve, but the president has not calibrated, instead redoubling his focus on his most avid backers.

At the Amway Center here, Trump told the crowd that his election in 2016 was the result of a great political movement that has been under attack ever since, despite what he described as the great successes of his presidency.

"We accomplished more than any other president has in the first 2½ years of a presidency and under circumstances that no president has had to deal with before," he said, using the hyperbole that has marked much of his career.

Trump's argument for a second term then quickly became a rehash of grievances and false claims from his first campaign, along with a hit parade of Trump rally applause lines. He veered off script to rail at length against the "witch hunt" special counsel investigation into Russian interference in the 2016 election and revisited complaints about the media, "Crooked Hillary" and her missing emails.

"They are really going after you," Trump said of the list of enemies he laid out for the crowd. "They tried to erase your vote, erase the legacy of the greatest campaign and the greatest election probably in the history of the country."

And he warned of the threats posed by immigrants, a focus of his presidency that has thrilled his most ardent supporters and caused his critics to accuse him of promoting racism.

"It's time to pass Kate's Law, end sanctuary cities, end catch-and-release, deport vicious gang members — which we're doing — stop human trafficking, stop illegal immigration and establish a modern immigration system based on skills, contributions and based on merit," Trump said.

"We want people to come into our country based on merit."

Trump's rambling performance was in itself a portrait of his presidency — singular, highly personalized and undisciplined.

(…)

Ahead of Trump's arrival, his son Donald Trump Jr. drew whoops and cheers as he mocked Biden and other Democrats and proclaimed that his father "accomplished more in trade with Mexico in one tweet" than any of his predecessors.

Bellowing and cracking jokes, the younger Trump told the crowd they are part of a movement, arrayed against media and political forces that doubted Trump from the start.

"We're fighting with one arm, two arms, sometimes a leg, tied behind our backs," the younger Trump told the crowd, which booed and jeered the press section on cue.

The reelection campaign hopes that the crusading, us-against-the-world spirit that fills arenas like this one translates to votes, although the argument is shifting from one of grievance to vindication.

Trump is running on strong economic performance this time, in addition to nationalist anti-immigrant themes that delight some of his strongest supporters.

"You guys are not sick of winning yet, are you?" the younger Trump asked, as the crowd waved signs reading "Four More Years."

"We're going to keep it going for a little bit!"
Ordinarily, when an incumbent President, or indeed any incumbent, runs for office, they concentrate on finding a way not only to keep their base voters happy but also to reach out to other voters. This is especially true for a candidate in Trump's position, who was elected by a relatively slim Electoral Vote margin (thanks largely to a 77,741 vote margin in three key states) in an election where his opponent actually garnered some 3,000,000+ more popular votes than he did. It would seem to be even more important when talking about a President whose job approval has never been anywhere close to 50% at any point in his Presidency, something that sets him apart in this history of modern polling. Indeed, no President whose job approval did not reach 50% at least once during his first term has been re-elected since World War Two.
Instead of trying to reach out and expand his base of support, though, last night's rally, and Trump's history as President makes it clear that he believes he can win re-election by relying on his base to remain loyal by feeding them red meat while attacking Democrats. This, of course, is the same campaign that he ran in 2016. In other words, as The New York Times and Splinter both put it, the Trump 2020 campaign is going to be 2016 all over again.
While that strategy may have worked in 2016, it's not at all clear that the same strategy is going to work again four years later. In some sense, of course, it will "work" if the goal is to appeal to Trump's base voters and nothing else. However, it's rather obvious from looking at the numbers that this strategy isn't necessarily going to work again in 2020. One of the reasons this is the case is the fact that many of the voters who ended up voting for Trump three years ago are not necessarily Trump base voters. Many of them were working-class white voters who had supported the Obama/Biden ticket in 2008 and 2012 but switched to Trump in 2016 in part because they believed they had been left behind and forgotten over the previous eight years.
This feeling was no doubt enhanced by the fact that the Clinton campaign had seemingly ignored this voting bloc during the close of the General Election, especially in the three states that ended up deciding the outcome of the election. This time around, Democrats are unlikely to make those same mistakes, and those voters have seen over the past two and a half years that this Administration has not followed through on its promises and has, thanks to policies such as a tax package that overwhelmingly benefited corporations and the wealthy over middle-class taxpayers, and tariffs that are increasing the cost of everyday goods and harmed American businesses. While it's still possible that many of these voters will still support Trump in 2020, it's also clear that this block of voters is up for grabs and could make the difference between winning and losing in 2020 as much as it did in 2016.
The sense of deja vu was also present in Trump's speech in the extent to which he used it to continue attacking Democrats in general and Hillary Clinton specifically. Indeed, in the middle of his rant about the Mueller investigation and report, during which he falsely claimed that the Special Counsel had specifically cleared him and his campaign of collusion with Russia and obstruction of justice, Trump bizarrely claimed that Hillary Clinton and the Democrats were the ones who colluded with Russia to "fix" the election. Inevitably, this led the crowd to get into the "Lock Her Up!" chant that had become a regular part of his rallies during the 2016 campaign. Again, this may be a theme that will keep his base supporters happy but it hardly seems like the kind of strategy that a candidate in Trump's position needs to run to win re-election.
All that being said, Trump proved all the pundits and expert analysts wrong in 2016 by getting away with running a campaign that seemed guaranteed to fail. This, after all, is the same candidates who kicked off his campaign by attacking Mexicans, Muslims, disabled people, a Federal District Court Judge who happened to be Mexican-American and a Gold Star Family who happened to be Muslim. He attacked John McCain's military service thus beginning a feud that has continued, and become even more juvenile on the President's part, even after McCain died. He also attacked women like Megyn Kelly, Carly Fiorina, and Heidi Cruz in the crassest and most demeaning manner. In the month before the election, he was caught on tape bragging about an apparent sexual assault and conquest and was later accused of sexual harassment and assault by nearly two dozen women. Despite this, he won the election. Will all of that work again in 2020? We'll have to wait and see, but it's going to require a lot of things to break the same way they did three years ago. The odds of that happening aren't good.
Here's the video of the speech last night: