Trump Subpoenaed by January 6 Committee
A dramatic if likely symbolic move.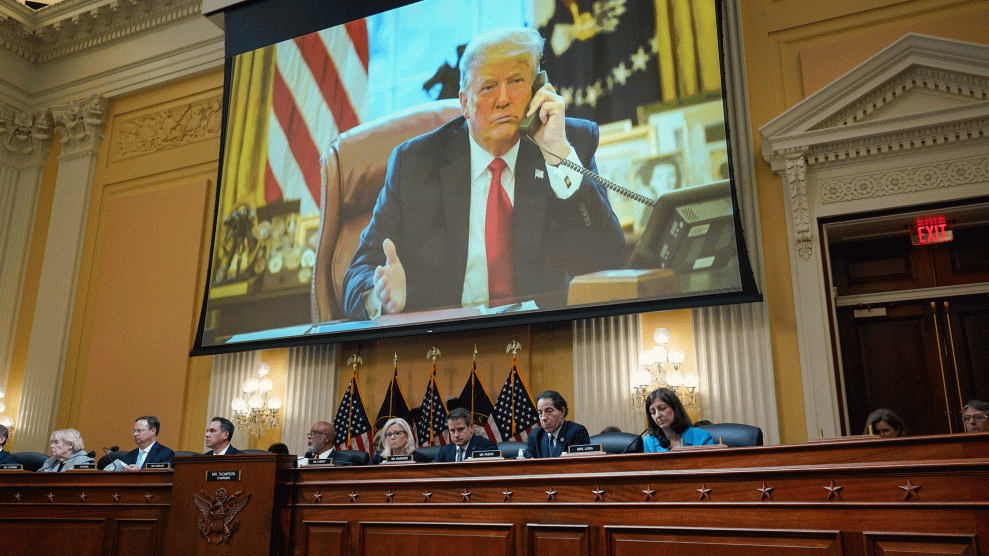 Rosalind S. Helderman, Jacqueline Alemany and Tom Hamburger reporting for WaPo ("House Jan. 6 committee votes to subpoena Trump in finale surprise"):
The House committee investigating the Jan. 6, 2021, attack on the U.S. Capitol issued a surprise subpoena seeking testimony from former president Donald Trump on Thursday, a challenge with little historical precedent that members said was a necessary final act before the panel concludes its work.

The unanimous vote came at the end of the committee's ninth and likely final public hearing, a session intended as a closing argument to the panel's 14-month investigation.

Combining a mix of new evidence gathered by the committee since July and testimony played at previous sessions, the hearing aimed to bolster a conclusion that members have hammered again and again: that the violence on Jan. 6 was the direct and predictable result of Trump's choices in the weeks after he lost his bid for reelection.

But even after interviews with more than 1,000 witnesses and reviews of hundreds of thousands of documents, Rep. Liz Cheney (R-Wyo.), the panel's vice chair, said the inquiry's work is incomplete without hearing answers from "January 6th's central player."

"Every American is entitled to those answers," she said.

It is doubtful that the committee will get them. Trump immediately assailed the panel's work, and experts said the subpoena is unlikely to succeed in forcing him to testify without a lengthy court battle that would last into next year, when Republicans might take over the House.

But the vote — which committee Chairman Bennie G. Thompson (D-Miss.) cast as an "obligation" that will help ensure "nothing like January 6th ever happens again" — marked a dramatic punctuation to the two-and-a-half-hour session.
In a separate explainer, Perry Stein, Tom Hamburger and Spencer S. Hsu expand on "What does a Jan. 6 committee subpoena mean for Donald Trump?"
Assuming he refuses:
Lawmakers could ask the Justice Department to charge Trump with contempt of Congress. Stephen Gillers, a professor of constitutional law at New York University, noted that federal prosecutors may refuse such a request. Alternatively, the department could add contempt to later charges "if it indicts him," Gillers said.

Contempt of Congress is a rarely used criminal statute meant to ensure that people comply with congressional subpoenas. The case of Stephen K. Bannon, the right-wing podcaster and longtime Trump confidant, provides a road map of what could happen. In July, Bannon was convicted of contempt of Congress for his refusal to provide documents or testimony to the Jan. 6 committee. Bannon's sentencing is scheduled for Oct. 21. Each of the two misdemeanor charges is punishable by at least 30 days, and up to one year, in jail.

No one has been incarcerated for contempt of Congress in more than half a century, since the red-baiting hearings of the Cold War era.

Stanley Brand, a former counsel to the House of Representatives who has represented some of the Jan. 6 witnesses, said it would be legally complicated to enforce a subpoena of a former president. "There is a very low probability we will ever see it happen," Brand said. "How do you make a case for needing to do this when you are a legislative body, not a grand jury — though it has been acting like one?"
As to a court fight:
In theory, Trump could challenge the subpoena in court, Gillers said. That would trigger a repeat of a legal battle that unfolded again and again in federal courts during his presidency: Can Congress enforce its demands that top executive branch officials — and, in this case, the former president himself — testify before lawmakers?

A fight over a 2019 House Judiciary Committee subpoena of former White House counsel Donald McGahn — considered a star witness in former special counsel Robert S. Mueller III's report on Russian interference in the 2016 election — stretched over two years as he staged legal battles so he didn't have to testify. An appeals court ruled against the House, and the incoming Biden administration reached a compromise, which required McGahn to transcribe answers to questions behind closed doors.

The Supreme Court sided with Congress and the Biden administration on a similar issue in January, ruling that Trump could not prevent the House committee from obtaining hundreds of pages of his White House's communications and records leading up to Jan. 6. (More than a dozen witness subpoenaed by the House Jan. 6 committee have pending lawsuits challenging those subpoenas.)
And, as already noted, the clock is running out:
Any legal proceedings that emerge from this subpoena could drag on for months. And that could be a win for Trump. If Republicans take control of the House in January, they will likely dissolve the Jan. 6 committee, rendering the subpoena meaningless, legal experts said.

"If the House flips, the committee will not be revived," Gillers said. "If the House flips but the Senate does not, the Senate could create a committee to take over the House investigation and reissue the subpoena."
To the extent that this is a political fight more than a legal one—that object is to discredit Trump and ensure he doesn't get re-elected rather than to put him behind bars—the fact that essentially the entire Republican congressional delegation is expected to support him is telling. As compelling as the hearings have been, they're just reinforcing the beliefs of Democrats that Trump was behind the Capitol riots and tried to steal the election. To the extent Republicans are being persuaded, it's at the margins.
Still, given that hearing from Trump was always a likely endgame, it's odd that they waited until this late in the cycle to issue the subpoena. It's been obvious from the start that the hearings only have Democratic support and control of the House has been expected to flip since this Congress was sworn in.