Trump Threatens to Adjourn Congress to Get Appointees In
The President is learning more about the Constitution every day.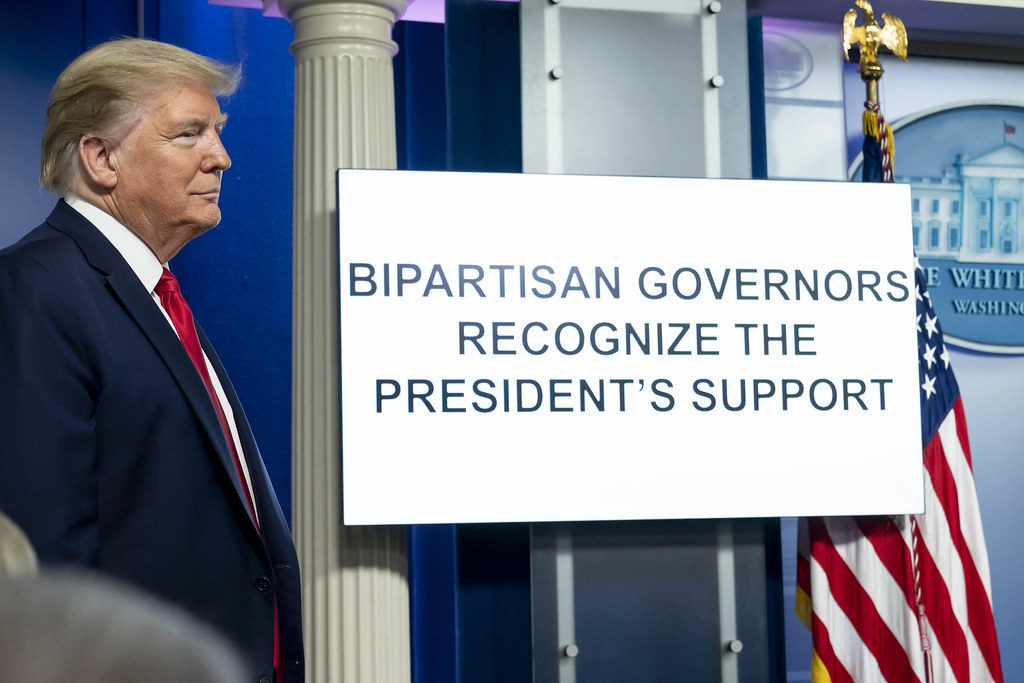 Fresh off his declarations of absolute power in deciding when the several states will re-open their economies during a pandemic, President Trump has found a never-used provision of the Constitution that doesn't mean what he thinks it does.
WaPo ("Trump threatens to adjourn Congress to get his nominees but likely would be impeded by Senate rules"):
President Trump threatened Wednesday to try to force Congress to adjourn so he could fill his administration's vacancies without Senate approval, the second time this week he has claimed unprecedented executive authority amid the coronavirus pandemic.

The president cited a never-exercised constitutional power to shut down Congress if the House and Senate are in disagreement over adjourning, pushing both the executive and legislative branches into uncharted territory.

On Monday, Trump had asserted that he had "total" authority over the decision to reopen the country, overruling governors intent on protecting public health and containing further spread of the coronavirus. He seemed to backtrack Tuesday, suggesting that he would work with the governors on such a step.

At his daily coronavirus task force briefing Wednesday, Trump slammed the common practice by the House and Senate to hold pro forma sessions every two or three days but never formally adjourn, thwarting Trump's ability to bypass the regular Senate confirmation process and install nominees by recess appointments.

"The current practice of leaving town while conducting phony pro forma sessions is a dereliction of duty that the American people cannot afford during this crisis. It is a scam. What they do, it's a scam and everybody knows it," Trump told reporters at his daily briefing on the coronavirus.
I heard about this last night and rolled my eyes. The Constitutional provision in question is one with which I wasn't all that familiar. It's from Article II, Section 3:
"He shall from time to time give to the Congress Information of the State of the Union, and recommend to their Consideration such Measures as he shall judge necessary and expedient; he may, on extraordinary Occasions, convene both Houses, or either of them, and in Case of Disagreement between them, with Respect to the Time of Adjournment, he may adjourn them to such Time as he shall think proper; he shall receive Ambassadors and other public Ministers; he shall take Care that the Laws be faithfully executed, and shall Commission all the Officers of the United States."
While I'm obviously familiar with the section as a whole, the part I set in boldface is essentially a dead letter because Congress never adjourns these days—precisely because it now considers the use of recess appointments an abuse of Presidential power. They're right, in that it was written in an area where Congress was a part-time job.
In the days when Congress did recess, Presidents frequently called them back for special sessions. State governors do that with some regularity still—especially in states with part-time legislatures. While I read the adjournment clause in the context of these special sessions, that has never been adjudicated by the courts because no President has, in the 231-year history of the present Constitutional system, ever attempted to adjourn Congress.
Beyond the matter of whether Trump has the power to do what he threatened, I was befuddled as to the need. Harry Reid got rid of filibusters for most appointees back in 2013 and the President has a compliant, Republican Senate. Why does he need recess appointments?
The answer is twofold.
Controversial nominations can require days of valuable Senate floor time to process, and with Democrats opposing many Trump nominees, McConnell has prioritized confirming lifetime appointments to the federal judiciary. Last year, McConnell deployed a controversial procedural maneuver to speed up consideration of judicial nominees. That has meant some nominees to sub-Cabinet posts, commissions and other posts have languished. With the Senate now adjourned indefinitely due to the coronavirus, all those nominations remain stalled.
So, there's a backlog of nominees because McConnell has, quite shrewdly, prioritized judicial appointments and the Senate is effectively closed for business because of the pandemic. So, the President is naturally frustrated.
And, while I'm not his biggest supporter, I'm actually sympathetic to the notion that the pro forma sessions are a sham. But that matter has been recently adjudicated:
In fact, in 2014, the Supreme Court sided with Senate Republicans in a dispute with President Barack Obama over a recess appointment to the National Labor Relations Board.

The court ruled unanimously that Obama exceeded his constitutional authority in making high-level government appointments in 2012 when he declared the Senate to be in recess and unable to act on the nominations.

"The Senate is in session when it says it is," Justice Stephen G. Breyer wrote for the court.

McConnell, then the Senate minority leader, hailed the ruling.

"The President made an unprecedented power grab by placing political allies at a powerful federal agency while the Senate was meeting regularly and without even bothering to wait for its advice and consent. A unanimous Supreme Court has rejected this brazen power-grab," McConnell said.
Breyer got it right. While Presidents are rightly frustrated by the artifice of the pro forma sessions, the use of recess appointments in an era of full-time Congresses is a much greater abuse of power.
Running a continental superpower of 330 million people under a system devised to solve the problems of 4 million people along the Eastern Seaboard before indoor plumbing and electric lights were invented can be problematic. Legal fictions like pro forma sessions are among the smaller prices we pay.