Twice as Good with Half as Much
Ta-Nehisi Coates explores his complicated reaction to the first African-American president.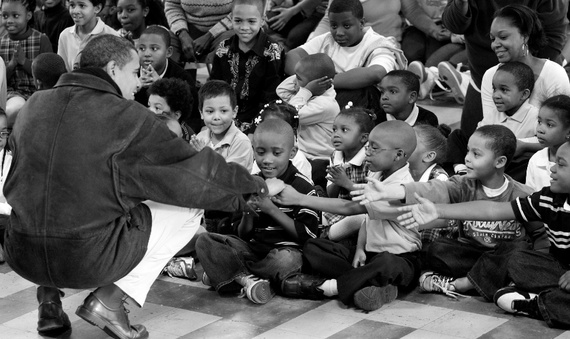 In "The Champion Barack Obama, How Black America talks to the White House," Ta-Nehisi Coates explores his complicated reaction to the first African-American president, a man he both very much admires and finds frustrating in his handling of America's racial history The essay is as much narrative as analysis and needs to be read as a whole to be appreciated. I commend it to you.
While the piece defies excerpting, I want to highlight two small passages. First:
Barack Obama was not prophecy. Whatever had been laid before him, it takes gifted hands to operate, repeatedly, on a country scarred by white supremacy. The significance of the moment comes across, not simply in policy, by in the power of symbolism. I don't expect, in my lifetime, to again see a black family with the sheer beauty of Obama's on such a prominent stage. (In the private spaces of black America, I see them all the time.) I don't expect to see a black woman exuding the kind of humanity you see here on such a prominent stage ever again. (In the private spaces of black homes, I see it all the time.) And no matter how many times I've seen it in my private life, at Howard, in my home, among my close friends, I don't ever expect to see a black man of such agile intelligence as the current president put before the American public ever again.
While I've spent much less time in black homes than TNC, this struck me initially as throat clearing. Sure, the Obamas are a remarkable family. And, of course, there are tens of thousands of remarkable black families out there that go about their lives outside the national spotlight.
What never occurred to me until a discussion of this in the comments section, though, is how stark the contrast is with most of our recent presidents.
While George W. Bush seems like an outstanding husband and father, he came up under infinitely more privileged circumstances and yet managed to get arrested for drunk driving and have a pretty serious cocaine problem before cleaning himself up and getting his life on the straight and narrow. And, while his daughters turned out just fine and were quite a bit older than the Obama girls at the time he assumed the presidency, they did get into some minor trouble involving being over-served at night clubs. Very minor stuff, to be sure, and they've turned out to be fine young women. But all of these things would have been seen in a much different light for a black man, let alone one named Barack Hussein Obama. Indeed, mere casual association with some mildly unsavory characters created more scandal and turmoil in his campaign than even the 11th hour DUI revelation did for Bush.
And, goodness gracious, can you imagine if Obama had anything like Bill Clinton's baggage? It was bad enough for a white man. The narrative around Clinton was that he was a hound dog who used his power and celebrity to bed a string of women. To be sure, many of us thought that made him unfit to be our head of state. But the connotation of "sexual predator" would be completely different for a black man.
There's not even a Billy Carter equivalent in the Obama narrative.
While the parallels aren't by any means perfect, he's a veritable Jackie Robinson. Even six decades later, a black man breaking such a major barrier had to be unusually, to use Joe Biden's term, "clean."
Interestingly, though, most of TNC's essay—the part that most vexes him about Obama—is grappling with that concept. He cites the long legacy of strong black leaders—whether national figures like Frederick Douglass or W.E.B. Du Bois or unsung heroes like his own mother—who counsel "personal responsibility."
When Barack Obama steps into a room and attacks people for presumably using poverty or bigotry as an excuse to not parent, he is channeling a feeling deep in the heart of all black people, a frustration, a rage at ourselves for letting this happen, for allowing our community to descend into the basement of America, and dwell there seemingly forever.

My mother's admonishings had their place. God forbid I ever embarrass her. God forbid I be like my grandfather, like the fathers of my friends and girlfriends and wife. God forbid I ever stand in front of these white folks and embarrass my ancestors, my people, my dead. And God forbid I ever confuse that creed, which I took from my mother, which I pass on to my son, with an wise and intelligent analysis of my community. My religion can never be science. This is the difference between navigating the world and explaining it.

[…]

And I struggle to get my head around all of this. There are moments when I hear the president speak and I am awed. No other resident of the White House, could have better explained to America what the George Zimmerman verdict meant. And I think history will remember that, and remember him for it. But I think history will also remember his unquestioning embrace of "twice as good" in a country that has always given black people, even under his watch, half as much.
This is a hell of a duality.
On the one hand, I fully agree that the "personal responsibility" mantra, much less the "twice as good" standard, is not only unfair it's damaging. Not only does it allow white people to ignore four hundred years of history but it tells black people who couldn't overcome that history even with real effort that it's their fault. And, subtly, it sets up the likes of Jackie Robinson, Bill Cosby, Colin Powell, and Barack Obama to be the minimum acceptable standard for black manhood rather than as aspirational figures worthy of emulation, if probably unattainable, regardless of race.
On the other, however, one can hardly fault Mrs. Coates for her message to her son or President Obama for this message to the country. Is life fair? No. Is it even less fair if you happen to be born black, much less black and in poverty? Of course. But I'd fully expect a black mother to tell her son that, regardless of that fact, they're just as good as any white child and should strive to be their best—even if they have to work harder than the white kids—and make their mama proud. And, while perhaps the First Black President ought to do more to reshape the landscape and remove those historical barriers, I don't begrudge him also holding himself up as a model of what's possible for a black boy with talent to aspire to.