Black Panther Movie Review Roundup
Some thoughts on the biggest Marvel blockbuster yet. [Modest spoilers]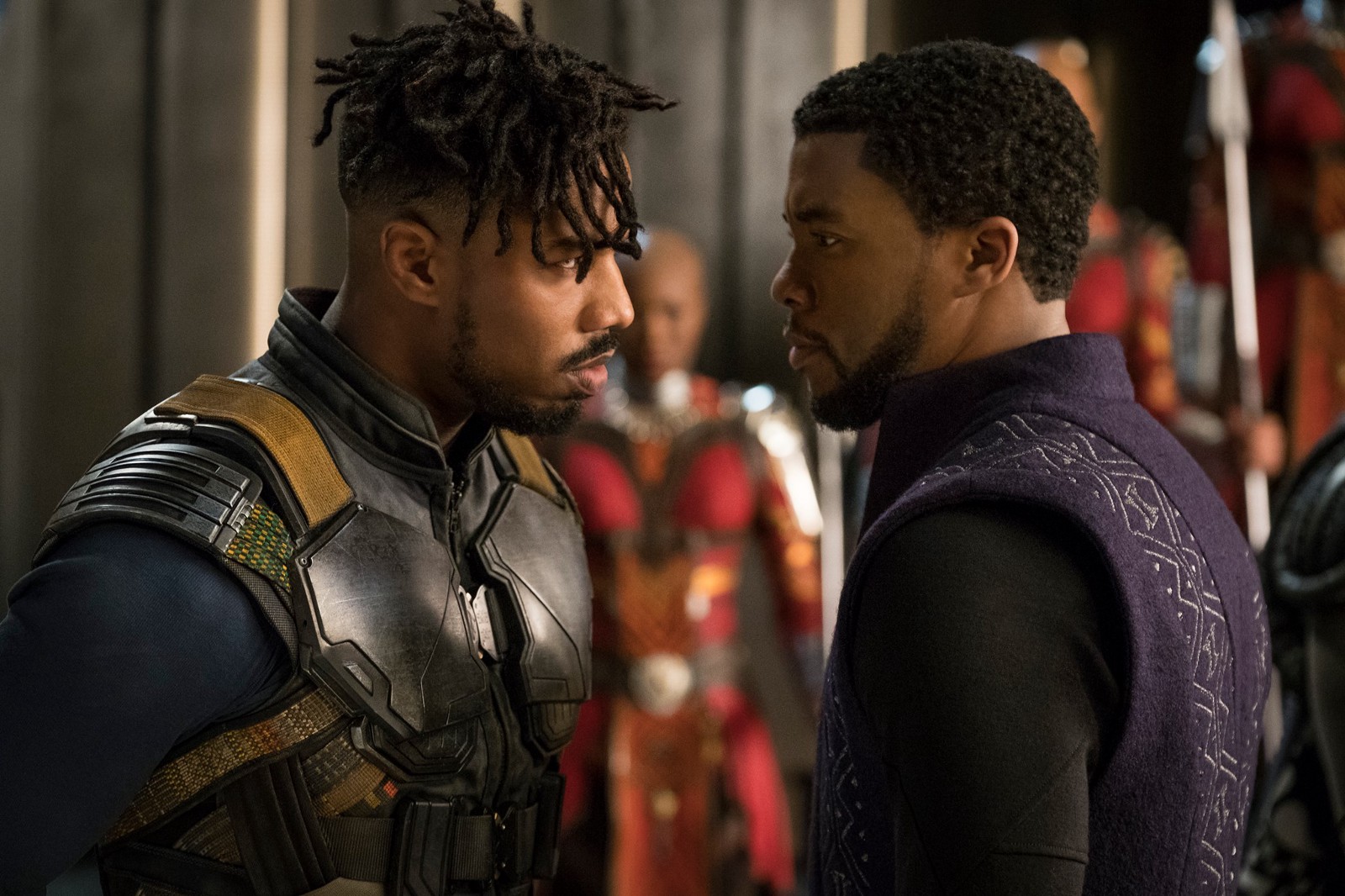 The girls and I are back from Black Panther, which we all enjoyed. Thankfully, we saw it in IMAX format with reserved seating because, despite waiting, as is our custom with blockbuster movies, to see it in the second weekend it was packed. Which is perhaps not surprising: this is the biggest Marvel blockbuster to date:
Disney-Marvel's "Black Panther" continues its torrid pace, taking in $292 million in North America — the highest first-week haul for a Marvel Cinematic Universe title.

That's $22 million more than "The Avengers" grossed in its first week in 2012. "Black Panther" earned $14.3 million on Thursday, or nearly $2 million more than "The Avengers." It has also made $228 million internationally, led by the U.K. with $31.9 million, for a $520 million worldwide total as the must-see tentpole heads into its second weekend.
Granting that non-adjusted numbers are rather silly, that remains an impressive launch. Not only has the comic book film genre become rather over-saturated at this stage but Black Panther isn't exactly the best-known property. It was, however, the first big-time superhero project with not only a black lead but virtually an all-black cast.
Jamil Smith for TIME ("The Revolutionary Power Of Black Panther"):
If you are reading this and you are white, seeing people who look like you in mass media probably isn't something you think about often. Every day, the culture reflects not only you but nearly infinite versions of you—executives, poets, garbage collectors, soldiers, nurses and so on. The world shows you that your possibilities are boundless. Now, after a brief respite, you again have a President.

Those of us who are not white have considerably more trouble not only finding representation of ourselves in mass media and other arenas of public life, but also finding representation that indicates that our humanity is multi­faceted. Relating to characters onscreen is necessary not merely for us to feel seen and understood, but also for others who need to see and understand us. When it doesn't happen, we are all the poorer for it.

This is one of the many reasons Black Panther is significant. What seems like just another entry in an endless parade of super­hero movies is actually something much bigger. It hasn't even hit theaters yet and its cultural footprint is already enormous. It's a movie about what it means to be black in both America and Africa—and, more broadly, in the world. Rather than dodge complicated themes about race and identity, the film grapples head-on with the issues affecting modern-day black life. It is also incredibly entertaining, filled with timely comedy, sharply choreographed action and gorgeously lit people of all colors. "You have superhero films that are gritty dramas or action comedies," director Ryan Coogler tells TIME. But this movie, he says, tackles another important genre: "Superhero films that deal with issues of being of African descent."
Carvelle Wallace for NYT Magazine ("Why 'Black Panther' Is a Defining Moment for Black America"):
The black internet was, to put it mildly, exploding. Twitter reported that "Black Panther" was one of the most tweeted-about films of 2017, despite not even opening that year. There were plans for viewing parties, a fund-raiser to arrange a private screening for the Boys & Girls Club of Harlem, hashtags like #BlackPantherSoLit and #WelcomeToWakanda. When the date of the premiere was announced, people began posting pictures of what might be called African-Americana, a kitsch version of an older generation's pride touchstones — kente cloth du-rags, candy-colored nine-button suits, King Jaffe Joffer from "Coming to America" with his lion-hide sash — alongside captions like "This is how I'ma show up to the Black Panther premiere." Someone described how they'd feel approaching the box office by simply posting a video of the Compton rapper Buddy Crip-walking in front of a Moroccan hotel.

None of this is because "Black Panther" is the first major black superhero movie. Far from it. In the mid-1990s, the Damon Wayans vehicle "Blankman" and Robert Townsend's "The Meteor Man" played black-superhero premises for campy laughs. Superheroes are powerful and beloved, held in high esteem by society at large; the idea that a normal black person could experience such a thing in America was so far-fetched as to effectively constitute gallows humor. "Blade," released in 1998, featured Wesley Snipes as a Marvel vampire hunter, and "Hancock" (2008) depicted Will Smith as a slacker antihero, but in each case the actor's blackness seemed somewhat incidental.

"Black Panther," by contrast, is steeped very specifically and purposefully in its blackness. "It's the first time in a very long time that we're seeing a film with centered black people, where we have a lot of agency," says Jamie Broadnax, the founder of Black Girl Nerds, a pop-culture site focused on sci-fi and comic-book fandoms. These characters, she notes, "are rulers of a kingdom, inventors and creators of advanced technology. We're not dealing with black pain, and black suffering, and black poverty" — the usual topics of acclaimed movies about the black experience.

In a video posted to Twitter in December, which has since gone viral, three young men are seen fawning over the "Black Panther" poster at a movie theater. One jokingly embraces the poster while another asks, rhetorically: "This is what white people get to feel all the time?" There is laughter before someone says, as though delivering the punch line to the most painful joke ever told: "I would love this country, too."
Tre Johnson for Vox ("Black Panther is a gorgeous, groundbreaking celebration of black culture"):
Black Panther is in many ways a love letter to black culture. Africa has traditionally been an unsophisticated bit player in American media, often portrayed as backward, savage, and chaotic in everything from news coverage to films. It's a portrayal that has left little room for other interpretations, which is why Black Panther's vision of Wakanda as a bustling metropolis of vibranium-powered futuristic skyscrapers, racing trains, and soaring spaceships feels so refreshing.

Marvel movies often take place in grand, imaginative locales, like Thor's Asgard or Guardians of the Galaxy's far-flung planets. But nothing has been quite as audacious and poignant as Wakanda, a vision of Africa that feels indebted to both Jack Kirby and Octavia Butler, home to a thriving black population that represents our collective ingenuity and beauty. As a testament to black empowerment, Black Panther is an important artifact, but it's also, quite simply, a big draw for black moviegoers starved for this sort of vision.

It's not just Wakanda's skyline that makes an impact, though; the film drew on a team of designers and stylists to showcase a very specific, beautiful black aesthetic. In an interview with the New York Times, Camille Friend, who oversaw the various hair designs of what she calls "a totally Afrocentric, natural hair movie," said the entire production was considered against a backdrop of a bigger black cultural moment: "We're in a moment when people are feeling empowered about being black," she says. "The hair helps communicate that."
Brent Staples for the NYT Sunday Review ("The Afrofuturism Behind 'Black Panther'"):
"Black Panther" made his first appearance in a "Fantastic Four" comic in 1966, just as the traditional civil rights movement was giving way to black power. The comic has been inescapably identified with black radicalism, but it was clearly finished and ready for distribution before the now famous voting rights organizers in Lowndes County, Ala., adopted a snarling black panther as the ballot symbol for their new political party. And the issue reached stores months before Huey Newton and Bobby Seale founded the Black Panther Party in Oakland, Calif. — which originally was conceived of as a vehicle to protect black citizens from police brutality but evolved into a Marxist revolutionary group.

The comic, as first introduced, was not the least bit radical in the political sense — and not even self-consciously black — but it had a genuinely radical subtext. The Black Panther's alter ego was T'Challa, a highly educated king of the mythical African kingdom of Wakanda, which had never been colonized by foreign powers and was the most technologically sophisticated country in the world. (To underscore the country's prowess, King T'Challa introduces himself to the Fantastic Four by giving them a vehicle that runs on magnetic levitation.) This portrait begs to be read as a critique of both the western slave trade and the prevailing attitudes of superiority through which Westerners have long viewed Africans.
Certainly, the audience in the theater in which I saw the film was much blacker than those for previous MCU films we saw there, including most recently Thor: Ragnarok. And, despite being more crowded than I'm used to, this was the best-behaved audience I can remember—people were mostly taking in the movie rather than running back and forth to the restrooms and concession stands.
Aside from the cultural statements, the movie was just different. It was gripping and interesting but felt as much like a sci-fi or martial arts movie than a superhero flick. And, while there were some humorous moments, it lacked the constant jokiness of Thor: Ragnarok or the Iron Man installments. And that seemed intentional.
ScreenRant's Thomas Bacon ("With Black Panther, The MCU Finally Steps Out Of Iron Man's Shadow"):
It's hard to overstate the importance of 2008's Iron Man. The film didn't just launch the Marvel Cinematic Universe; it also established so much of what would make the MCU successful. In terms of style, tone, and even specific character arcs, Iron Man established a pattern that Marvel has largely adhered to over the course of the last decade. That's not a criticism. The reality is, Marvel Studios are very good at taking aspects of that formula, and subtly reworking them to create something fresh, new, and original.

But Black Panther changes all that. While it uses all the familiar tropes, the film twists them in unexpected and transformative ways. Both in terms of plot, and in terms of overall approach, there's no going back after Black Panther. The MCU simply cannot stay the same.

[…]

Here's the Tony Stark formula: A Marvel hero is a character who has an abrasive personality, whose character flaws are very much visible. He's been successful within his field, but an event has brought him low, humbling him. As a result, the hero transforms themselves, learning from this experience, and dedicating themselves to their future as a superhero – perhaps even an Avenger. That pattern describes Iron Man, Doctor Strange, Ant-Man, and even Thor – who had to be cast to Earth to learn what it meant to be "worthy." There are some exceptions (Steve Rogers's purity of character was what suited him to become America's super-soldier, for example), but they're few and far between. Meanwhile, for most of Marvel's heroes, choosing to live this life means surrendering their own personal secret identity. Only Spider-Man tries to keep his mask on (with mixed success).

[…]

Black Panther is the first superhero movie to be set largely in Africa. When the plot strays from the African continent, it heads to another location US audiences are less familiar with - South Korea. This is the world outside a very different window.

Wakanda is as much the hero of this film as T'Challa himself. Where many superheroes have a secret identity, in this case the movie explores the secret identity of an entire fictional nation. The world believes Wakanda to be a third world country, impoverished due to lack of trade. In reality, it's an African utopia. Wakanda is a technologically advanced nation that has escaped the threat of colonization because of its isolationist philosophy.

There's a beautiful parallel between the end of Iron Man and the close of Black Panther. In Iron Man, Stark gives up on his secret identity, and reveals himself to the world. In Black Panther, T'Challa gives up on Wakanda's secret identity, and begins to reveal the truth of his nation to the rest of the world. The parallels are subtle, but powerful.
Bryan Bishop at The Verge ("Black Panther is the grown-up Marvel movie we've been waiting for"):
Ryan Coogler's Black Panther is different. Not only is it a long-overdue embrace of diversity and representation, it's a film that actually has something to say — and it's able to do so without stepping away from the superhero dynamics that make the larger franchise work. It's gripping, funny, and full of spectacle, but it also feels like a turning point, one where the studio has finally recognized that its movies can be about more than just selling the next installment. In the process, the studio has ended up with one of the most enthralling entries in its entire universe.

[…]

Given the way Black Panther embraces diversity, and given how heavily the Wakandan culture itself plays a role, it would be almost negligent for the film to not address current issues of race and economic disparity in some fashion. But that can be tricky territory, particularly for a film as mainstream as Black Panther. To the credit of the filmmakers — and the studios — the movie never shies away from these issues. Instead, it weaves them into the story at a core thematic level. Even better, it doesn't pretend to offer easy answers or platitudes. Through its characters, it offers two different extreme points of view. T'Challa's first instinct is to protect his country by not getting involved and ignoring the outside world. Others want to use Wakanda's full technological and military might to seek retribution for hundreds of years of injustice. But neither option is truly tenable, the film says. It suggests that these destructive cycles may only be broken through guidance, education, and global leadership.

That's a lot to pack into what some will likely expect to be a carefree superhero blockbuster, but it works precisely because Coogler and his collaborators are able to deliver so deftly on the big superhero beats. The fight sequences with Wakanda's women warriors are breathtaking; a car chase featuring T'Challa and his sister (remotely controlling the car from her Wakanda headquarters, no less) is thrilling. The film isn't perfect: in some action scenes, Black Panther's suit looks more computer-generated than realistic, and the hand-to-hand combat sequences can come off more chaotic than compelling. (Christopher Nolan's work in the Dark Knight trilogy comes to mind at times.) But as a whole, the movie plays with tremendous energy and awe.

Every new Marvel movie is an opportunity for a new direction, a chance for the studio to refresh its formula and bring in new elements. For the last few years, those elements have mostly been comedic (Guardians of the Galaxy, Ant-Man) or satirical (Thor: Ragnarok). With Black Panther, Coogler doesn't try to distinguish himself by making a sillier movie than his predecessors did. He clearly aspired to make something better, something deeper and more meaningful. Given what a glorious, inspiring film it is, it's easy to wonder why Marvel waited so damn long.
Overall, a very good and impressive movie. It was more entertaining than the first installments of the Captain America and Thor franchises and, certainly, any of the attempts at bringing The Hulk to the big screen. But it's not as much fun as the first Iron Man movie, Ant-Man, or the three Avengers flicks (I count Captain America: Civil War here). It's dripping with pathos, although not as much as Captain America: Winter Soldier. And it's almost three hours between the start of previews and the final "extra" scene.