Chadwick Boseman Dead at 43
The actor best known for his roles as Jackie Robinson and Black Panther has been lost to cancer.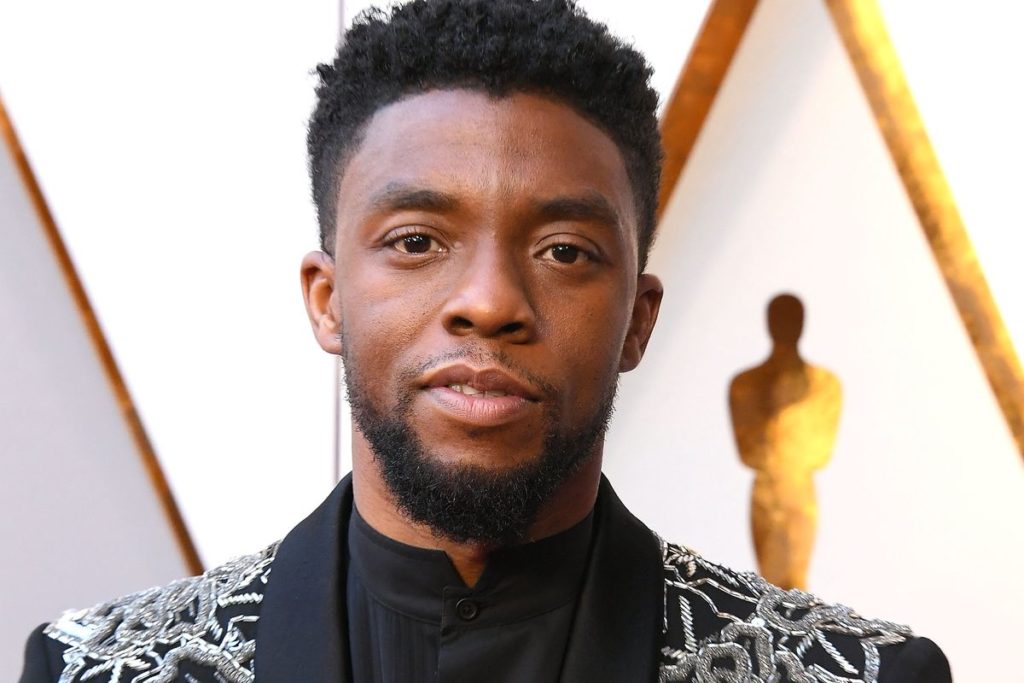 NYT ("'Black Panther' Star Chadwick Boseman Dies of Cancer at 43"):
Chadwick Boseman, the actor who found fame as the star of the groundbreaking film "Black Panther" and who also portrayed pioneering Black figures such as Jackie Robinson, James Brown and Thurgood Marshall, died on Friday. He was 43.

A statement posted on Mr. Boseman's Instagram account said the actor learned in 2016 that he had Stage 3 colon cancer, which had progressed to Stage 4. It said he died in his home, with his wife and family by his side.

"A true fighter, Chadwick persevered through it all, and brought you many of the films you have come to love so much," the statement said. "From 'Marshall' to 'Da 5 Bloods,' August Wilson's 'Ma Rainey's Black Bottom' and several more, all were filmed during and between countless surgeries and chemotherapy."

News of Mr. Boseman's death elicited shock and grief among many prominent figures in the arts and civic life. Martin Luther King III, a human-rights activist and the eldest son of the Rev. Dr. Martin Luther King Jr., said that the actor had "brought history to life on the silver screen" in his portrayals of Black leaders.

Oprah Winfrey wrote on Twitter that Mr. Boseman was "a gentle gifted SOUL."

"Showing us all that Greatness in between surgeries and chemo," she wrote. "The courage, the strength, the Power it takes to do that. This is what Dignity looks like."

Mr. Boseman portrayed the first Black player in Major League Baseball, Jackie Robinson, in "42," in 2013; the sizzling soul singer James Brown in "Get On Up," in 2014; and the first Black Supreme Court justice, Thurgood Marshall, in "Marshall," in 2017.
CNN ("'Black Panther' star Chadwick Boseman dies at 43"):
Actor Chadwick Boseman, who brought the movie "Black Panther" to life with his charismatic intensity and regal performance, has died.

[…]

"With his role as King T'Challa in the boundary-breaking film "Black Panther," he became a global icon and an inspiring symbol of Black power. That role was the "honor of (Boseman's) career," the statement said.

A South Carolina native, Boseman graduated in 2000 from Howard University, a historically Black college in Washington, DC. While there, he also attended the British American Drama Academy at Oxford in 1998."It is with profound sadness that we mourn the loss of alumnus Chadwick Boseman who passed away this evening. His incredible talent will forever be immortalized through his characters and through his own personal journey from student to superhero! Rest in Power, Chadwick!" University President Wayne A. I. Frederick said in a statement.
Variety ("Chadwick Boseman, 'Black Panther' Star, Dies at 43"):
Chadwick Boseman, star of "Black Panther," died on Friday after a four year battle with colon cancer, his rep confirmed to Variety. He was 43.

[…]

"Chadwick's passing is absolutely devastating," said Kevin Feige, president of Marvel Studios and chief creative officer of Marvel, in a statement. "He was our T'Challa, our Black Panther, and our dear friend. Each time he stepped on set, he radiated charisma and joy, and each time he appeared on screen, he created something truly indelible. He embodied a lot of amazing people in his work, and nobody was better at bringing great men to life. He was as smart and kind and powerful and strong as any person he portrayed. Now he takes his place alongside them as an icon for the ages. The Marvel Studios family deeply mourns his loss, and we are grieving tonight with his family."

Walt Disney Co. chairman Bob Iger said, "We are all heartbroken by the tragic loss of Chadwick Boseman — an extraordinary talent, and one of the most gentle and giving souls I have ever met. He brought enormous strength, dignity and depth to his groundbreaking role of Black Panther; shattering myths and stereotypes, becoming a long-awaited hero to millions around the world, and inspiring us all to dream bigger and demand more than the status quo. We mourn all that he was, as well as everything he was destined to become. For his friends and millions of fans, his absence from the screen is only eclipsed by his absence from our lives. All of us at Disney send our prayers and heartfelt condolences to his family."

Although Boseman never spoke publicly about his diagnosis, according to the statement, he worked through his treatment for much of his career, starting when he played another Black American icon, NAACP lawyer and future Supreme Court justice Thurgood Marshall, in 2017's "Marshall" — a year before the premiere of "Black Panther." Boseman most recently appeared in Spike Lee's Vietnam War drama "Da 5 Bloods," and this year he's due to appear opposite in Viola Davis "Ma Rainey's Black Bottom," a feature adaptation of the August Wilson play, directed by George C. Wolfe.
Sad news, indeed. He was a young man, albeit older than I realized. And I had no idea he had been ill.
I'm not sure what it says about us as a society that an actor with his talent, who had carried pictures playing iconic heroes of the civil rights movement, is best remembered for playing a C-list Marvel superhero. But the MCU universe is the flagpole of the global movie industry right now and it did so by casting tremendous talent in key roles. Joining the likes of Robert Downey, Jr. and Benedict Cumberbach is no small honor.
Coincidentally, our family rewatched Avengers: Endgame, in which Black Panther plays a small but important role, just last night. That movie (spoiler alert) kills off (or at least ends the careers of) the two cornerstone characters of the first era of the MCU universe, Downey's Iron Man and Chris Evans' Captain America. Along with Brie Larson's Captain Marvel, Boseman's Black Panther was set to be the pillar of the next generation of the Marvel movies.