U.S. Navy Rescues Iranian Sailors From Pirates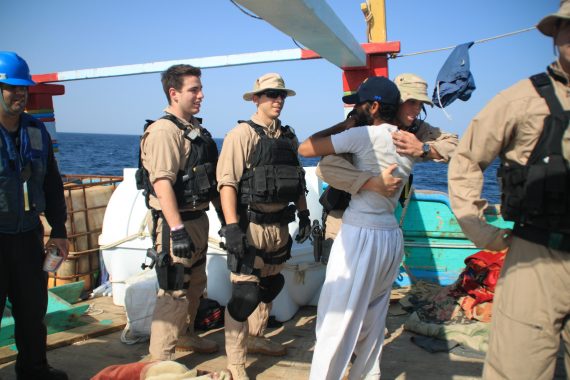 Given the increasing tensions between the United States and Iran in the Straits of Hormuz, this is good to see:
(CNN) — U.S. sailors from a carrier strike group whose recent presence in the Persian Gulf drew the ire of Iranian military officials have rescued 13 of the Middle Eastern country's sailors from a hijacked fishing boat, a military spokesman said Friday.

The destroyer USS Kidd came to the aid of the ship Thursday in the North Arabian sea, near the crucial Strait of Hormuz, according to the Navy.

The rescue prompted the captain of the freed ship to offer his "sincere gratitude," according to Josh Schminky, a Navy Criminal Investigative Service agent aboard the Kidd.

"He was afraid that without our help, they could have been there for months," Schminky said.

(…)

According to the Navy, a helicopter from the Kidd spotted a suspect pirate boat alongside the Iranian vessel. At the same time, the Kidd received a distress call from the captain of ship, the Al Molai, saying he and his crew were being held captive by pirates.

A team from the Kidd boarded the Al Molai, took 15 suspected pirates into custody and freed 13 Iranian hostages, the Navy said.

The suspected pirates, mostly Somalis, were taken to the Stennis to be held until a decision is made about prosecution, Pentagon spokesman Capt. John Kirby said Friday.

Pirates hijacked the Al Molai 40 to 45 days ago, U.S. Naval Forces Central Command said in a statement. The crew was "held hostage, with limited rations and we believe were forced against their will to assist the pirates with other piracy operations," according to the statement.
Even the Iranian government, which has recently made threatening comments about the return of the USS John Stennis and its battle group to the Gulf, expressed gratitude for the rescue:
Iran on Saturday welcomed the rescue of 13 Iranian sailors by a U.S. Navy ship, calling it a "humanitarian act."

The sailors were on a fishing boat that had been hijacked by pirates in the Arabian Sea, near the Strait of Hormuz.

(…)

A spokesman for Iran's Foreign Ministry, Ramin Mehmanparast, had positive words about the rescue when he spoke Saturday to the Arabic news network Al-Alam.

"Rescuing Iranian sailors by the U.S. was a humanitarian act and we welcome such acts," he said. "The Iranian Navy also engages in such rescue operations. It is the responsibility of all nations to rescue nationals from other countries from pirates."
A small positive development, but positive nonetheless, and the irony that it was ships from the Stennis Battle Group that conducted the rescue is quite apparent.