Understanding our History on Race (and the Citizens' Councils)
A little history about the Citizens' Councils.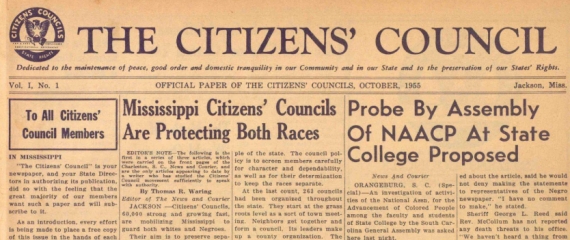 Anyone who thinks that we shouldn't be concerned about a politician who dismisses all too easily the difficulties of the past needs to read this:  Barbour Mistakes Black for White.
It specifically deals with the actions of the Citizens' Councils in Yazoo City, Mississippi in the 1950s.  Read the post and then tell me that the following statement from Governor Barbour is anything but highly problematic (and yes, understatement is in play):
You heard of the Citizens Councils? Up north they think it was like the KKK. Where I come from it was an organization of town leaders. In Yazoo City they passed a resolution that said anybody who started a chapter of the Klan would get their ass run out of town. If you had a job, you'd lose it. If you had a store, they'd see nobody shopped there. We didn't have a problem with the Klan in Yazoo City.
The post linked above not only illustrates the historical inaccuracy of the statement, but demonstrates why the notion that the Citizens' Councils should be discussed as in any way as benign is simple wrong.  While the Councils were not violent like the Klan, they were in no way less insidious.  And this fact requires recognition, not downplaying.
If you would like to review some of the newsletter's from the Citizens' Councils, go here.  The archives load slowly, but the contents of the newsletters in question are quite illuminating.
And yes, I know that Barbour has already stepped back his flippancy about the Citizens' Councils.  However, that does not explain or excuse the degree to which his original statement painted them as sort of the good guys of Yazoo City.
As I said this morning:  "When Barbour (or really anyone) downplays all that went it, it picks at this still not fully healed wound.  We need to be more honest about our past and the way that that past continues to effect the present."