The Problem that Barbour has Conjured
What the Haley Barbour situation illustrates is that we, as a country, have not fully accepted or dealt with our own past.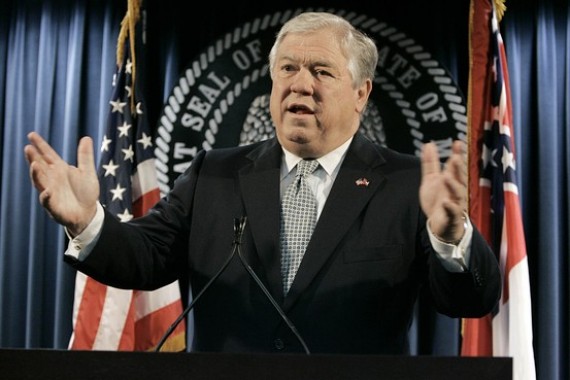 Pursuant to Doug Mataconis post, Haley Barbour Stupidly Reopens An Old Wound (not to mention the broader blogospheric reaction to Barbour's comments), let me say a few things (and, no doubt, more needs to be said).
Here's the problem:  a lot of people want to pretend like Brown was decided and then the Civil Rights and Voting Rights Acts were passed and then we entered a new era smoothly and completely.
This was not the case.
The passage of landmark legislation in 1960s still meant the problems of implementation, not to mention the fact that the reason the court decisions and the legislation was needed was because of the prevailing attitudes in the society.  The fight did not end in the 1960s.  It continued into the 1970s and 1980s (and beyond).  To pretend like all of this is some distant past, and not within living memory is to ignore reality.
To say this is not to claim that everyone in the South was (or is) a racist, but to point out what ought to be obvious:  there was a sustained fight to provided equal rights for US citizens of darker skin that started in earnest in the 1950s (although, arguably, it began roughly a century earlier).  It took marches, sit-ins, protests, Supreme Court decisions, numerous laws, and even deployment of the National Guard (amongst other things) just to get to the point where African-Americans were granted the legal right to vote and full equal protection under the law.
Let the most simple of those facts sink in:  we cannot claim to have achieved full universal suffrage in the United States of America, land of the brave, home of the free, cradle of constitutional democracy and all of that until the middle 1960s.
Let that sink it.
Quite frankly, this is a fact that we don't like to dwell on.  In fact, we tend to treat the entire history of it with a great deal of denial.  We like to wave our hands and say "we fixed it" and so we can move on now.  It is the say sort of hand-waving that allows some people in South Carolina to pretend like the Civil War was about something other than slavery.
When Barbour (or really anyone) downplays all that went it, it picks at this still not fully healed wound.  We need to be more honest about our past and the way that that past continues to effect the present.
I say this, by the way, as someone who lives in the Deep South (Alabama) and while things have gotten substantially better, it is impossible not to see the ongoing legacy of the past all around me.
A simple anecdote.  I was talking to a women from Birmingham, AL just last week.  She and her husband were both black,  He had been a firefighter for 30 years in the city.  When he first got on the force in the 1970s he was the only black man assigned to his station.  A noose was once put in his locker.  The other firefighters would purposefully leave him behind when it was time to fight a fire and he would have to get in his own car to follow.  This was not that long ago.  This is not ancient history.