Haley Barbour Stupidly Reopens An Old Wound
Mississippi Governor Haley Barbour, who may end up running for President in 2012, has reopened wounds that finally seemed like they were closed.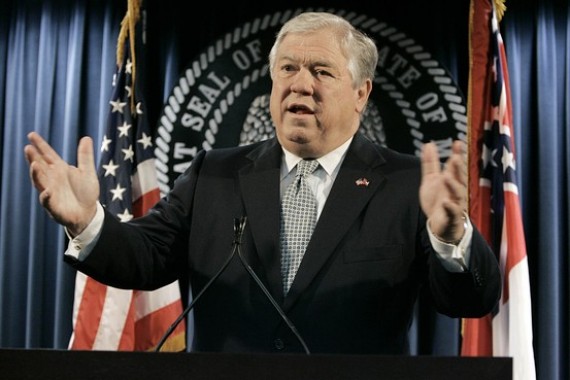 As I noted yesterday, Mississippi Governor Haley Barbour, who may or may not be running for President in 2012, raised more than a few eyebrows when he said that the Civil Rights Era in Mississippi wasn't that bad (an observation which seemed rather obvious considering he was speaking from the perspective of his middle class, white upbringing), but it turns out it's actually worse than that:
In an interview that set off a new round of debate on Monday about racial attitudes and politics, Gov. Haley Barbour of Mississippi, a potential Republican presidential candidate, recalled the 1960s civil rights struggle in his hometown, Yazoo City, saying, "I just don't remember it as being that bad."

In a profile published Monday in The Weekly Standard, Mr. Barbour also talked about the White Citizens' Councils of the late 1960s, which opposed racial integration. Mr. Barbour, a teenager and young adult during the 1960s, said that in his town, they were a positive force, praising them as "an organization of town leaders" who refused to tolerate the racist attitudes of the Ku Klux Klan.

"In Yazoo City they passed a resolution that said anybody who started a chapter of the Klan" would be "run out of town," Mr. Barbour said. "If you had a job, you'd lose it. If you had a store, they'd see nobody shopped there. We didn't have a problem with the Klan in Yazoo City."

The comments came as Mr. Barbour, 62, is actively considering a bid for the White House, and the governor's political opponents and some civil rights groups quickly seized on the remarks.

Media Matters, a liberal organization, sent e-mail messages to reporters Monday urging coverage of the comments. Derrick Johnson, president of the Mississippi N.A.A.C.P., told The Huffington Post, "It's beyond disturbing — it's offensive that he would take that approach to the history of this state to many African-Americans who had to suffer as a result of the policies and practices of the Citizens Council."

A spokesman for Mr. Barbour did not return calls and e-mail messages on Monday. Dan Turner, the governor's press secretary, told Talking Points Memo, "You're trying to paint the governor as a racist — and nothing could be further from the truth." The Web site quoted Mr. Turner as saying: "There's nothing in his past that shows that. If you pick out a sentence or a paragraph out of a fairly long article and harp on it, you can manipulate it."
This isn't the first time that Barbour has whitewashed the less-than-pleasant aspects of Southern history. Early this year, he said that it "didn't mean diddly" that Virginia Governor Bob McDonnell had omitted any reference to slavery from a proclamation he issued honoring Virginia's controversial Confederate History Month, a mistake which McDonnell later corrected.
Just as he was wrong about the role of slavery in the secession crisis, Barbour's effort to whitewash the history of Mississippi's White Citizens Council's is both historically wrong and politically stupid:
Robert Mickey, an associate political science professor at the University of Michigan-Ann Arbor, said that Barbour is correct in asserting that the Citizens Councils were often against Klan organizations forming in their communities. It wasn't, however, to promote racial integration; instead, they were concerned that such groups would spoil the economic environment, and in turn, Citizens Councils used economic intimidation to further segregation.

"This was an organization that spread very quickly across the South, directly in response to Brown v. Board of Education," said Mickey in an interview with The Huffington Post Monday. "Usually they were against violence because of its harm to economic development; firms wouldn't want to relocate to places that had a lot of violence. So their tools of slowing down the South's democratization was to use economic intimidation. … They intimidated black parents from signing petitions demanding that school districts be desegregated, sometimes by printing the signatories in local newspapers, which oftentimes led to the signatures being recanted because the parents understood and feared the consequences of being publicly outed like that. So Barbour's right — on one hand, they often helped out on the Klan, and a lot of times they were interested in deterring white mob violence. But Northerners are right that it's like the Klan."
And if Barbour had been paying attention to what was going on around him in Yazoo City as a teenager, he would have noticed that the White Citizens Council was anything but a benign organization:
Joseph Crespino, an associate professor of history at Emory University, also noted a particular incident in Yazoo City undermining Barbour's claims. "One of the things the Citizens Council would do is carry out economic harassment — sometimes physical intimidation — against local blacks," he said. "There was this well-known incident in Yazoo City in the 1950s where a handful of black parents tried to file a lawsuit against a local public school. They lost their jobs because they filed a lawsuit and they participated in the local civil rights movement. So it's well-documented that the kind of harassment that blacks faced when they tried to desegregate the schools there in Yazoo City."
Or, perhaps, as Matthew Yglesias notes, Barbour might have remembered some of the pamphlets the WCC used to pass out:
Maybe your community has had no racial problems! This may be true; however, you may not have a fire, yet you maintain a fire department. You can depend on one thing: The NAACP (National Association for the Agitation of Colored People), aided by alien influences, bloc vote seeking politicians and left-wing do-gooders, will see that you have a problem in the near future.

The Citizens' Council is the South's answer to the mongrelizers. We will not be integrated. We are proud of our white blood and our white heritage of sixty centuries.
There was nothing benign about these organizations and Barbour is a smart enough man that he should know that by now. I'm don't think he's a racist, but the Weekly Standard interview, which you can read for yourself, certainly reveals a blind spot on Barbour's part, most likely a willful one brought one by the natural desire to want to remember only the good parts of your past.
The part I don't understand about all of this are the politics. Quite honestly, stuff like this is unlikely to hurt him in the GOP primaries, especially the GOP primaries in the South. However, if Barbour really does want to run for President in 2012, reopening old racial wounds while running against the nation's first African American President doesn't strike me as the smartest thing in the world.