White House To Supreme Court: Not So Fast On That ObamaCare Lawsuit
The Federal Government has filed its response to Virginia's request for an expedited review of Virginia v. Sebelius, and they've got an compelling argument against rushing things.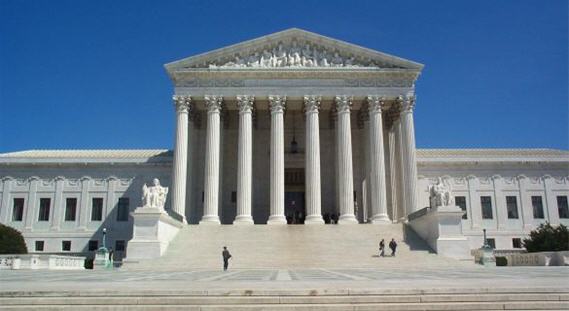 The Federal Government has filed its opposition to Virginia's petition to the Supreme Court for an expedited review of the state's challenge to the Affordable Care Act that bypasses the 4th Circuit Court of Appeals:
The Obama administration told the Supreme Court on Monday night it should stay away from a high-profile challenge to the 2010 health care law until after a lower court has had a chance to review the case.

Acting Solicitor General Neal Katyal wrote, "there is no basis for short-circuiting the normal course of appellate review." Katyal also says Virginia Attorney General Ken Cuccinelli's case is problematic because he may lack sufficient standing to challenge the health care law.

The Supreme Court normally takes cases only after they've been reviewed at least once by appellate judges. Virginia Attorney General Ken Cuccinelli says that's not appropriate in this instance.

In his filing last month, Cuccinelli said there's a "palpable consensus" that the high court will ultimately have to pass judgment on the merits of President Obama's health care law and should do so without delay. Furthermore, Cuccinelli argues that his case involves "pure issues of constitutional law" that appellate judges on the Fourth Circuit U.S. Court of Appeals will be unable to definitively resolve.

Katyal says there is no question that the case is of great public importance but uses the language of the court's own rules to say it is not "one of the rare cases that justifies deviation from normal appellate practice and require[s] immediate determination in this court." Katyal points out that the Virginia case and several others are already in the pipeline and little time may be saved if the court were to jump in now.
Brad Joondeph at the ACA Litigation Blog, which I recommend following if you want to keep up-to-date on all the lawsuits against the Affordable Care Act, excerpts the key portion of the Government's position on the issue of expediting appeal:
Here is the crux of the SG's position, clipped from the introductory paragraph to the brief's argument section:

"The parties are currently briefing this case in the court of appeals on an expedited basis. The opening brief for the Secretary of Health and Human Services has already been filed in that court (along with 19 amici briefs), and oral argument is scheduled to be held in approximately 60 days. Especially given the court of appeals' imminent consideration of this case, there is no basis for short-circuiting the normal course of appellate review by granting a writ of certiorari before judgment. Moreover, this case would make a poor vehicle to address the constitutionality of the Affordable Care Act's minimum coverage provision because petitioner's claim to standing rests entirely on a novel "declaratory" state statute (Pet. App. 66), and that threshold jurisdictional question could readily prevent the Court from reaching the merits of petitioner's claim.  The petition should be denied."

In other words, (1) the Court is likely to get this issue (if not this precise case) next Term regardless, and (2) this particular case has a glaring vehicle issue.
The standing issue that the Government refers to is the fact that, unlike the 26 state lawsuit in Florida, the Virginia lawsuit contains no individual Plaintiffs. The Commonwealth of Virginia asserts it has standing to challenge the Affordable Care Act based solely on a Virginia statute that was passed a year ago which makes it a violation of Virginia law to require someone to buy health insurance. One recent paper argues that the Commonwealth's standing here rests on a very precarious basis:
Virginia v. Sebelius is a federal lawsuit in which Virginia seeks the invalidation of President Obama's signature legislative initiative of healthcare reform. Virginia seeks declaratory and injunctive relief to vindicate a state statute declaring that no Virginia resident shall be required to buy health insurance. To defend this state law from the preemptive effect of federal law, Virginia contends that the federal legislation's individual mandate to buy health insurance is unconstitutional. Virginia's lawsuit is one of the most closely followed and politically salient federal cases in recent times. Yet neither the federal government nor any other legal commentator has previously identified the way in which the very features of the case that contribute to its political salience also require that it be dismissed for lack of statutory subject-matter jurisdiction. The Supreme Court has placed limits on statutory subject-matter jurisdiction over declaratory judgment actions in which a state seeks a declaration that a state statute is not preempted by federal law – precisely the relief sought in Virginia v. Sebelius. These limits insulate federal courts from the strong political forces surrounding lawsuits that seek federal court validation of state nullification statutes. This Essay identifies these heretofore neglected limits, shows why they demand dismissal of Virginia v. Sebelius, and explains why it is appropriate for federal courts to be closed to this type of suit.
For some reason this standing issue never received a full airing at the District Court level, but it has been raised in the Court of Appeals, and is the subject of at least two amicus curiae briefs which Joondepth summarizes:
We have discussed this point many times on this blog, going all the way back to Judge Hudson's initial ruling in August. But this is the first time that the arguments have received a full airing in papers filed with the courts. And I think they show why Virginia has a real problem–why this controversy, properly understood, is non-justiciable. At bottom, a state lacks any cognizable interest in whether a federal law regulating the conduct of private citizens exceeds Congress's enumerated powers (absent some other direct impact on the state itself). Virginia's Health Care Freedom Act simply does nothing to alter this basic fact. A contrary rule would effectively permit states, by passing similar nullification laws, to challenge in federal court any federal law with which they disagree.

Now one might wonder, if these standing arguments are so compelling, why hasn't DOJ emphasized them more in its filings? There is a rather simple explanation, I think. Even if Virginia (and the states in the Florida litigation) lack standing to challenge the minimum essential coverage provision, there are plenty of private individuals (such as those in the Liberty University case already before the Fourth Circuit, or the private plaintiffs in Florida v. HHS) who do have standing. Indeed, the DOJ, after contesting it in early stages of the litigation, has largely conceded the point. So DOJ will have to defend the constitutionality of ACA 1501(b) regardless, and who has standing only affects who will be the party against whom DOJ is making the argument. Given this inevitability, it makes little sense for DOJ to spend much of its scarce briefing space on whether Virginia has standing.
In its brief to the Supreme Court, the Federal Government points to this standing issue to remind the Justices that this case may be resolved at the Court of Appeals on a basis entirely unrelated to the merits of the case, and that they should at least let the lower level court look at the issue before taking the case.
The other issue, of course, is timing. Virginia v Siebelius is on track for oral argument before summer, or early in the summer. The ruling is likely to come down in more than enough time for an appeal to be filed, by either side, during the Supreme Court's 2011-12 term. Is there really a reason to rush things? Frankly, I will be very surprised if the Court takes this appeal.