Who Pays for Coronavirus Losses?
Some inchorent musings about a massive question.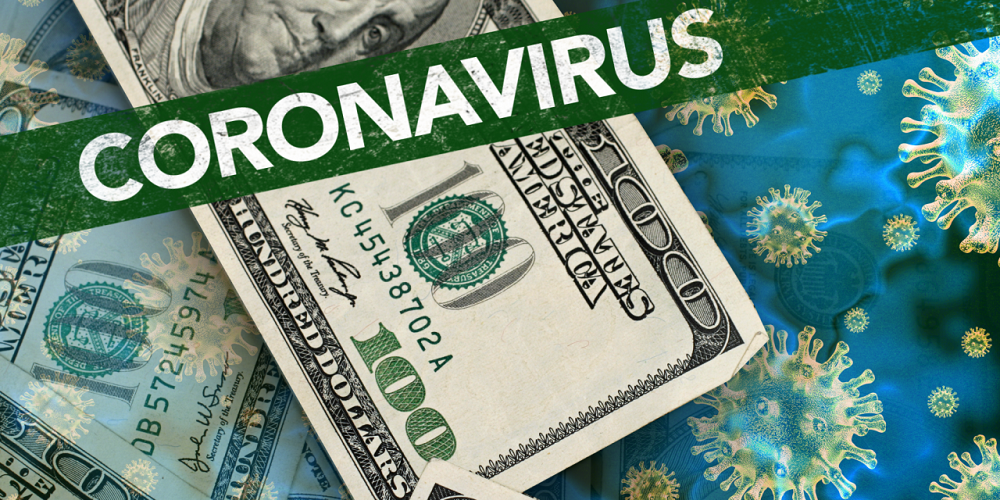 The New York Post reports that Dish network is claiming force majeure to avoid paying Disney-owned ESPN $80-100 million in rights fees during a time when the network has no live sports to broadcast. I don't have a strong stance on the merits of that particular fight but I do in the broader issue of where the buck stops.
Dish says it wants to give its customers a partial refund, on the not unreasonable basis that they're paying quite a bit of money for sports programming they're not getting. Meanwhile, ESPN is paying some sports leagues for content they can't deliver. The leagues, in turn, are scrambling to figure out how to survive—let alone pay players, staffers, and low-level employees what they're owed.
Despite the "look" of multi-billion-dollar corporations grubbing over money, laying off workers, and the like it's not anybody's fault. All parties had every intention of fulfilling their obligations but are prevented from doing so because of a once-in-a-century emergency.
One obvious answer is that society, through its government, should band together and make everyone whole by borrowing and handing out trillions of dollars. We've passed multiple multi-trillion-dollar bailout packages already, though, and don't seem to have made a dent.
Further, there is understandable outrage when programs ostensibly aimed at helping small businesses wind up helping massive corporations. Everyone from Ruth's Chris Steakhouses to the Los Angeles Lakers have been shamed into giving back money.
Yet it's not at all obvious to me why that's the case.
If the point of bailing out restaurants is to enable them to continue paying their workers, meeting their rent, and emerge on the other side of the crisis intact, why do we care whether it's JoeBob's Steak House or Joe Bob's local Ruth's Chris franchise?
Relatedly, there are perfectly understandable demands from customers for rebates on services they paid for but aren't getting. For example, parents and college students who paid tuition for in-person instruction at prestigious schools are getting inferior online instruction. But, if anything, the institutions in question are having to spend much more money to pivot to online.
For that matter, many of us are paying quite a lot in property taxes to send our children to public schools. At least in Fairfax County, where the schools are run by criminally incompetent hacks, we're not getting it. Instead, we're being dragooned into service as teacher assistants and lunchroom attendants while trying to carry on our full-time jobs from home. And those who aren't lucky enough to be able to do that are having to fork out money for daycare instead.
Again, though, with the exception of the incomprehensible botching of the switch to online, this isn't anybody's fault. The schools fully intended to deliver the services we're paying for but have quite reasonably closed in response to a public health crisis.
There's no one-size-fits-all answer to these questions.
The relationship between Dish and Disney is different from that between Dish and its subscribers which is different than that of a restaurant and its employees or a public school system and its taxpayers. But they're all related in that people are paying for things they're not getting or not getting paid at all because of extraordinary circumstances.
On the one hand, I'm almost certainly out of luck on my property taxes. Hell, they'll probably go up as a result of all this. But I'm not sure those forced into paying for emergency daycare because of school closures shouldn't be compensated in some way. Especially those near the bottom of the totem pole who were struggling to begin with.
Should we be sending checks to waiters and dishwashers at restaurants that have been ordered closed indefinitely? Almost certainly. But they're morally no different from the entrepreneurs who scraped together the money to open the restaurants.
In a capitalist system, we expect risk and reward. If a major flu epidemic were making people afraid to go to bars, restaurants, and movie theaters and some of those establishments went under, I'd say that's awful but the risks of capitalism. But when governors are ordering the business closed, that's tantamount to a taking and we ought to compensate them for it.
As Ilya Somin notes, there's substantial case law immunizing governments for the impact of the exercise of their police power. But we agree that there's a strong moral case for making people whole.
But how whole? And up to what amounts?
I don't personally share the outrage of some that we're bailing out some big companies hurt by the shutdown. But, rather clearly, they shouldn't be at the head of the line.