Wimbledon's Lines
Tennis' most aristocratic championship is also its most democratic.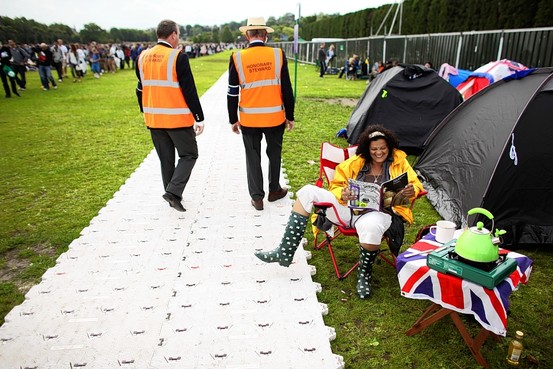 Tennis' most aristocratic championship is also its most democratic.
WSJ ("Wimbledon's Other Spectator Sport: The Queue"):
At Wimbledon, it's more fashionable than ever to wait. And wait. And wait some more.

In this age of corporate suites, online scalpers and tickets that can be purchased and printed at home in seconds, the All England Lawn Tennis Club, overlord to the world's most iconic tennis tournament, continues to embrace one of the weirdest, and most quintessentially English, traditions in sports: the Queue.

For nearly two weeks, tens of thousands of people have taken numbers, formed lines, roasted in the sun, pitched tents, taken cover from lightning and rain, slept sparingly, rarely showered, packed up their tents, joined new lines and done it all over again for the privilege of paying up to $145 for a ticket to Centre Court. If those 500 tickets run out, they'll happily buy a seat for Court 1 or perhaps a grounds pass for $32—or camp out another night for a lower queue number, and a better seat, the next day.

Even more unusual: Wimbledon's queuing public welcomes the abuse. In fact, the experience is such a delight that some daydream about it all year.

"We get to spend time together—no husbands, no children, no after-school clubs," said Suzanne Pyefinch, who has queued for 27 years with her sister, Michelle, and seen everyone from Bjorn Borg to Roger Federer.

[…]

Orderly queues are everywhere in England: banks, bake shops, grocery stores, high-fashion sample sales. Ashley Jones, the commercial manager of the Wimbledon Lawn Tennis Museum, said that lines appeal to the British "sense of fairness" and are ever-present in daily life.

"If I go to a pub, I will look along the bar and see who was there before me, and I won't expect to be served before them," he said. "And a good barman will mentally make a note of the order in which people turned up."

Wimbledon sells most of its tickets—55%—to the public, largely by public ballot. A small percentage of those tickets go to the Queue: 500 a day each for Centre Court, Court 1 and Court 2 (on the last four days, no Centre Court tickets are sold).

Another 30% go to club members, sponsors, the Royal Box, officials and affiliates. The remaining 15% are sold via "debenture," essentially a share that is traded like a stock and gives the holder a ticket to each session for five years. Holders can resell debentures or their tickets. One debenture—that's one Centre Court seat for five years—recently sold for about $122,000. For 2011 to 2015, the renewal price was about $45,000 per seat.

Though there are no queue tickets for the semifinals and finals, people still line up and even camp overnight for the fun of it, to pay from about $13 to $24 for a grounds pass and a peek at the large-screen television inside the grounds.
I was last a regular tennis watcher in John McEnroe's heyday but you'd be hard-pressed to get me to stand in line for an hour for tickets on the 50-yard line of the Alabama-Auburn game. A two week camp-out with no guarantee of tickets? No thanks.