Yes, Americans Care About Soccer Now
My latest for The Hill, "America Comes to Soccer," has posted.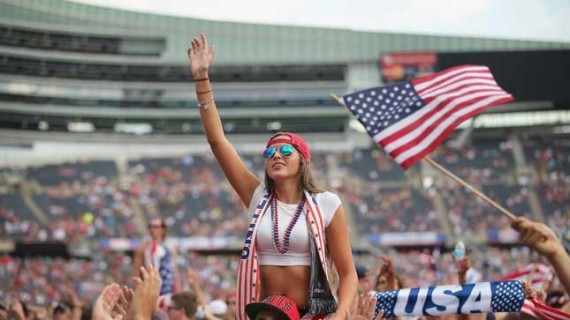 My latest for The Hill, "America Comes to Soccer," has posted. They solicited the piece based on some previous postings here at OTB, the discussion of which in the comments section greatly influenced this iteration.
As the quadrennial World Cup kicked off, syndicated columnist Ann Coulter did what she does best, drawing attention to herself with world-class trolling, declaring, "Any growing interest in soccer can only be a sign of the nation's moral decay." If so, we're going to hell.

[…]

I've been noticing the past couple of years that the people I follow on Twitter — mostly highly educated, national security types — were shockingly interested in the games of the major European soccer associations, notably the EPL. While I'd chalked that up as an elite coastal thing, I'm assured by a former colleague that his sons and their friends — who grew up playing soccer in Montgomery, Ala., of all places — are wildly enthusiastic about televised soccer.

Now, again, I don't think the NFL is even slightly worried that fútbol will overtake football in popularity. But, outside of a few key markets, baseball, basketball and hockey are niche sports whose following rises and falls wildly depending on the success of the local team.

Further, as a regular commenter on my blog pointed out to me, MLS doesn't have to be the venue by which soccer establishes itself as a major sport here. The globalization of media makes it possible for Americans to root for the very best soccer players in the world, even if they don't happen to be Americans.

The NBA and NHL have rabid followings outside North America; it's not inconceivable that we're coming to the point when the EPL and the Spanish league, La Liga, will have huge American followings as well.
The piece was written the day after Argentina's shootout victory over Holland and therefore doesn't take into account Germany's winning their fourth Cup in extra time over Argentina. The ratings will likely be quite impressive by any other than NFL standards.
As some observers on Twitter noted, the ESPN/ABC team did quite a good job covering this tournament and the last, in stark contrast to the buffoonish coverage in 2006. Instead of having announcers familiar to the audience, they instead went with announcers familiar with soccer. And rather than treating the game as some weird, foreign curiosity.