'10 Percent Increase' Hardly a 'Massive Infusion of Spending'
WaPo is overhyping things a bit.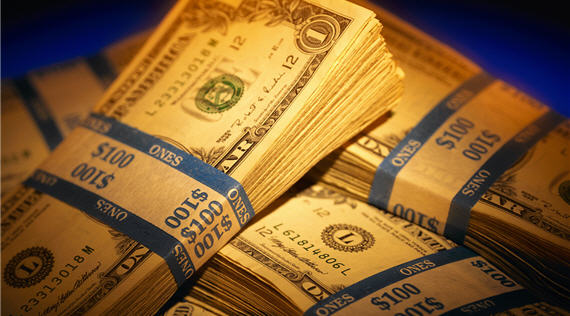 WaPo is overhyping things a bit with the headline "Massive infusion of spending ends era of restraint for federal agencies, Pentagon."
The massive infusion of cash approved by Congress early Friday morning is slated to lift the budgets of federal agencies and the Pentagon far beyond what they were at the start of the Trump presidency, ending the era of spending restraint that gripped Washington for most of this decade.

The deal signed into law by President Trump will pump more than $500 billion in additional money into domestic agencies and the Pentagon over two years, the biggest increase in spending in almost a decade. It ends months of budget squabbles and provides greater certainty for the government officials responsible for the military, disaster relief and domestic agencies.

At the same time, congressional aides and lobbyists say the deal will prompt a burst of activity as lawmakers, agencies and lobbyists attempt to influence where the money will go.

While Congress approved a 10 percent increase in spending for the Pentagon and domestic agencies — lifting the military budget to $700 billion this year and the domestic budget to $591 billion — appropriators on 12 different committees have to fill in many of the details. New partisan clashes are expected over sensitive issues such as where the Pentagon will spend its money and whether the Department of Homeland Security might try to apportion funding to a border wall.

"Beltway bandits, lobbyists and military contractors everywhere are probably popping the champagne corks," said Jim Manley, who served as an aide to former Senate majority leader Harry M. Reid (D-Nev.).
While half a trillion over two years is indeed a lot of money from the standpoint of the congressional districts and contractors vying for their share, it's simply not that much money in the scheme of the federal budget. Indeed, it's hard to square "10 percent increase" with "massive infusion of cash."
Further, while the ten percent boost will doubtless be welcome, we have to remember that it comes after a decade of not only "austerity" but also of continuing resolutions. That means agencies will mostly use the money to recover from shortfalls and increased costs associated with not being able to properly budget and procure over a long period. Not to mention the millions wasted every time the government either shut down (three times) or had to prepare for a shutdown that never came but wasn't averted until the 11th hour (at least a dozen times).
At DoD, this is further complicated by the fact that the military has been deployed to war for seventeen years with no end in sight. That means lots of equipment that has been worn out and needs to be replaced. In some cases, to be sure, it will be with improved versions. Mostly, though, it'll be catch-up rather than a boost in capability.
So, yay to Congress for finally doing its Constitutionally-mandated job of passing a budget. And yay for at least two years of relative fiscal stability to come. But this isn't exactly a shower of money that's going to result in agencies being able to spend like drunken sailors.